Several years ago, I stumbled upon a rectangular version of Superman's crystal palace at Powell and Market in San Francisco. The structure was a publicity stunt for Levi's, in which the company had invited an artist to draw the portraits of everyone who stopped by to check out what was happening on the surface. The artist hired for that project was Jason Polan and Levi's, in hiring him, had found just the right artist. Now, as in then, Polan has been well-chosen for yet another great assignment; this time it's the New York Times with a weekly post titled "Things I Saw."

Since encountering the outdoor drawing project, I have become friends with the artist and have seen him grow and expand from project to project, while at the same time never losing his thirst for adventure and his wonderment for the world that we see every day but fail to properly notice. In Polan's simple yet honest drawings, we are given the unique chance to discover, and in doing so, better understand. When Polan visits a museum or a park, attends a baseball game, rides the subway, or sits on a plane he's looking, drawing and recording what he's seeing. Through him we are given the opportunity to tag along and are reminded to pay attention to our surroundings. Our busyness has blinded us from noticing, observing and reflecting. We have become the blind, smartphone hordes that are overlooking and taking for granted the nuanced details that make up the minutia of this existence. Polan, on the other hand, sees all, records all, and in a primitive beauty, transcribes with detailed strokes the contours of this reality.

A friend described his work as "doodles," and while there is truth in that labeling, it's far from that simple. With Polan, doodling has become a sport, and unlike the majority of us who on occasion may swing for the fences or attempt a three-point shot, Polan is now off to the Olympics with a fine point pen. Combined with a voracious work ethic and a creative streak that has lasted years, Polan has emerged as the people's encyclopedia. Several of his past creative exploits include drawing every object at the Museum of Modern Art, a fixation with drawing giraffes, attempting to draw everyone in New York City, re-drawing your written letters, and establishing a drawing club that only meets at Taco Bell. With 53rd Street Biological Society, Polan's blog, I am reminded of the simple joys found reading Calvin & Hobbes or the sense of awe I experience on a perfect weekend, where discovery often meets chance. These drawings are entertaining, carefree and often very funny. The work maintains a level of charm and sophistication without feeling forced or predictable.
With new artists, or when the rare art making activity poises itself on us, we are confronted with what to draw or not draw. We question what's worthwhile for drawing, hoping in that moment that our eyes stumble upon some hidden beauty as they squint to find a picturesque angle or prime vantage point. Polan, with his trained eye, has found genius among the ordinary. Take "Things I Saw - No. 12," for instance. Polan has drawn his friend's ping-pong paddle, then seemingly in the same breath, Mt. Rushmore, placing them next to each other and in doing so, suggests that the two are equal. Because in a Jason Polan artwork drawing, everything can be interesting and is often beautiful, making us realize that we too would see beauty everywhere -- if only we paid attention.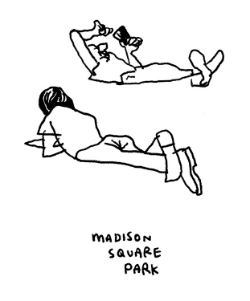 Man in Madison Square Park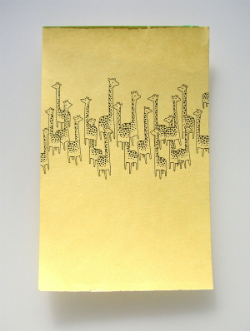 21 Giraffes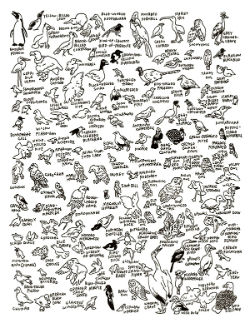 Birds at the American Museum of Natural History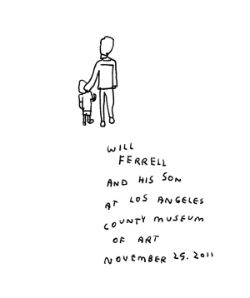 Drawing at LACMA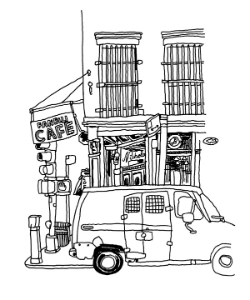 Fanellis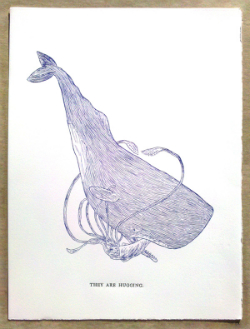 They Are Hugging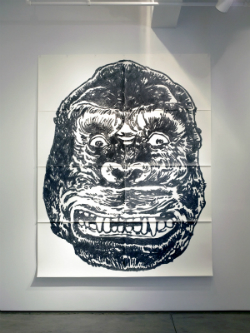 Life Size King Kong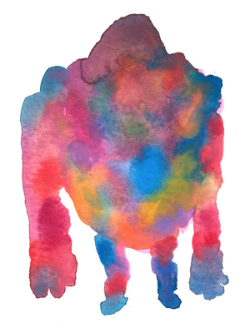 Color Monster
Polan is open to suggestions for his weekly NY Times drawing series. Email your ideas to thingsisaw@nytimes.com.
All art, including title panel, by Jason Polan