Now that music festival season has officially come to a close you can finally take a deep breath and pack on a few pounds for the coming winter. Don't worry, next year will be here before you know it and you'll be back blowing every dollar you've earned on warm whiskey, inappropriate Native American attire, and glow sticks.
Treasure Island Music Festival is not only a fantastic close to the festival season every year, but it's also a great alternative to the traditional festival scene that is overrun by teenage ravers. The music is eclectic and the lineups usually focus on talent rather than top 40 tracks. That isn't so surprising seeing as Treasure Island is quite small. They're not packing 50,000+ people into the smoldering heat to rot for four days. The festival is only two days and you can see every band at the two main stages if you're up for the task. You can watch both stages from a ferris wheel, or take in a stunning sunset behind the Golden Gate Bridge. You can make arts and crafts, eat local fare, and purchase merchandise from local artists/entrepreneurs that support the community.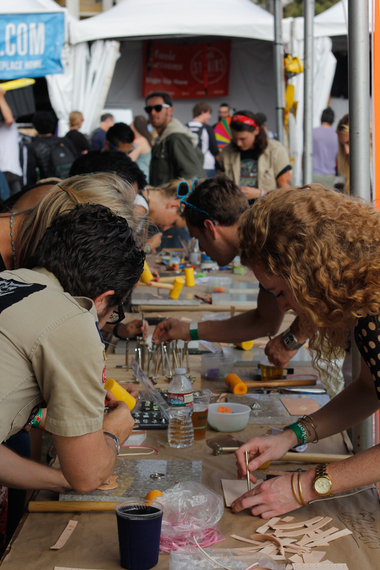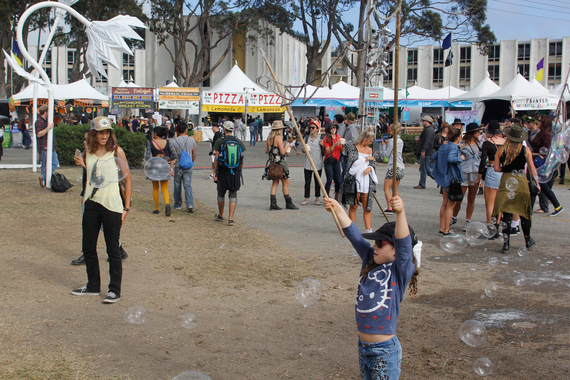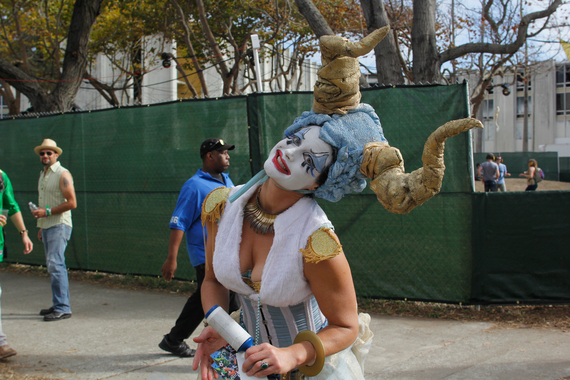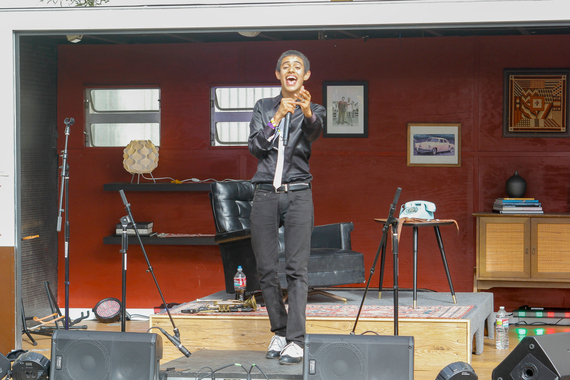 I unfortunately missed Day 1 of TIMF due to flight issues from Chicago (boo), but as soon as my plane touched down on Sunday I was on a shuttle straight to Treasure Island. I'll admit that I wasn't as pumped this year for Sunday only because flying takes it out of me every time. Once I arrived I was welcomed by a refreshing set from Banks (missed White Denim unfortunately). Jullian Banks seemed quite impressed by the intensity of a crowd for a Sunday afternoon. I was impressed myself seeing as she was only distributing her music via Soundcloud back in 2013. BANKS album "Goddess" released in 2014 and her top two songs on Spotify "Beggin For Thread" and "Waiting Game" already have a combined 26 million listens. You should absolutely check this album out.
BANKS - Photo Credit: Catie Laffoon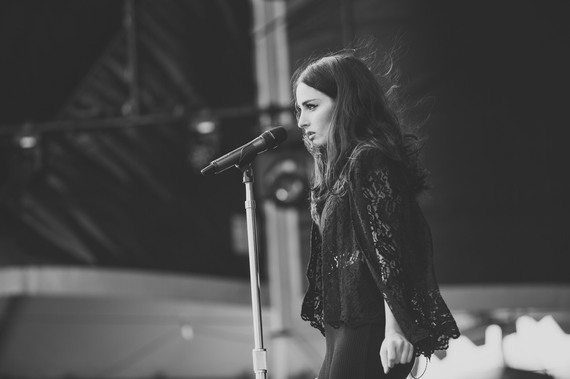 Here were the highlights. Chet Faker was superb and the crowds were back to life after pounding kombucha and whiskey all morning. You may have heard Chet Faker (Nicholas James Murphy) from the hit song by Flume "Drop the Game". His voice was even more radiant than on his albums. See him while you can in a venue less than 10,000. The New Pornographers, The Growlers, TV on the Radio, and Alt-J all played some great sets that you can see pictures below, but it was Washed Out that truly surprised me. If you loved Ernest Greene's albums as much as I did, but avoided attending one of his shows due to the mellow nature of his albums, then avoid no more. His show had people dancing at the entrance of the festival. I was impressed how much of the show was produced live and how awake I was during the show. Maybe it was the atmosphere that got to me, but I was blown away by Washed Out.
Lastly was the interesting and daring headliner choice Massive Attack. I was never an avid listener of Massive Attack, but they are one of those bands that you've heard whether you like it or not. "Teardrop" is a classic by Massive Attack and they delivered a surprisingly engaging show with all their hits, an enormous amount of subliminal messages, and a guest appearance from Tunde Adebimpe from TV on the Radio.
The festival sold out in 2014 and seems to be continually growing, which to me is of zero surprise. Don't miss it in 2015 or you'll be reading this article once again telling yourself that you should have chosen Treasure Island Music Festival instead of carving pumpkins. Check out the slideshow below that captures some of Sunday's best moments.