I have one mission with this series which is to be the vessel by which great stories are being told. Stories that will inspire us to begin to find more meaningful ways to come alive and feel fully alive.
"The Unlived Life: Most of us have two lives, the life we live, and the unlived life within us. Between the two stands resistance." -- Steven Pressfield, the War of Art
Our stories are the most powerful mechanism we can use to create Change, awareness and shed light on issues that matters to us. Countless of us carry powerful stories within that unfortunately never gets told because no one bothers to ask. Also, I believe that we keep shut about our stories when we lack confidence that our experiences can offer great life lessons that could help make a difference for someone else who might potentially be in similar shoes. It is because of this belief that I am interviewing stories of change and aliveness for my book, the belief that explores the concept of life with meaning...
Storytelling has the power to create an awakening and serve as a tool to create social change. Sharing our stories and hearing others' stories makes us come alive and feel less alone in the challenges we face!
Collecting stories of inspiration and change, sharing them with you, the process of working on a meaningful project and the feel of putting good into the world and being engaged in a conversation that matters makes me feel alive! It is with pleasure that I report some inspirational words with you from a few story submissions I have received...
"Don't ask what the world needs. Ask what makes you come alive and go do it because what the world needs is people who have come alive." -- Howard Thurman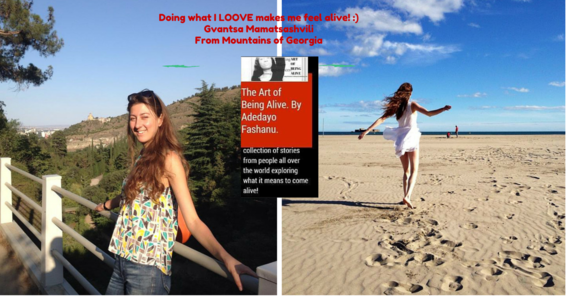 Photo credit: Gvantsa Mamatsashvili
What makes you come alive? What is your story and how are you finding aliveness in your living?
My friend, Gvantsa has an interesting life story. Being tired of feeling stuck in life, She quit her job and traveled on a solo mission to the mountains of Georgia where she is from. A bold move she says because she had been contemplating doing that for years, but she finally did and the experience of it was scary but she pulled through; she is now doing what she loves from the liberation she felt which is writing and she also learned to open herself to more alive experiences...
When we pay attention to what makes us come alive, we experience a great deal of awakening, awareness and consciousness in how we live. We design our existence towards the purpose of finding aliveness in our being and from there we begin to change the unfortunate stories we used to tell ourselves.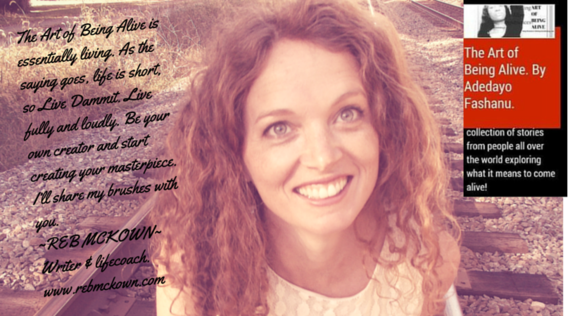 Photo credit: Reb McKown
Reb Mckown who also is a part of this project and who is a story teller herself says, "the art of being alive is about creating a life to your making."
I believe we exist to live fully.
I believe we are designed to come alive in many beautiful ways, to be happy and be of service to our fellow mankind.
Yes, life isn't easy and all rosy because of "resistance." As suggested by Steven Pressfield, it does exist to be invisible, to be protean, implacable, and impersonal; so as to frustrate our ambition, hinder us from doing our work or moving on with the things we need to be doing. He says"Does Resistance have to cripple and disfigure our lives before we awake to its existence?" (War of Art)
I have a personal question for us which is "What is it in our life, that Resistance has been hindering us from accomplishing?" You know, that thing that lights us up, that makes us feel like life is worth living, that gives us meaning, that creates for us this feeling of being alive, the thing that makes us feel alive, and makes our hearts roar with aliveness...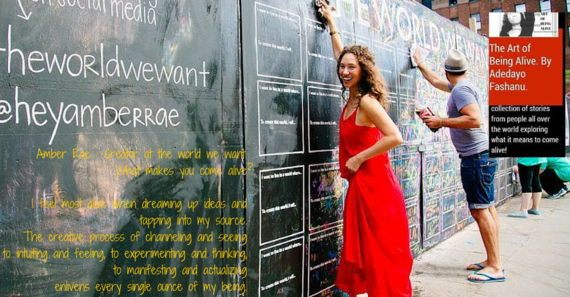 Photo credit: Tanya Malott
Amber Rae, the creator of https://www.facebook.com/theworldwewantis "The World We want" in her submission for this project says "I feel most alive when dreaming up ideas and tapping into my source... The creative process of channelling, seeing, intuiting, feeling, experimenting, manifesting and actualizing enlivens every single ounce of my being."
Two quotes that are my favorites by Joseph Campbell that speak to the art of being alive:
"Follow your bliss, find it and do not be afraid to follow it."
And the second quote, he says
"I don't believe people are looking for the meaning of life as much as they are looking for the experience of being alive."

Photo credit: Anfernee Chansamooth
The experience of being alive for my friend from Australia 'Anfernee Chansamooth' he says is dancing with strangers and making them smile -- as in flash-mob style. Check his famous flash mob he coordinated in Syndney https://www.youtube.com/watch?v=drf9Ucm8iX0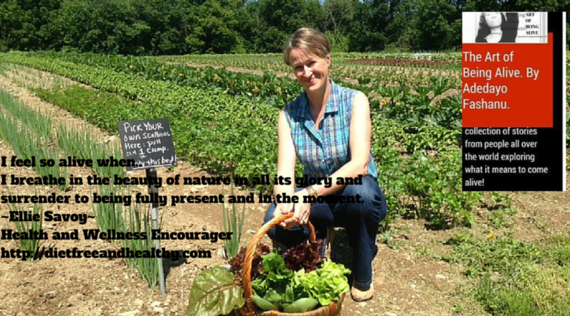 Photo credit: Ellie Savoy
This experience of being alive is what we all seek and search for; from the simplest things in life like breathing in the beauty of nature in all it's glory and surrendering to being fully present and in the moment; to stop forcing and let go; to smile and appreciate everyone we see; to root ourselves in connection and love and to live our truth. Those are the words of Ellie Savoy, a beautiful woman with a great heart that joined this project. These things are what makes her feel alive...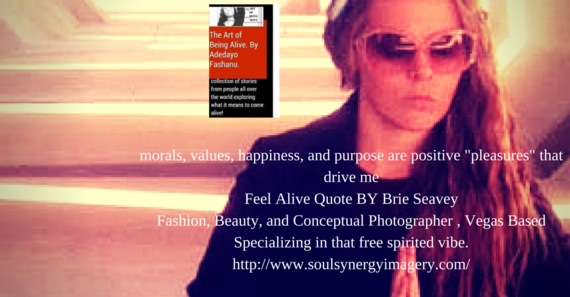 Photo credit: Brie Seavey
Brie Seavey who shared in her story, of experiencing an awakening about four or five years ago says lessons she has learned is to move forward no matter what struggles you may encounter. If people or things bring you happiness, then surround yourself with them and if they bring heart ache; refrain. She says, we can complicate or simplify as it is all up to us.
Just like Brie, I believe life can be light and fluffy as long as we find meaningful ways to live, to come alive and feel alive; we prove that ART is not an illusion and our lives is ART itself, and we are the artist, the world is our canvas.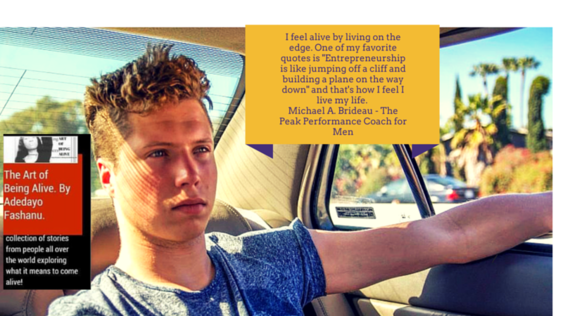 Photo Credit: Micheal Brideau
Micheal Brideau, Cam Adair a TEDx Speaker, Olga Dossa a Parenting Expert who feature in this article and several more who have shared their stories so far all have a common thread; which is the belief that their story matter and can create change which is why they were happy to be a part of this art...
How do we choose to live today in a way that speaks to our degree of aliveness?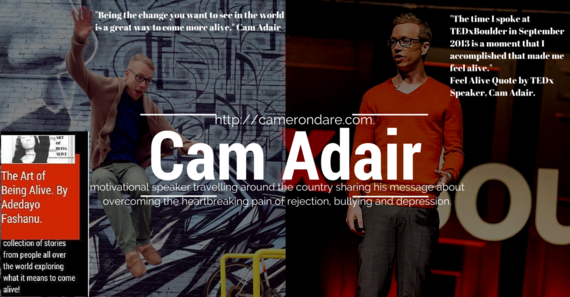 Photo Credit: Cam Adair
What meaningful way do we choose to come alive and live fully? What challenges have we overcome that we can use to inspire others? What can we commit to inother to awaken our senses to feeling more alive? What potential is sleeping in us that has not been tapped into yet?
Those are some of the mind grinding questions I ask in my project; and we can ask ourselves in deep thoughts... That's how we realize what our journey truly feels like.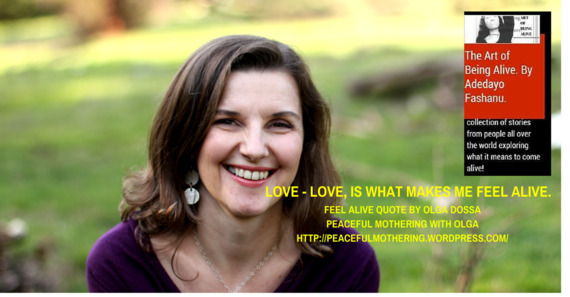 Photo credit: Olga Dossa
What words from your experiences can you use to inspire today?
Join me in the feel alive movement and be part of the group of game-changers in this book. Their stories and lessons explore what coming alive means and how we can truly feel more alive, awake, happy, inspired and fulfilled!
All photos used are courtesy of the stories already submitted for the book; the photos were edited by Adedayo to fit their quotes from their submissions. They gave permission to use their submissions and their image for the purposes of the book and related.
Watch the trailer here : http://youtu.be/9w3XvuKACOc
submit for participation by using this form: http://www.formget.com/app/form/share/WFbK-93375
Join the conversation on facebook: http://www.facebook.com/feelalivemovement
email: submissions@lifestylewellbeing.com