I am passionate about this documentary project titled "The Art of Being Alive" to explore the concept of what makes us feel alive, and the concept of living a meaningful life.
So I started with asking those around me, "What makes you come/feel alive?" and evolved to collecting people's stories doing interviews of what inspires them to keep going, how are they finding meaning to their existence and how are they coming alive. I am putting the word out for people who will like to share their unique life experience to be a part of this ongoing project that will be compiled into an inspirational coffee-table book.
Two things I have found interesting is that when you ask people the question "What makes them come/feel alive?" not many have an immediate answer to it; it becomes some take home assignment that requires deep thinking and an evolving emotional process to understand the answer to the question. The second thing I realized from asking this question is that people have stories, some are deep rooted awakening stories they didn't realize they still had a special feeling about and others are breakthrough stories from the old broken self to the new actualized self and it is from such experience they have found their aliveness.
This is a movement I am beyond committed towards and I want to celebrate as a follow up, five stories most recently received and share lessons that inspire us to live fully alive!

Lesson 1: Our Pain Points Can be used to discover our Aliveness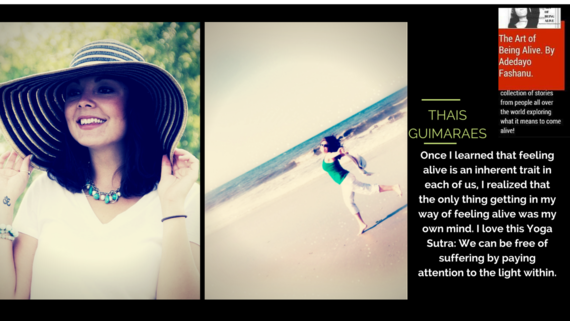 Photo credit: Thais Guimaraes
Thais Guimaraes is a women's leadership life coach, yoga and meditation teacher, speaker and writer. After struggling for years with emotional eating, anxiety and several identity crises, she found the key to aliveness -- purpose, and set out to support other women find and live their light. Thais currently works with clients through private coaching, mastermind groups, retreats and online courses. Thais inspires thousands of readers through her weekly love notes over at CoachThais.com.
In Thais interview she said:
Things were difficult for me in high school and college. On the exterior I had a pretty great life. My parents supported everything I did. I was an athlete and did very well in school. But on the inside, I was extremely unhappy. I was wrought with anxiety, angry at the world and completely disconnected with my body. I didn't understand the source of my unhappiness and so I unconsciously looked for anything to numb it. I became a heavy emotional eater and would counter it by spending hours at the gym. After enduring many years of this self-induced pain, something shifted.

It happened on a very hot night. I was tossing and turning in the heat, completely frustrated and feeling utterly alone. I took a breath, looked up and asked the dark space above me 'What do I do?' I immediately got an answer back 'You are going to be okay.' I had no idea where that voice came from or what to do with this new knowledge but it didn't matter -- something had already shifted. At that moment I realized, the Universe does support me. I am not alone.
Lesson 2: Finding an act that makes us feel joy can enliven us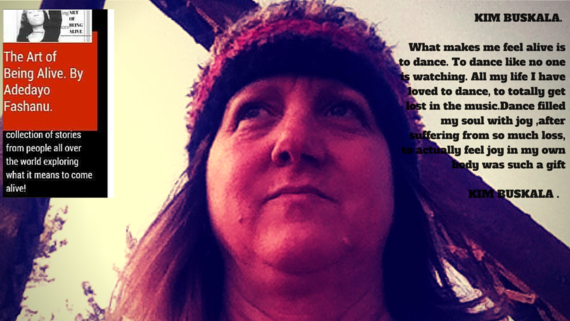 Photo credit: Kim Buskala
Kim Buskala says , "I consider myself a free spirit I fly by the seat of my pants. I have always known that I was going to be married and raise some awesome kids. That I have done. Married to a most forgiving/funny/loving man for thirty-one years and counting. I have also been privileged to stay at home and raise two gorgeous daughters ages 24 and 16. My time is now. So I write."
Here is a glimpse of her story in her words:
What has awaken this sleeping giant is the gift of dance. All my life I have loved to dance to get totally lost in the music. To allow my body to move in ways it only knows. Dance as if no one is watching, that would be me. Through the loss of my mother. Her illness her will to live her sparkle in her eye her ability to laugh and the six week journey she took us on before she met her final resting place. I am sure sparked my fire.

While my mother was in hospice, my father fell ill to a disfiguring painful autoimmune disease. Shortly after my mother passed I receive a phone call from a friend of my fathers and his wife telling me someone needs to come and take care of Al, Audree isn't capable. My first thought was why me? I haven't yet grieved over the loss of my mother. But I stepped up to the plate called my older sister and said: 'We're going to Texas to help dad.' We met in San Antonio had the weekend to get a grip. I always know that yoga will ease my pain so I found a yoga center to attend. The time we had allowed didn't offer yoga but offered JourneyDance. We both looked at each other and said, 'We're on a journey, this will be perfect.' And it was. Dance filled my soul with joy -- after suffering from so much loss, to actually feel joy in my own body was such a gift. I fell down in a puddle of my own tears of joy. Remembering, I have crossed many bridges on my way to dance.

My father passed nine months after my mother.
Lesson 3: Experiences are what makes life interesting...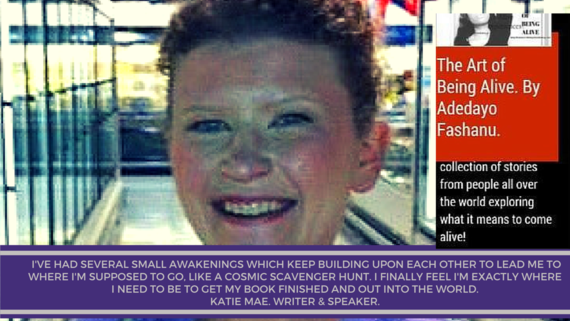 Photo credit: Katie Mae
Katie Mae says:
I'm 32, a wife, mother, woman, sister, daughter, writer, painter, Health Coach, motivational speaker, and another person trying to find her way in the world! I love self-help and motivational thought which was first inspired by Peter McWilliams book Life 101. It was then that I knew I wanted to leave my place in the world with a book and do something to make an impact in other peoples' lives.

Music. Zumba. Arts. People. Laughter. Learning. Talking. Friends. Travel. Family. Love. Trials. Surviving. Overcoming. All of these things in life make me feel alive, in a variety of ways but all of the feelings we experience are what makes our lives interesting and ever growing.
Lesson 4: Commitment to a task can awaken us and make us feel Alive!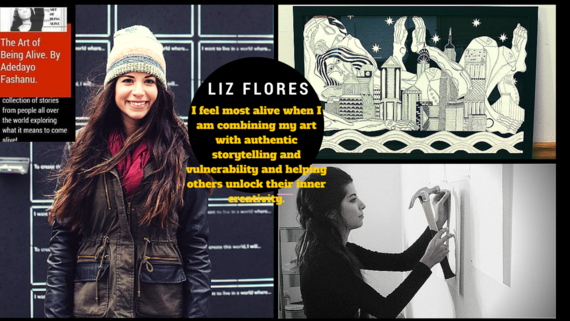 Photo credit: Liz Flores
Liz Flores is Chicago native who after graduating from college felt distant and disconnected from herself. She says " Realizing the corporate world was not for me, I dove back into her first love; 'art and painting'. Through a 100 Day Project challenge inspired by Amber Rae and Elle Luna I committed to devoting myself to art for 100 days. The simple Instagram based project changed my life as I realized that anything is possible with consistent action that comes from the heart. By the 100th day, I had re-connected with the artist within, purchased a work studio in Chicago and documented my creative recovery to share with the world.
In her interview she said,
I felt most alive when I completed my 100 Day Project on December 16, 2014. The 100 Day Project marked the beginning of acknowledging, loving, and caring for my inner artist. When I completed the project this past December and I looked back at Day 1 in comparison to Day 100, I could not have imagined the change that transpired within those 100 days. Every ending marks a new beginning. The end of my 100 day project marked a new chapter in my artistic recovery.
LESSON 5: The Art of Being Alive lies on the other side of Fear....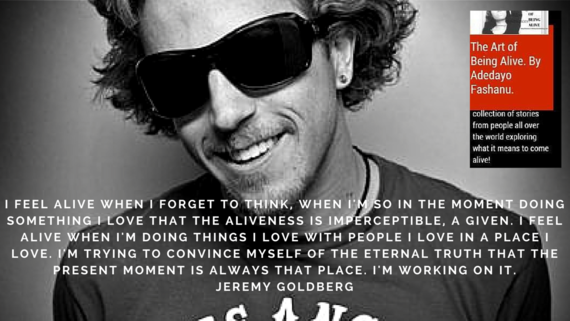 photo credit: Jeremy Goldberg
Jeremy Goldberg:
I'm a kind-hearted marine biologist with a punk rock spirit, a full-time PhD student with an unshakeable yearning to live the shit out of my life. My day job is to help save the Great Barrier Reef, but in my spare time I am trying to make kindness cool and the world better than it was yesterday. I lead a tribe called Long Distance Love Bombs, I write articles, and I make things that make things better and I sell them online. Most importantly, I change lives.
The fear of being vulnerable is one of the greatest fear I've had to overcome, of truly being myself, of sharing my soul with the world and saying what I think and feeling and care about, and then stepping back and not giving a shit what other people think about me. The biggest fear is being proud to be myself and to live the life I care most about.
I'm inspired by sweet popping possibility, hope, joy. I'm inspired by the messages I receive from people and the friends and family who are kicking ass and taking names. I'm inspired by happiness, and by the burning truth that deep down, we are enough, that now is beautiful, and that things get better.
All photos used are courtesy of the stories already submitted for the book; the photos were edited by Adedayo to fit their quotes from their submissions. They gave permission to use their submissions and their image for the purposes of the book and related.
Watch the trailer here : http://youtu.be/9w3XvuKACOc
submit for participation by using this form: http://www.formget.com/app/form/share/WFbK-93375
Join the conversation on facebook: http://www.facebook.com/feelalivemovement
email: submissions@lifestylewellbeing.com