Williams natural gas Rig #280 was not what I expected. Catching up with the Grand Junction Area Chamber of Commerce Rig Tour on May 25, I braced myself for a loud, assaultive experience.
The reality was just the opposite. The site of the rig was a tiny footprint on land owned by the Savage family in Garfield County. A couple hundred head of cattle grazed contentedly in a pasture surrounding the rig.
The tour, conducted by Susan Alvillar, Community Affairs Representative for Williams, revealed a relatively quiet operation that was clean and extremely efficient.
Williams is the largest natural gas producer in Colorado employing about 250 people in the western half of the state. One of the top 10 natural gas producers in the country, Williams is very focused on innovation and environmental protection, so nothing is wasted on a rig.
After donning hardhats, toe protectors, safety goggles and coveralls our group of about a dozen interested people got a first-hand look at the H & P Flex rig in the Rulison Field.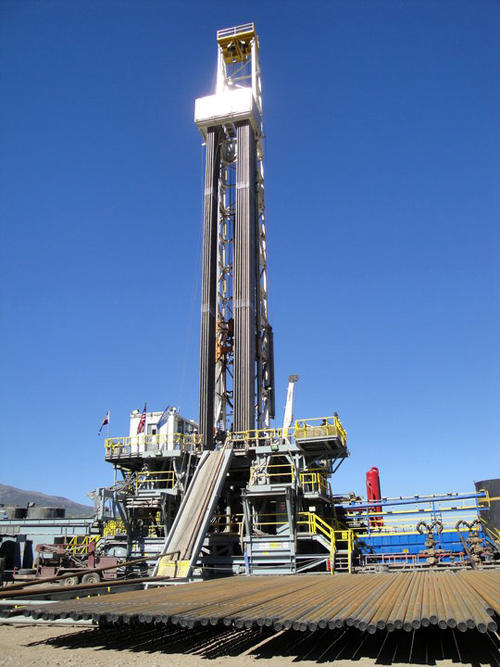 With 15 wells running off this particular rig, only one pad is needed where four would have been required by old-school rigs. Each well cost about a million dollars to drill, so it is a good thing there is a lot of natural gas 7,600 feet under the Piceance Basin.
As Susan explained, "Getting energy to each of our homes is more complicated than you think."
The timeline for drilling the rig is 120 days, and it is abuzz with directional drilling 24/7. Starting with surface casing and progressing to production casing which is cemented in place, it takes about a week to drill each well. Then wirelines with jet charges burn holes in the rock penetrating the formation.
After several wells have been drilled, hydraulic fracturing, or fracking, begins at the bottom of the well and moves upward, zone by zone. Large quantities of water and sand are mixed with less than .1 percent additives and injected into the well, cracking the rock up to 150 feet away and allowing the gas to be more easily extracted.
Small solar panels are used to power processing units which separate out sand, water, condensate and gas. Sand and water are reused. Condensate, a heavy hydrocarbon product containing natural gas liquids (NGLs), is a very valuable commodity worth the price of a barrel of oil.
After all the separating, natural gas is what is left. This post-fracking separation process has been used since 2001 and has allowed Williams to eliminate routine flaring at well pads.
Rig #280 is 70 days old and in less than two months drilling will be complete and it will begin extracting natural gas. Susan explained, "The wells 280 is drilling will operate for 30+ years and after they are no longer productive, we will cement them in."
The cement will completely block off the wells and reclamation will begin. Other old well sites that have gone through reclamation are barely noticeable.
According to Susan, drilling mud is the "lifeblood of wells." A combination of water and bentonite, it is heavier than water and lubricates all drilling processes. Like everything else in the operation, the drilling mud is recycled and reused.
Williams also operates a state-of-the-art gas processing complex in Parachute that has the capacity to move 1.2 billion cubic feet of natural gas per day. The facility handles all the gas extracted from Garfield and Rio Blanco counties and sends it out in all four directions.
Williams prides itself on being a good neighbor. Roy Savage stated, "The Savage family has worked cooperatively with Williams to develop our minerals. When issues arise about the drilling operations, they are addressed directly--as we would expect them to be."
The day after touring Rig #280, I attended my second Sustainability Roundtable facilitated by the Alliance for Sustainable Colorado I thought the two events would contrast sharply, but much to my amazement they complemented each other.
Susan explained, "Fifty percent of the natural gas used in the U.S today was drilled during the last four years."
Until we are willing to stop using energy produced by natural gas, extraction companies cannot be viewed as the enemy, although we might have to make an exception for British Petroleum, currently known as "Beyond Patience."
This blog originally ran as a SustainAbility column in the Daily Sentinel/gjsentinel.com.