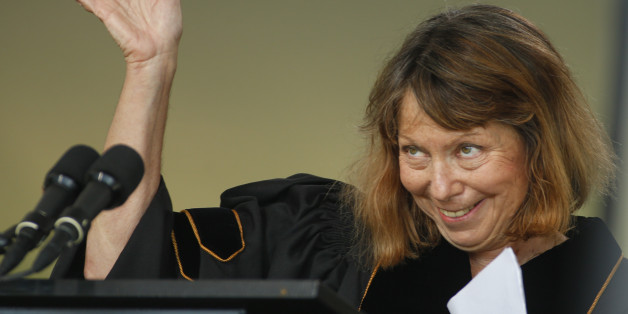 It's still the Old Boys' Club that we women forget to consider when we keep trying to do our best work, ridiculously thinking that if we can only get it right, our bosses, the guys at the top, will recognize us and reward us. But since that hasn't happened, we'd better wise up.

Reading the news about Jill Abramson during this same week of watching television's farewell to Barbara Walters, I remembered a 30-year-old incident. As the first career columnist with King Features Newspaper Syndicate in the 1980s, I was invited to speak to the American Society of Newspaper Publishers, the first woman speaker in the Grand Ballroom at the Waldorf Astoria. My assigned topic: sexual harassment, a tough sell to that mostly male audience.
After President Reagan finished his noon address, I stayed for the afternoon panel -- three Pulitzer Prize-winning newspaper editors-in-chiefs and three celebrity television news anchors, each to answer the question: "If I had your job..." Abe Rosenthal of the NYT shouted out, "Ladies first." Barbara Walters was their only lady.

She took out her notes and said that newspaper editor-in-chiefs should consider television as a true subject in itself, not just gossip. While she never mentioned the trashing she had borne when Harry Reasoner, conspicuously contemptuous, was made to share the hosting of ABC's nightly news, she did discuss what they might write about TV.

When she finished, not one of the men alluded to her remarks. Instead, they were genial, telling friendly, funny stories about each other. Nearly 15 minutes into the frivolity, Barbara Walters apologized to the panelists and to the audience. She said she always misunderstood such an assignment. She had taken it literally as a shared critical analysis instead of recognizing it as performance of public comradeship -- as I heard it, a Boys' Club love-in. Then she got up and walked out.

There was an audible inhale, but after the exhale, everyone went on breathing as normal. No one said anything about her. The men panelists went on as if it hadn't happened. I sat in my seat and wrote her a note on my tablet about the meaning of the incident. Which she answered.
Not too much has changed in office politics and what it takes to belong. It may turn out that Jill Abramson's real leadership gaffe lay in not making good friends with her publisher and manager, rather than her request or her lawyer's for equal pay. Belonging is an evergreen skill for success. We who are made to feel unwelcome have to still try harder.
Make your luck happen.