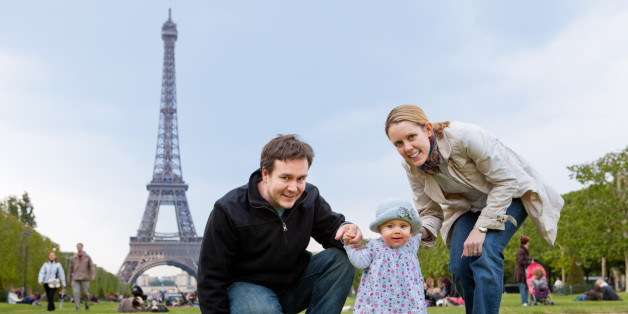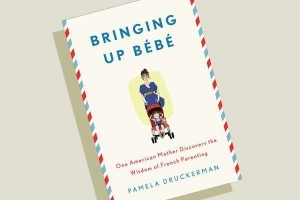 Have you read Bringing Up Bebe yet? If so, I'd really like to talk about it with you. I'm so wishing I were French right now for so many reasons, but mostly because having kids who don't require inordinate amounts of attention and can keep themselves occupied for one flippin' hour would be really *%&@!! nice. Been a long day. Deep breath.
I'm writing this on a Sunday afternoon when we've already had our fair share of kid-friendly activities this weekend. Friday night dinner with not one, but two friends. Saturday morning PJ breakfast with gooey cinnamon buns and frosting (allowed to be eaten in front of the TV with stupid shows on in the background), one birthday party, one amazingly cool and fun babysitter, followed by a fun Sunday morning and soccer party. It is now 2 p.m. and I've been asked at least four times, "Who's coming over?," "What are we doing later?" and "Can you play with me?" And I want to SCREEEAMMMMM!!!!!
Why can't my kid be like this?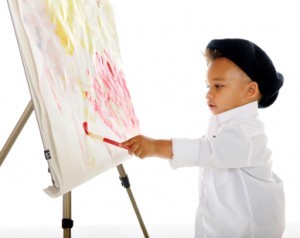 It's my fault, I know. I'm mad at myself for not being French. French kids sit quietly through four-course meals. French kids keep themselves occupied during long Sunday afternoons. French kids don't interrupt or require excessive snacks at inopportune times. French kids don't ask "What are we doing later?" when they're on a trip to DISNEY WORLD!
The reason they are like this, according to Bringing Up Bebe (and a French mom I know who happens to have the most well-behaved kids I've ever met), is because their parents basically ignore their requests 90 percent of the time. They make them wait. They don't over program. They advocate boredom. And I am guilty of all of this.
So I try using the line: "You're allowed to be bored!" after the whining goes on for another five minutes. But instead of my kid responding in the appropriate French way ("Oui, Mama! I will now go outside and play make-believe with the leaves!") I am still listening to aforementioned whining and lose another 10 minutes of precious Sunday afternoon "whatever" time. If only I were French I'd be sipping Chardonnay right now, smoking and looking chic in my size 2 jeans and not about to blow.
A review of Bringing Up Bebe in the Chicago Tribune says it perfectly: "French women don't have little bags of emergency Cheerios spilling all over their Louis Vuitton handbags." Okay, I don't have a Louis Vuitton handbag but I do have smushed Goldfish EVERYWHERE. In my TJMaxx handbag. In my car. Bags upon bags of flippin' Goldfish that could literally fill the aquarium. I'm so obsessed with buying Goldfish because god forbid what would happen if I should ever run out of them and then -- GASP! My kid would be... Goldfishless? This is tres bad.
This, of course, is coming off a week where I got three emails asking me to sign up for summer camp (it's October), one email asking when my kid's Bat Mitzvah date is (she's 9 and this doesn't happen until the age of 12), and two requests to serve on a committee next summer. It's no wonder we're all anxious.
So after you go and read this book, will you play French with me? Because it seems like it will work a lot better if we do this together. We can meet at cute little French cafes and talk about Proust and be size 2 while ingesting chocolate croissants (how is this scientifically possible?) and ignore our kids when they ask for cookies.
Who's in?
--
Salad Nicoise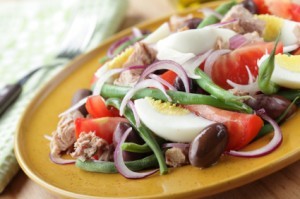 Salad Nicoise is a staple among French salads. It's simple, healthy and absolutely delicious. If I make this tonight and have it with a glass of red wine and ignore my kids, I'll be French. Sort of.
Ingredients:
1 head Boston lettuce
1 bunch asparagus or green beans (steamed)
1 large tomato
3-4 red potatoes (boiled and cubed)
1-2 hard-boiled eggs
1 red onion (sliced thin)
handful capers
few olives
1 can tuna (drained)
For the dressing:
splash olive oil
pinch Kosher salt
pinch pepper
squirt Dijon mustard
few basil leaves (chopped)
juice of 1 lemon
Directions:
This salad also looks great when you keep the items separate, much like an antipasto served on a platter. Drizzle dressing on top immediately before serving.