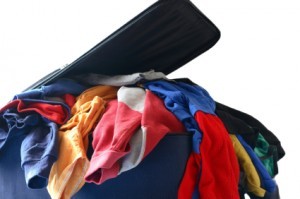 Why is it that people (no matter their age) turn into my grandmother before a trip, consuming themselves with packing, so much that they're incapable of doing anything else? This past weekend I took my kids to visit a dear friend in Colorado for her daughter's Bat Mitzvah. Despite the fact that I'm a pretty good multitasker, my entire week was consumed with the process of moving things from a closet to a suitcase (seemingly not challenging). And mind you, it wasn't literally packing (I'm not that organized) but the anxiety of packing that kept me from functioning at a normal level. I literally felt paralyzed wherever I went. "What if we don't have enough tights?" "What if we run out of toothpaste?" "What if, gasp -- my kids run out of Goldfish on the flight?" Gosh, it's not like we were flying to a third-world country or anything. I mean, I could ostensibly purchase these items in Denver, right? Right? Someone tell me!
I decided to test my theory by calling a few other people I knew who were also going out of town to see if I was the only neurotic one. I wasn't. They were all consumed with the anxiety of packing, too. "Can you go to lunch on Tuesday?" I asked one friend. "Oooh, sorry, I can't," she responded. "I have to pack." "But isn't your trip on Friday?" I rebutted. "Oooh, yah, but I have to lay things out."
I decided she was much more neurotic than me and immediately felt better about my laid-back self. Gotta put it all in perspective, you know?
Something else I noticed while traveling is that nobody on the plane was friendly during the pre-boarding, boarding, or duration of the flight. They all looked at me like I was going to be 'that one with the fighting kids' sitting behind them (if only they knew how serious my consequences are for being 'that kid'... ). But as soon as the plane landed, everybody perked up. People commented on how well-behaved my kids were (email me if you need consequences). Some asked where we were headed. There was laughter. Handshakes. Camaraderie. Heck, people even talked to the the no-fly-list-looking guy (c'mon, you know you do it, too).
Is this what post 9/11 travel has done to me us? If so, I think Delta should add Xanax to Skymall.
Speaking of Skymall, have the editors read that thing lately? Because I kinda think they need to do some tweaking to the inventory.
Anyway, we made it to Denver and back and had an incredible time. All of the travel anxiety was worth it to see the smiles on my kids' faces as they danced until 1 a.m. with my friend Lisa's daughters. Not to mention being able to celebrate such an incredible milestone with a wonderful family and many of my BFFs from college. How lucky we were to be a part of this special weekend.
But now it's back to the grind and the reality of figuring out what's for dinner that doesn't involve ordering up room service, peanuts or pretzels. Since I haven't been to the grocery store I'm going to use whatever's in the pantry for tonight's dinner. Pasta and yummy hearts of palm salad. Done.
I wonder if I leave my stuffed suitcase sitting in the hall until Thanksgiving if I can just use whatever's in it for the next trip. Save me a lot of anxiety.
Hearts of Palm 'Post-Travel' No Anxiety Salad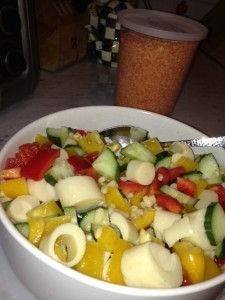 Ingredients:
1 can hearts of palm (sliced)
1 can white shoepeg corn
1 cucumber (this was in my fridge, promise!)
1 red bell pepper (same!)
1 yellow bell pepper
For the dressing:
1 lemon
1 pinch Kosher salt
1 clove garlic (minced)
few splashes Apple Cider vinegar
1 squirt Dijon mustard
few splashes olive oil