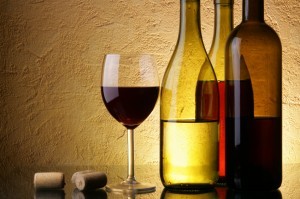 Would you like some sass with that Shiraz, Madame?
I love going to fine restaurants where food is paired with the perfect wine. There's just something about having professional direction of your alcoholic intake that's so sophisticated. Makes the food taste better and makes me feel smart. For instance, a white flaky fish baked with capers, lemon and bread crumbs is delightful with a nice Pinot Grigio. Pasta Primavera with broccoli, tomatoes and mushrooms is tres deliciouso when coupled with a glass of chardonnay from Cakebread Cellars. And nothing goes better with a monster burger and extra crispy pomme frites than merlot in an enormous glass. See, I don't need a sommelier... I can do it myself. And I do. Only my wine pairings take on a whole new meaning when served at home.
Because they are whine pairings. And they go something like this:
Ask me for a snack one more time and I'll pair that with a glass of BV Coastal Chardonnay and some Triscuits as I close my eyes and pretend I'm at the beach and you are not with me.
Fighting over the Wii calls for a glass of my favorite Zinfandel, XYZIN, and a set of ear plugs because if I hear that blasted music or see that little fat Mii you say looks exactly like me one more time I'll jump off a cliff.
May I suggest the Layer Cake Merlot when your relatives call to 'chat' or (worse) 'stop by' at 6 p.m. on a Tuesday?
Tantrums, fits and fist fights call for whatever is most easily accessible, typically the Clos Du Bois (because it's so darn cheap and good) in the fridge. No snack needed. Just drink.
Sass, back talk, (or if you're still stuck in the '80s -- being fresh) goes great with Sauvignon Blanc.
When kids ask, "What are we having for dinner?", I recommend the Kenwood Vintage Red before answering "I dunno, what are you making?"
Delayed bedtimes, chore shirking and bath avoiders beckon a bottle of Bogle.
Computer crashes, talking to Delta airlines, saying the word "representative" more than once or having your kids steal all of your office paper out of the printer so you are left with nothing but construction paper which doesn't do well with printer trackers invites cracking open some Chardonnay by Toasted Head for the name alone.
To make the most of these whine pairings, always drink from a real glass, never a plastic cup. Put on lipstick. And if you have the opportunity to put the phone on speaker while you're waiting for someone to pick up, stop crying, get home or simply get out of your face, put on some classical music and make stuffed mushrooms. Pair these mushrooms with your whine and after two or three glasses, somehow, it all just fades away...
Veggie Stuffed Mushrooms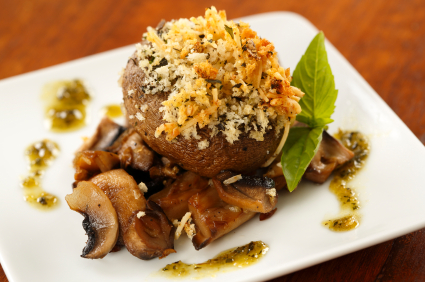 Ingredients:
Large White Mushrooms
Celery
Carrots
Onion
Olive Oil
Seasoned Bread Crumbs
Parmesan Cheese
Directions:
Chop carrots, onion and celery in food processor until minced.
Saute in a little olive oil, S&P and bread crumbs until blended.
Pull stems off of mushrooms and empty caps. (save a few mushrooms for plating)
Fill caps with veggie mixture and drizzle with olive oil and some of the wine you're drinking with your whine.
Top with Parmesan cheese.
Bake at 400 for 10-15 minutes or until cheese is bubbly.
*Can also try with veggie crumbles!