While scrolling through my Facebook News Feed a few weeks ago, I noticed a colorful photo posted by Heather Watts, former principal dancer with New York City Ballet. It was an eye-catching image of 300 children, all smiles with hands in the air, on stage at the Vilar Performing Arts Center in Beaver Creek, CO. The caption read, "CTB end of year performance" and congratulated the children, their teachers, "and Tracy, for organizing it all!"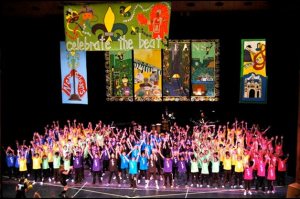 Celebrate the Beat year end performance -- May 4, 2012
What was CTB, I wondered? Why was Heather Watts involved with children in Colorado? And who was Tracy? I was curious, and wanted to learn more.
It turns out Heather is chairperson of Celebrate the Beat, (CTB), a not-for-profit Colorado-based organization which teaches music and dance classes to children. The program was founded by Tracy Straus, now Artistic Director of CTB, and is an associate of Jacques d'Amboise's National Dance Institute. (Associates of National Dance Institute -- ANDI -- is a collective of arts education programs inspired by National Dance Institute's pedagogy).
I decided to reach out to Heather and Tracy to find out what it takes to bring arts education into the public schools and the positive impact such programs have on students.
Since retiring in 1995 as a principal dancer with New York City Ballet, Heather Watts has given so much back to the dance community. She has lectured at Princeton and Harvard; she is a lecturer on the works of George Balanchine, has worked with The National Endowment for the Arts, and serves on the Artists Committee for the Kennedy Center Honors.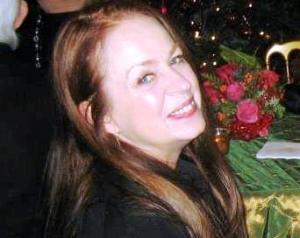 Heather Watts, former principal dancer with NYCB
How did you become involved with CTB?
I had long admired National Dance Institute (NDI), the organization Jacques D'Amboise created. In fact, as he was in the beginning phase of creating NDI in the mid 1970's I would often pass the small rehearsal hall after late rehearsals at NYCB and stop to watch and listen as Jacques worked with all sorts of SUPPOSED non-dancers; these were policemen, kids, and at one point he was involved in teaching and working with the hearing impaired as well... his passion and ability to get people from all walks moving and engaged is a true gift!!
In 2007, when my husband Damian Woetzel took on the artistic direction at the Vail Valley International Dance Festival, we both felt it was important to offer the entire Vail community access to dance. Since NDI is a fantastic dance and movement program with live music, I spoke to Tracy Straus, the associate director at NDI. It turned out she already had a Colorado based organization called Celebrate The Beat, and with the incredible energy of Damian at the VVIDF and Ceil Folz who runs the entire Vail Valley Foundation, we were able to start up immediately that summer and Tracy has built an amazing and robust program in Vail and in other communities in Colorado. This year CTB is moving into schools in Denver where we feel we will be addressing a diverse student body that really stand to benefit from the confidence and joy that CTB brings to kids!!
Why teach love of the arts to children?
I have always believed that those that have been given a lot need to share in all areas of life. Both my mother and Mr. Balanchine were very civic minded and empathetic and it was a wonderful example and environment to be raised around, first at home in southern California and then later on at NYCB. I believe strongly in the power of arts education to engage and empower young people.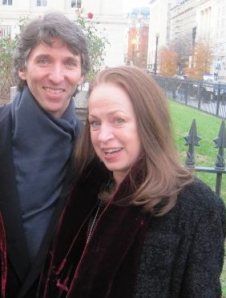 Heather Watts and husband Damian Woetzel, Artistic Director of the Vail Intl. Dance Festival
Do you think programs like CTB make a difference?
It's very important to utilize team work and create self esteem for learning. There is a big movement to justify arts in schools with facts and statistics that prove the usefulness of the arts, but I am a believer in engaging all children Because it's the right thing to do, engaging young hearts and minds in creative and joyful experiences.
What can be done to encourage funding?
As long as arts programs and arts education for children is considered an add-on, their funding will be the first to go. Today there is a much needed focus that is growing daily here in America on our education system and on necessary improvements in how we engage and measure our children's progress. Arts education is a big part of building a 21st century creative mind, and I think that we have let way too many kids lose their way by not drawing in their young minds with music, dance, painting and the other various ways we can express those things we do not have words for.
Do you foresee a growth in the associate programs of the NDI?
Oh yes indeed! NDI has a long, long fantastic reach that is growing day by day! Don't forget it's called National Dance Institute -- Bravo to Jacques and his amazing program! What an accomplishment. Kudos to Tracy for all she does for both NDI and CTB and to our team on the ground in Colorado!!
What can we do to support and encourage development of similar programs?

CTB is training more teachers and Tracy is generous to give away all her knowledge and expertise to all who will listen just as Jacques trained her. There are many fine Arts Ed Programs in America, and we can all help them grow by donating even small amounts of money or by attending events put on in the schools or by starting our own! You can send money to both NDI and CTB online or in the mail. For more ideas if you believe in arts ed and want to help, you can go on to DonorsChoose.org and look up arts needs in schools. Even the smallest donation helps.
Stay tuned for an interview with Tracy Straus, Artistic Director of Celebrate the Beat and Associate Artistic Director of the National Dance Institute!