As we pause for a moment to remember Earth Day, the April 22 date which is America's un-official "green" holiday, I've been thinking about a fact I recently learned which surprised me, even though I've spent most of my adult life working in and around city parks.
As it turns out, our nation's largest cities contain grand park systems where more than 50 percent of the park land is considered "natural." In fact, among America's 10 largest cities, only Chicago doesn't have a park system which is more than 50 percent natural -- and Chicago's system is close to half natural.
The idea that our nation's largest cities are repositories of natural areas of significant size flies in the face of not only the popular notion of cities as concrete jungles, but also of the popular image that American city parks follow the tradition begun by Frederick Law Olmsted: well-designed, heavily manicured greenswards or large modern recreational facilities -- ballfields, tennis courts, golf courses, running and cycling tracks and skating rinks.
In the context of city parks, "natural" areas are "either pristine or reclaimed lands that are open to the public and left largely undisturbed and managed for their ecological value (i.e., wetlands, forests, deserts). While they may have trails and occasional benches, they are not developed for any recreation activities beyond walking, running, and cycling."
This definition comes from the recent 2014 City Park Facts (CPF), written and published by The Trust for Public Land's Center for City Park Excellence, a "think tank" for urban park issues. Aside from natural areas, it explains designed parks as "park lands that have been created, constructed, planted, and managed primarily for human use. They include playgrounds, neighborhood parks, sports fields, plazas, boulevards, municipal golf courses, municipal cemeteries, and all areas served by roadways, parking lots, and service buildings."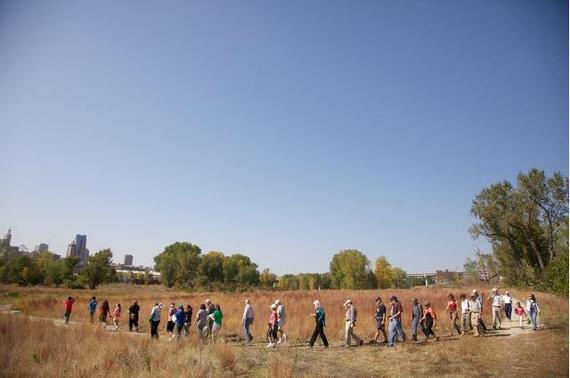 Bruce Vento Nature Sanctuary, St. Paul, Minnesota (image courtesy of The Trust for Public Land)
That so many of the parks in our largest cities are natural has profound implications for the future not just of the park systems themselves, but also for the environmental sustainability of cities and for all of the factors that go into planning, designing, constructing and managing parks.
This point is even more true given the recent description of the emerging impacts of climate change in the report. Those impacts are likely to include rising sea levels for coastal cities, increased storm water runoff or drought. As cities both grow in size and deal with climate change, their parks -- especially their natural areas -- will play even more important roles than simply providing places for city residents to get outside.
Now, city officials, park managers, scientists, landscape architects, planners, engineers and open space advocates have new understandings of the value of natural areas in cities, and they are acting to protect, study, manage and, in some cases, restore these areas.
In most cases, the natural areas were deliberately preserved as part of official efforts to save large open spaces and preserve their natural aspects. Other times, preservation of natural areas was accidental at first, as open space acquired to develop as active parkland sat fallow due to lack of resources or civic will. In some instances, formerly disturbed areas (garbage dumps, filled-in freshwater and tidal wetlands) went back to nature as human intervention tailed off.
The "benign neglect" theory applies to New York City, by far the nation's largest city, and the largest city to have a park system more than 50 percent natural. I have some experience with that, as for two years in the late 1980's, I was the Director of the N.Y.C. Parks Department's Natural Resources Group (NRG). The NRG was created in 1986 under then Parks Commissioner Henry J. Stern. Stern had a personal fondness for natural areas and especially for trees, and his First Deputy Commissioner, Robert Santos, created the NRG to assess and develop management plans for the City's natural areas.
This was a watershed moment for New York and perhaps for urban park management nationally. Prior to this time, generally speaking, the then-vast areas of woods, meadows and salt and freshwater wetland (approximately 10,000 acres of city parkland -- another 7,000 acres of federal parkland were also mostly "natural" as well) were shown on park maps as "undeveloped land." While recent federal and state regulations had offered some protections for wetlands, the natural areas were subject to being "developed" for active recreation purposes, or in some cases for roads. At the NRG, we set out to determine what the resource was, see how healthy it was, assess the types of restoration or other intervention that might be appropriate, and also promote the values of the wild areas through education and the creation of trails and nature centers, helping people to understand, appreciate and use them more.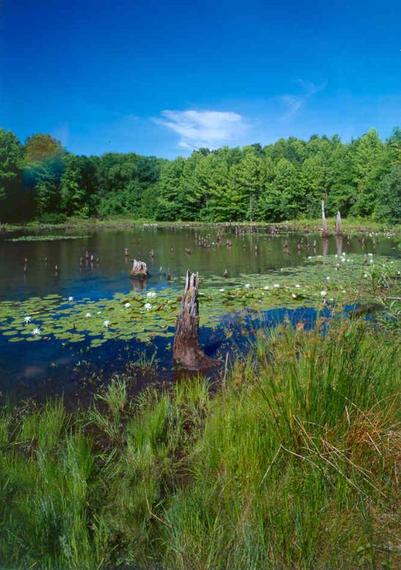 Blue Heron Park, Staten Island, New York (image courtesy of Natural Areas Conservancy)
How did N.Y.C. come to possess so much "natural" open space? Some of it was deliberate: although Robert Moses is reviled for filling in wetlands and building major highways along shorelines, he also presided over the saving of what was left of the open spaces of Jamaica Bay, including land that would later be transferred to the National Park Service as part of Gateway National Recreation Area. Much earlier, in the early 1880s, John Mullaly led an effort to acquire and protect as parkland almost 6,000 acres of woodlands and meadows and wetlands in the Bronx, creating Pelham Bay Park -- still the city's largest park and almost four times the size of Central Park -- along with Van Cortlandt Park and Bronx Park, later the homes of the Bronx Zoo and NY Botanical Garden.
But other "natural" parks are former dumps, filled-in wetlands, and areas of designed parks that either naturalized due to lack of maintenance, or were deliberately restored or managed as natural areas.
In part two, we will look at what other major cities are doing to preserve natural park lands.