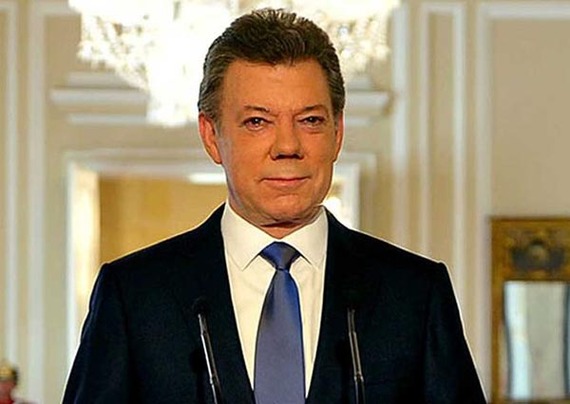 With nearly 8 million votes, Juan Manuel Santos was reelected President of Colombia, defeating his Center Democratic Party contender Oscar Iván Zuluaga for almost a million votes.
In the first round of presidential elections that took place three weeks ago, Oscar Ivan Zuluaga won the primary by more than 500,000 votes, but four political events occurred between May 25 and June 15 and allowed Juan Manuel Santos to exceed one million votes to his opponent.
Santos made an alliance with the left party, which represented 269,000 extra votes in Bogota, also made alliances with political patriarchs especially on the Atlantic coast and regions like Santander (border with Venezuela) allowing him to increase the difference; his campaign focused on inviting citizens to vote for peace and through that strategy 2.5 million people more finally vote decreasing the abstention.
In the south of the country in regions like Valle, Nariño, Cauca, Huila and Putumayo (regions heavily hit by terrorist groups) , Juan Manuel Santos took over 500,000 votes ahead of Oscar Iván Zuluaga.
During the speech that acknowledged Juan Manuel Santos' victory, he spoke about the peace process with the FARC and the ELN and said that without the weight of the conflict Colombia will be a great nation, adding that many were skeptical of the peace process and the fear expressed was to make peace at any price; Santos said he got the message, and pledged that Colombia will have "peace without impunity."
It also sent a clear message to the terrorist groups -- the FARC and the ELN -- in which he tells them that "this is the end" and encourages them to reach the end of the conflict with seriousness and determination: "This is the end of over 50 years of violence in our country and is the beginning of a new Colombia at peace with itself, with social justice. We conclude that the negotiations will not be easy." And added:
"To achieve peace we will have to take difficult steps to ensure that not only is fair but durable and I will need the support of all Colombians to achieve. This will be possible also thanks to the determination and courage of our armed forces, peace as any soldier will be your victory, so all Colombians owe them gratitude and admiration for our soldiers and policemen and we will thank the police modernizing it and making it even stronger."
Juan Manuel Santos in his speech stressed that these campaign were very different because at stake is not the name of a candidate, but the course of a country, assure that Colombians that have very different beliefs, even some who did not like their government was mobilized by the cause of peace because, "They know that the History has its moments and this is the time of peacetime to end the conflict, the time to rebuild and recognize all victims, time to rebuild regions hit by the violence."
Santos said he did not recognize enemies and does not keep any bitterness, and congratulate his opponent Oscar Iván Zuluaga, former minister for his vote and thanked the gallantry with which recognized his triumph. Also said he will rule with the greatest respect for his political opponents and invite the 47 million Colombians to form "the unit for peace."