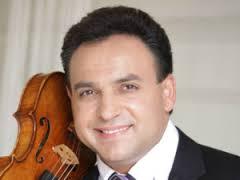 New Yorkers expect the best of everything, and recently I had the opportunity to see one of the best: Zoltan Maga, Hungary's most celebrated violin virtuoso, a man who brings Hungarian cultural traditions to the rest of the world.
This October, Maga and his unique Budapest Gypsy Orchestra performed at Carnegie Hall in Manhattan for the first time. Their music has earned them worldwide recognition for its fusion of classical, folk, pop and gypsy music.
Fifteen musicians, using only their instruments, repertoire and language of the show, took the audience to Western Europe and back without ever leaving their seats.
The group of violins, violas, cellos, clarinets, pianos, double basses and exotic cymbalos played in the Hungarian Gypsy, Romanian and Russian styles. I found their music both fascinating and powerful as it carried my mood from nostalgia to euphoria to melancholy during the course of the performance.
The Hungarian melodies were played in a strict order: first came the slow movements -- the ballads or lassans -- then the medium tempo palotas and finally the fast czardas and the even faster friss czardas. The Romanian melodies were a different creature altogether, with simple melodies but complex rhythms. The Russian melodies included famous, slow movements alternating with faster czardasses. The night also included unique Cossack songs played in the Gypsy style.
Part of the beauty of gypsy music is the harmonies the cymbalo and the bass add to the score. Some examples of this can be heard in pieces from composers like Leo Weiner in his Divertimento No. 1, Op.20 or from the unforgettable Franz Liszt and his Hungarian Rhapsody No. 2.
Maga has performed for kings, popes and rulers worldwide, and I can say with 100% certainty that he is the fastest violinist I have ever seen. His command of the instrument was very impressive; Maga can make a guitar, flute, or flirty whistle out of his violin, often simultaneously.
The Budapest Gypsy Orchestra performed in New York City as part of its worldwide 100 Concerts tour. For those who have not had the pleasure of seeing Maga live, PBS will be shooting a television special titled Zoltan Maga: From Budapest with Love, which will air throughout the United States in March 2015.