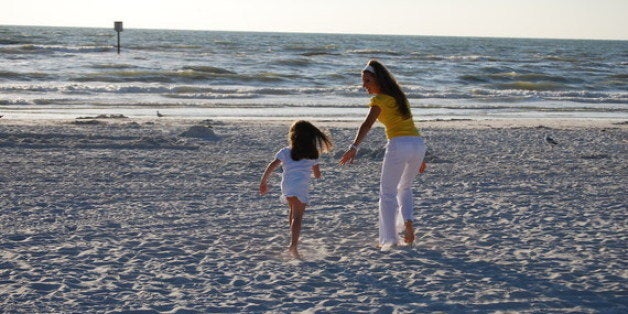 As I sat next to a​ friend during a two-​hour ​long bus ride​ through​ the mountains of ​Virginia​ for my daughter's ​5th grade field trip, I found myself ranting. I was ranting to her about how​ I feel like my kids are never​ active enough with athletics and extra-curricular ​activities.​ In the midst of my rant, I was ​quickly reminded about the sweet little boy in my son's Tae Kwon Do class that suddenly passed away one week ago from an illness, and how absolutely none of what I ranted about mattered.

As we approach Mother's Day, I will not only keep the Mom who recently lost her son in my prayers, but I want to remind all moms that the work we do is awesome.
7 Reasons Why You are Awesome, Mom!
1. Love
The daily kisses, hugs and cuddles you give your children offer them a feeling of unconditional love and acceptance, instilling in them a safe and secure environment in which they live that allows them to thrive.
2. Food
Whether they eat them or not, mom's home-cooked meals are prepared with love, with soul and with comfort. When I was a little girl, and even into my adult years, my grandmother cooked the best spaghetti and meatballs. I remember always asking for no sauce, but I could smell the sauce cooking as if it were stewing right now, and as an adult, I now appreciate the sauce, made with unconditional love. Y​our kids will eventually eat their pasta with sauce someday too!
3. Thoughtfulness
When you do something good for someone else, like delivering a bouquet of tulips to a neighbor who is feeling ​under the weather, or giving your teacher a small box of chocolates for M​other's D​ay, you are teaching your child a lesson on how to be a thoughtful and caring human being and they too will likely repeat this when they get older.
4. Learning
When you read a bedtime classic and you are so exhausted that you become hunched over and start to fall asleep before they do, they will cherish the stories, the memories of reading together and, equally important​, you will instill a lifetime love of reading in your child.
5. Respect
When you encourage your child to shake someone's hand and look them in the eye when they greet an adult, you are instilling confidence in your child and teaching them to respect others through generosity and kindness.
6. Honesty
When you are honest with others,​ you emulate a moral sense of ethics by teaching your child to be honest and to develop​ a strong level of integrity and trust.
7. Mistakes
We are human, we all make mistakes. Moms sometimes even make mistakes,​ but when these mistakes are recognized, mom shows​ her child that regardless of your mistakes, mom will always love you and you will love her right back!
There seems to be a lot of pressure on Moms​ these days. I find it is important that​ we all reflect on the wonderful things we do as moms and​ to encourage our children through love, learning and positive reinforcement.
Author, wife, and mother of three, Adriana Sifakis is the author of S.W.A.K., a novel of ultimate betrayal, a combative and riveting mother-daughter tale that has been known to keep her wide range of audiences attention as it touches on stories similar to The Glass Castle, Mommie Dearest, even Psycho! This novel has also been known to inspire many readers, giving them a much greater appreciation of a loving motherhood!