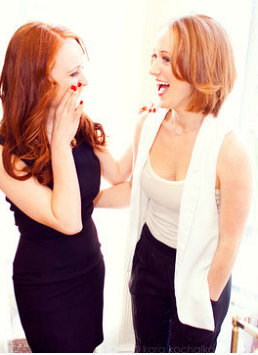 Most natural redheads are born with sensitive skin and many women who take the red plunge have fair skin, which at times can irritate easily.
I spoke in my first blog post about the the necessity of a ROCKIN' skin regimen! I am here to share with you how you can overcome skin issues with a simple redhead skin routine; we redheads are busy, fiery, successful women, so we need a skin regimen that will adhere to our lifestyles.
Here are the secrets to beautiful skin:
1. Take Off The Day: Oh gosh! How many times do you hear this from makeup professionals and dermatologists? Even though it's repetitive, it's very true. Pollution and other environment factors can get locked in your skin and cause nasty blackheads and breakouts. I am obsessed with Nano Tech Reusable Face and Body Cloths. Simply apply water and without the need of soap, the cloth will take off all dirt and makeup (even waterproof products!).
2. Spray & Lock: After cleansing your skin with an all-purpose face wash, spray rose water directly on your skin and while your skin is soaking wet, apply lotion to lock in the water. This will hydrate your skin and make you feel oh, so clean!
3. Itchiness & Breakouts: We redheads all have to deal with these problems! Just last night, a spot on my cheek began to itch and when I woke up in the morning there was a tiny little pimple dying to make its way through the surface. Follow Steps 1 and 2 and apply a dot of your favorite face mask to the spot overnight.
The trick is to always lock in moisture and never, ever try to dry your skin -- even if you think you have oily skin! Most of the times, oily skin means your skin is aching for some moisture, so your pores overwork and that's how oily skin originates.
Once you prep your skin, don't forget to:
1. Add some beautiful black eyeliner to your top eyelids (don't be afraid to go black!)
2. Apply a light bronzer to your cheeks.
3. Rock some hot red lips.
Follow these tips, discover how YOU can rock it like a redhead, and remember ladies, you are gorgeous!
Image courtesy of How to be a Redhead! Photo by Kara Kochalko.