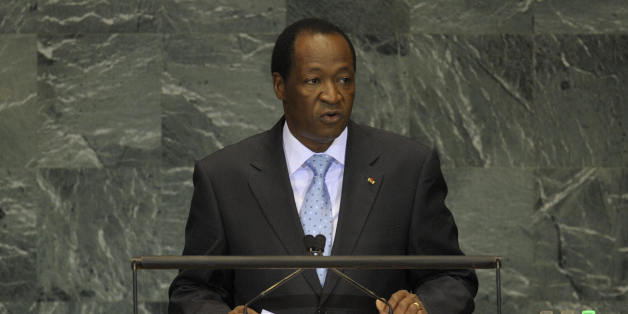 This landlocked country in West Africa, bordering some of the more volatile conflicts on the continent today, draws its name from the two major indigenous languages: "Faso" meaning "homeland," and "Burkina," meaning "people of integrity." Whereas elsewhere in Africa, ethnic and linguistic divisions have bred civil strife and civil war, here two denominations together have embraced a compound name meaning "Land of upright people." Beyond its symbolism, this achievement is indicative of a cultural and political tradition of resolving conflict through civil deliberation and compromise. And as rival elements in neighboring Mali are at risk of going back to war, hopes are high that the leadership of Burkina Faso can play an active role in stabilizing the neighborhood.
A former French colony, Burkina Faso had been strategically divided and exploited for its manpower beginning since 1932 -- but came together in 1947 amid its people's shared struggle for independence. And while parallel experiments at postcolonial governance on the continent went awry, successive governments in Burkina Faso worked toward holding the country together, and eventually found their way to democracy and a new constitution in 1991. Through largely homegrown efforts at economic development and the fostering of civil society, the country has built the institutions necessary to consolidate the democratic process. Ably led by the current president, Blaise Compaoré, the country established stability and progress during a period in which natural resources were barely available; livestock and cotton had been the primary exports. Then more recently, with a work ethic and a reasonable system of wealth distribution in place both in place, nascent mining ventures led to the discovery of gold and other mineral deposits, now providing a substantial injection of capital for the country to build on.
In the broader region, this vibrant polity and its leadership have an urgent role to play right now. Over the past 12 years, President Compaoré has demonstrated a special ability to help resolve violent conflict in bordering states. Between 2002 and 2010, he played an essential role in brokering ceasefires and an eventual unity government in Cote d'Ivoire in that country's civil war. Last year in neighboring Guinea, after protesters took to the streets to voice concerns over the transparency of a forthcoming election, Compaoré proved to be a voice for calm, and supported efforts to provide oversight and transparency at the polls. Presently, neighboring Mali stands in need of similar support. Al-Qaeda in the Arabian Peninsula created a major rupture in that country in 2012: The jihadist movement deftly exploited disaffection among the ethnic Tuareg population, and managed briefly to occupy a portion of northern Mali the size of France. But for a foreign military intervention led by French troops, the area Al-Qaeda controlled may well have congealed into a jihadist state, along the lines of the new "Caliphate" of the "Islamic State of Iraq and Syria." Earlier this summer, there was renewed armed conflict between the Malian army and the Kidal region, a stronghold of rebel Tuareg. Questions loom today as to whether the country can overcome its religious extremism and ethnic strife, and forge national reconciliation and a more equitable economy. Mali's leadership has accordingly tapped Burkina Faso president Compaoré to assist -- as a peace broker and advisor on national development.
In a recent interview with the country's national daily, Ouagalais, Compaoré said he welcomes his new responsibility "with emotion ... I go to this mission with great comfort because I feel that the Malian people today do not want [a return to war] ... The most important thing today is to start the dialogue, to address this issue on a civilized basis." At the end of June, Compaoré came to the Malian capital Bamaka for a two-day visit, and declared, "Malians today want peace, want to reconcile, through political dialogue ... They want to live in a unitary space ... without extremism, resolved to live in a secular state. They want to stop the war ... disarm [the militias], and bring back the displaced." He is committed to sustained talks with Malian President Ibrahim Boubacar Keita, as well as the opposition leadership -- and to close coordination with the country's robust UN mission.
Compaoré's mission is vital not only to Mali but also to the cause of stemming global jihadism and strengthening global security. His success would be a tribute to his country, and a gift to the world.