Romany Malco is used to having a live audience. In his formative years, fans would come see him perform rap lyrics. More recently, the audience is usually the crew of a movie or TV set, as he delivers his best interpretation of the script provided.
This day was much different. There were no rehearsed rhymes or lines from a Hollywood screenplay. Admittedly, since the topic of his talk at Lee College in Baytown, Texas didn't focus on how to make it in the entertainment industry, I was skeptical.
Some time before he would walk in the auditorium full of eager students, Malco and I talked off the record and I quickly realized the undergraduates were going to receive a pleasant surprise from his chosen topic. A local journalist entered the green room and she got straight to the questions. It was jolting to see him switch gears from the philosophical banter we traded to the more digestible quotes for the city paper. The three-day visit was dubbed #BackToBaytown, and culminated in a charity event benefiting A-place.org.
Malco explained to the reporter and everyone else in the room why this visit was due. He said, "The way in which we've been conditioned to interpret success is the acquisition of things, social status and monetary gain. The weird thing about those three things is they can be acquired without a sense of purpose. And no sense of purpose usually results in no sense of fulfillment." He went on to tell us that those pillars of "success" often lead to debt. Ultimately, finding your purpose before chasing these things has a higher propensity to an enriched life.
After a raucous Lee College welcome from the packed auditorium, Malco didn't mince words about his tumultuous childhood and adolescence. He candidly shared heartbreaking moments from his youth to make the larger point that "pain and trauma is what informs you of your purpose."
By age 13, he had lived in public housing in Brooklyn, a humble home in Trinidad, a trailer park in Baytown. Along with undesirable living conditions, he had to reconcile with an alcohol-riddled, abusive father and an emotionally unstable mother. His story had even more layers of despair but this was no pity party. He leveled the crowd with these stories, as his intention was to rectify any misconception that he grew up privileged with a mapped out path to success. He was right where they were after graduating high school just a few miles up the road. The latter half of the talk centered around how they too could capitalize on their respective aspirations from a town that is often overlooked.
During his uphill battle, a stint of homelessness in Long Beach, California, didn't stop him from finding musical success. He used his new connections as leverage to stay afloat in the entertainment industry. After spending time in New York, actor John Leguizamo reached out to Malco for lyrics and the in-person encounters led to an opportunity to be cast in Leguizamo's late 90's movie, The Pest. Though Malco didn't land the role, the casting agent sung the praises of his raw talent to other producers when opportunities became available. This glimmer of hope was all the ambitious novice needed to pursue acting further.
Since the early 2000s, Malco has been climbing his way to bona fide stardom. His breakout roles include Jay in The 40-year-Old Virgin and Conrad in the Showtime series "Weeds." With back-to-back box office hits as Zeke in Think Like A Man and Think Like a Man Too, he's been able to travel the world and live the life of purpose he professed to students.
The seed for this event was planted upon arriving to Detroit, Michigan for a two-day fishing trip. He sent out a message to his social media followers to help him surface nonprofit organization that provided sanctuary and guidance for at-risk teens. In the two days he went fishing, he had no service and was unaware that his call to action became the talk of the town.
Bombarded with options upon his return to land, he visited the organizations that he felt he could have the most impact as a former child of a broken home. The story gained national media attention and led to him calling his cousin to help bring that energy to back to his teenage roots.
Near the end of his talk at Lee College, he had the audience right where he wanted them. He was no longer the Hollywood actor in their eyes. Instead, he was the relatable adult who could articulate a harsh reality we all go through and how to reconfigure those instances into motivating factors for success. He said, "Blame is crippling...you know who blames? Victims blame. And as long as you're blaming, you're saying that you're not responsible for your life. Winners take responsibly!"
After spending more time with Malco, I surmised that he was a practitioner of what he preached to the students that afternoon and during a Q & A session later that day. Specifically, he joked with our media roundtable and audiences about the comical yet poignant advice his dad would give him. And he spoke highly of his mother, lamenting about the years it took for him to truly appreciate her but how it was worth the delayed gratification. Despite the strife he could have blamed them for, he reconstructed the common victim of circumstance story into a champion of opportunity story. And if his five-year plan he shared with us comes to fruition, the next chapter will be the best yet.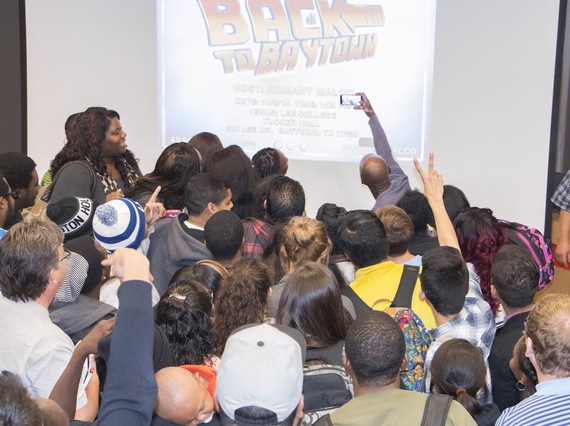 Malco takes a group selfie with as many students as possible after his well-received talk. Captured by Christopher Allen.