What happens before and after recording a face-to-face interview with someone can go either way. Either you exchange mundane pleasantries about how it's nice to meet one another and the weather or you can happen to catch a glimpse of the interviewee's authentic character. The latter was true when I interviewed entrepreneur Karen Civil during a recent stop in Houston as part of her Be You & Live Civil Tour.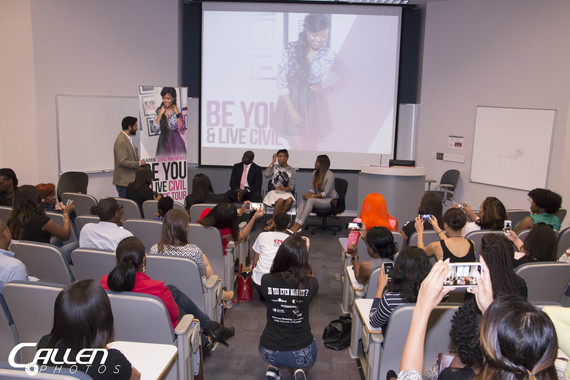 Attendees snap pictures as the panelists take the opening question
She gave away gift bags to the 100 or so attendees. Just before hitting the record button, I realized my little sister might want one.
"Yes! And make sure you take a pen," she responded gleefully when I asked for a bag. On the pen is "Live Civil," which has blossomed into a phrase of encouragement and empowerment for her peers and the generation behind her. A phrase that started off as a hashtag on Twitter three years ago has altered the course of Civil's life for the better. The Brooklyn, NY native is now traveling the country on a 20-stop tour and visiting the continent of Africa to deliver her uplifting sentiments in person.
Civil arrived at the University of Houston (UH) campus for a 7-9PM panel discussion that also included Houston's 97.9 The Box radio personality Jillian "JJ on The Mic" Simmons and Cash Money Records Senior VP of Promotions Mel Smith. Yet she seemed happy stay another hour afterwards to interact with everyone who wanted to take pictures and ask follow-up questions.
In the meantime, I asked some of the attendees for their feedback. Simmons said, "The entertainment industry is not all about cattiness and disrespect. You have people who actually want to see other women to succeed and find their way."
Miss Mykie, a recording artist and TV personality with Houston roots, also came to support her friends and fellow women in the industry. She made a poignant statement during our interaction: "You see DJ Khaled put together a record with 10 guys that are all hot in the industry but you don't really see collabs like that with women. I would hope that we women get to a point where we can support one another without any shade or jealousy."
It was a 11PM by the time I hit the record button, but Civil still brought energy to the conversation as if she didn't fly in earlier that morning and have to wake up at dawn for her departure flight. She's comfortable with the jam-packed schedule, which is something her mother didn't quite understand in the beginning. But a turning point came in 2012 when Civil graced the pages of Ebony Magazine as one of the nation's most influential African Americans in the "Power 100."
"I'm at the salon and I see you in Ebony Magazine!" she remembers her mom saying excitedly. Civil hadn't told her beforehand because it was harder to quantify the value she was bringing to the music industry back then. But friends and co-workers of Civil's mother would mention Karen's impact and industry affiliations, which were catalysts in becoming her daughter's biggest supporter. Civil continued, "The last couple of years she's been able to see that it's been very beneficial for me financially and it puts me in a situation where I take care of her."
Outside of family support, music executives Joie "Joey I.E." Manda and Mack Maine have championed pivotal moments in Civil's career development. Manda, current Interscope Records President of Urban Music, looked out for Civil as the two would cross paths on their respective roads to prominence. At a time when Civil had never been to an awards show, Manda added Civil to his guest list for the BET Awards so she could have a night to revel in the fruits of her labor. Elsewhere, President of Cash Money Records, Maine made it a priority to help Civil acquire a book publishing deal and as a result, she will become a first-time author next year.
She reflected further and said, "They saw my potential at times when I felt like everything was diminished and felt like giving up. They would pick me up and I will be eternally grateful for those two." Civil is of Haitian descent, and the two execs made the initial donations to a playground she's working with the Miami-based Sow A Seed organization to build in Haiti.
While her main site KarenCivil.com has nearly 700,000 Facebook likes and growing rapidly, she's quite satisfied with the slow and steady growth of LiveCivil.com because of its implications. "I'm not doing this for attention or notoriety. I want to give back to a universe and space that has done so much me and I just want to help that next person. I think the Live Civil brand does that."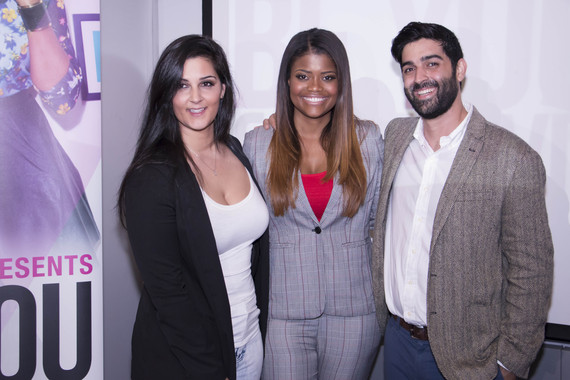 Event organizer Sarah "YaYa" Yazdanpanah and moderator Christian Yazdanpanah stand alongside Civil after closing out the event. The brother-sister duo partnered with the UH chapter's American Marketing Association to host the evening.
During our conversation, Civil spoke with clarity and a sense of direction, which is a far cry from her seemingly vague goals in high school. Quite comically, when a high school teacher asked her what she wanted to do for a living, she wrote down, "Stuff." The annoyed teacher asked, "what stuff?" as she wanted Civil to write done one thing. In a brash teenage moment, Civil remembers saying, "I'm sorry, I can't be classified as one thing. I have a lot of potential...let me figure it out."
Now in her late 20s, it's safe to say she has figured out a great deal since then. The peeved high school teacher would be proud that the "stuff" she's doing is paving a lane for other women in a male-dominated industry, and for other minorities who are often waiting for checks rather than writing them.
It hasn't always been easy for the longtime Elizabeth, NJ resident who was teased about being "weird" and "too quiet" in her formative years. She mentioned experiencing self-doubt and questioning everything about herself. Upon reflecting on personal growth she said, "Now, I'm not a 100% there, but everyday I wake up I'm happy being me and I just feel fulfilled." Since moving to Los Angeles a few years ago, she's picked up surfing, bike-riding, and yoga. "I find myself caring more about me and the choices that I make."
While many may think #livecivil is a simply hashtag, our conversation solidified to me that it's actually an all-encompassing mindset. So the value isn't in the aforementioned pen itself, nor the journal and blessing jar included in the gift bag for my sister. Instead, they are the subtle reminders to be intentional about maintaining a positive outlook and manifesting a fulfilling lifestyle.
I stopped recording and picked up the gift bag as Civil said, "I hope she likes it." I replied, "I'm sure she will." Now that she knows it's coming from a person who genuinely wants others to strive for their best and be content with the rest, she'll like it even more.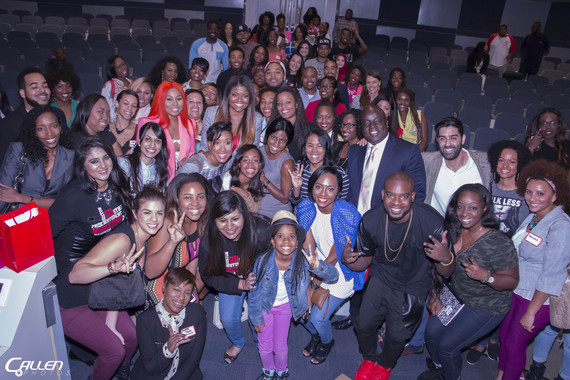 Civil takes a group photo with attendees
Photos by Christopher Allen, C. Allen Photos