With Mother's Day right around the corner, now is perfect time for us to reflect on why they are so special. After speaking with four moms who all share a vision for supporting moms-to-be, it was easy to see that there was something heroic about all of them.
Starting with Rhonda Lewis-Nwosu, she founded Sparkles of Life in 2008, a nonprofit organization dedicated to supporting families on their paths to parenthood. More specifically, the founder and her team educate, empower, and advocate for women experiencing infertility, miscarriage(s), or delayed parenting. As Lewis-Nwosu developed the mission for the charitable cause, she was recovering from suffering four miscarriages of her own.
For nine arduous years, her husband Ral Nwosu and Lewis-Nwosu kept their religious and internal faith that they would get their bundle of joy. She even went as far as buying clothing for twins because there were already multiple sets among her family, and she intently believed she would add to that number. She travel to Europe to seek medical treatment from a specialist in recurrent miscarriages. Soon after returning to the States, a visit to the doctor confirmed that there were two healthy hearts beating in her stomach. "Believing in something for so long, that I had been hoping for since I was a little girl and to have that now be manifested at almost 40 [years old] was amazing to me."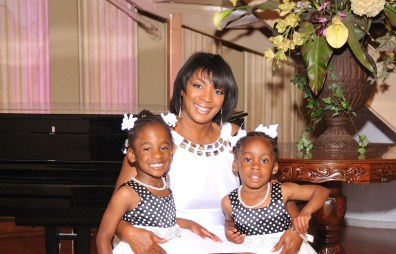 It was particularly poignant that she said "since I was a little girl" because of the strife she endured as a child. Her father passed away before her second birthday and she tragically lost her mother to suicide three years later. Her aunt and uncle adopted a young Rhonda and her brother as their own children, making them feel as loved as their two biological kids. Her mother's sister kept the promise they made to each other, which was to take in one another's children if the other died unexpectedly young. One might assume that the notion of Lewis-Nwosu starting a family of her own one day would be uniquely fulfilling in the wake of experiencing such life-defining losses of her parents.
With no lead-up or explanation, I surprised Lewis-Nwosu with a final question: What is your super power? After a brief pause, she said "My superpower is faith. It's been the one constant that has always kept me moving."
NBA player Dwight Howard of the Houston Rockets knows a thing or two about super powers since he is often referred to as "Superman" by sportscasters and fans. Behind the 8-time All-Star center is his mother Sheryl Howard who never lost hope during her difficult journey in having Dwight. After having her daughter TaShanda seven years prior, she endured seven miscarriages before Dwight and her youngest child Jahaziel were born.
She talked about why she has been so open in the past about the trauma. "I was totally devastated with the losses, but let me share this with other women, that there is hope. Don't give up." I was surprised to learn that Dwight was born 2 months premature, which is another reason why she calls him "The Miracle Child." She also credits her husband for praying with her every day and being strong for the both of them during the heartache.
When a Sparkles of Life member heard Mrs. Howard's story, they planned to recognize her as the inaugural "Woman of Courage" recipient. As part of the organization's annual "High Heels and Hats" Mother's Day Brunch on Saturday, they will honor her and 11 other women who embody their mission to raise awareness and uplift the spectrum of women who have dealt with parenthood issues.
Mrs. Howard chuckled when I asked about her superpower. She thought about the overarching message of our conversation and simply said, "Resilience ... I'm a warrior."
One of the 11 honorees is Karen Johnson, mother of NFL wide receiver Andre Johnson. The Houston Texans 3-time MVP and 6-time Pro Bowl player has always given fans reasons to cheer on and off the field. Apart from his talent, he is known for awarding kids with a shopping spree at a toys store during the holiday season for several years.
Along the same lines, Ms. Johnson founded a nonprofit organization called PACE Moms, which consists of mothers of professional athletes, celebrities, and entertainers allocating their time and resources towards community efforts. "It's all about giving back to people less fortunate than we are," she said. PACE's contributions last year included the organization donating 1,000 book bags, feeding 400 people during Thanksgiving, and hosting a baby shower for 26 Houston girls, with goals to expand their reach.
Her superpower: "Strong-willed ... it's hard for a person to tear me down or break me."
The keynote speaker of the event may be the most recognizable mom of the bunch. Mariah Huq is the executive producer and reality TV star of Married to Medicine on Bravo TV. The show's second season opener was rated #1 on the network, but she's no overnight success. She said, "People know your glory but they have now idea about your story." The ten year journey has included blazing a trail in broadcast journalism, building a children's apparel and decor brand with her sister Lake that better represents Huq's modern family, and getting turned down from other networks for five years before Bravo greenlit the show.
Sparkles of Life hits close to home for the Tennessee-native since her own sister, six years older, experienced several miscarriages before finally having a child. Raised by a single mother in less than ideal circumstances in Chattanooga, Huq still draws strength, joy, and wisdom from their unbreakable bond. "My conversations have not changed with my mom and I love that about her because it keeps me grounded."
My mom is so darn funny she can make a dog laugh..my side is hurting from laughing so dam hard..smdh

— The Real Mariah HuQ (@iluvmariah) April 29, 2014
Huq's answer to my final question echoes the other three women and many mothers across the country. "Confidence, resilience, perseverance, and books smarts are all ammunition, but ultimately my superpower is God."
I wouldn't be surprised if these four women had "Motherhood" at the top of their resume because they take so much pride and care in the never-dull work it takes to be good at it. Their respective sacrifices capture one of the reasons why they are joining forces to celebrate the relentlessness of would-be mothers and lending their influence to normalize the often disheartening conversation.
Huffington Post's Catherine Pearson recently shed light on the misunderstood miscarriage statistics that plague hundreds of thousands of attempting couples each year. She ended the article with similar message that Lewis-Nwosu and her team work towards, which is lessening the stigma behind this topic, considering up to a fifth of all pregnancies end in miscarriage.
For Lewis-Nwosu, destigmatizing started with choosing an organization name the would reflect the eventual gratification of childbirth rather than the disappointment of previous failed attempt. "I wanted a name that depicted happiness. And when I saw those two heart beats for the first time, it made me think, these are my two little sparks and they're jewels."