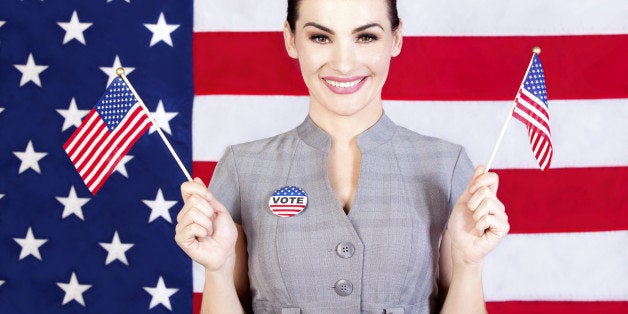 As we look ahead to the 2016 elections, some may be surprised to learn that six countries in the Middle East and North Africa surpass the U.S. when it comes to female legislative representation. These countries represent a global trend in which women have been gaining significantly more seats in legislative bodies around the world since the mid-1990s.
Even though the recent Congressional midterm elections gave women an additional five seats in Congress, the U.S. is rapidly falling behind globally in women's political representation. After the 1996 elections, the US ranked 41st in female legislative representation. Today it ranks 75th with 84 women (19.3 percent ) in the House and 20 (20 percent ) in the Senate. At the rate that we have been going since Jeannette Rankin (R-MT) became the first woman elected to house in 1917, it will be another 100 years until we reach parity -- a goal that Rwanda already reached in 2008 and many other countries will have reached a few years from now.
There have been two major moments in modern world history that advanced women's political citizenship. The first was the push for suffrage in which the US was a leader and women gained suffrage in 1920. The second effort to expand women's citizenship started after the 1995 UN Conference on Women in Beijing, where UN member states pledged to take steps to promote women's leadership in all arenas. After the conference, we began to see dramatic changes, particularly in women's legislative standing. This was especially true in the 121 countries that have adopted gender quota laws and constitutional reforms or where political parties adopted quotas that gave women a boost as candidates.
The slow Nordic model of incremental change in women's legislative representation was soon overtaken by the "fast track" model in countries which doubled or tripled the representation of women within a short period of time. Earlier calls for a critical mass of 30 percent female representation are today being replaced by calls for parity in Latin America, the Middle East, and Africa. For example, Senegal, a predominantly Muslim country, sought parity through an electoral law that alternates male and female candidates on party lists. As a result, in the last 2012 election, women gained 43 percent of the seats, a 20 percent increase from previous levels.
Some may dismiss these rankings and projections as simply a numbers game and argue that numbers tell us little about the real impact women politicians have, particularly in non-democratic countries. While this is a legitimate concern, it does not absolve us from looking at where we are heading with women's leadership in Congress. With the recent Republican takeover of the Senate, only one Senate committee will be chaired by a woman (Sen. Lisa Murkowski, R-AL). The House remains with only the House Administration Committee controlled by a woman (Candice Miller, R-MI). In the previous Democratically controlled Senate, women chaired 6 out of 16 standing committees. Without more women with seniority in Congress, we cannot hope to see women playing significant leadership roles in shaping policy.
Some argue that we should not be concerned with the numbers of women representatives, but rather, we should focus on the extent to which women's interests are represented. They would say that this is not contingent on reaching some magical percentage of women in office and that sometimes it only takes a few critical actors, male or female, who can advocate for women. While this may be true, studies from around the world have found that women's diverse interests, perspectives and experiences are more likely to be represented if they are present in decision-making bodies. We lose out on an enormous pool of talent when women, including minority women, are not fully represented. How those interests are represented also depends on the influence of political parties, ideology, women's movements, and level of democracy. Nevertheless, women need to be present to increase the chances of their having an impact and a voice.
Ultimately, the most compelling reason for women to be fully represented is that it is a matter of equity and fairness. A democracy is seriously constrained if large segments of its population are not fully engaged in decisions affecting their lives and futures.
It is unlikely that the US will adopt a gender quota system in the near future, given the pervasive hostility to affirmative action of any kind, particularly in the political arena, where it is frequently seen as an affront to democracy. This means that women candidates need increased support from women's organizations like Political Parity and political action committees like EMILY's List and the WISH List Project.
Political parties need to become more attentive to promoting women's leadership and encourage women to run for open seats. Potential female aspirants need to be told what political scientists already know: that women have as good a chance as men to win and to raise money in election campaigns. Most importantly, it is time we start a new conversation in this country about how to get more women to run for office.