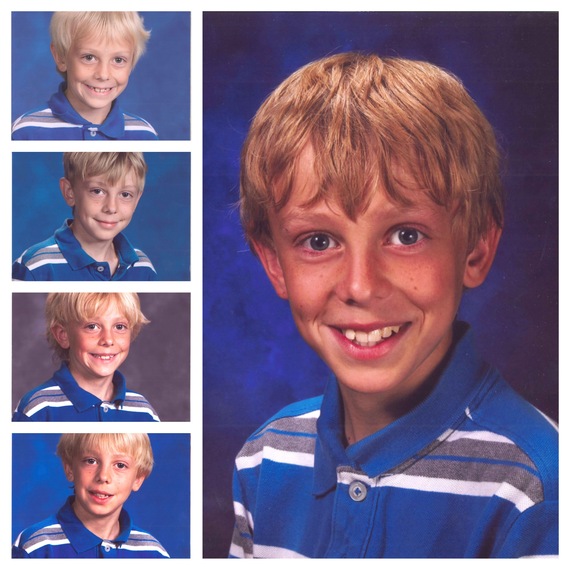 Twelve-year-old Joe Archibold is hunting for a specific polo shirt. He has just under a year to find it, and he needs our help.

It's has blue, white and gray stripes and a blue collar, and it's pretty much the best shirt ever. Joe has the same shirt in size small and medium. He needs a large, to be able to keep his five-year tradition kicking.

Joe has worn the same shirt for every school picture since second grade.
Yes.
I'm a sucker for odd traditions, as well as any way to make otherwise awkward portrait photos more amazing. Or so awkward that they become amazing. There's really no other way to win with a prefab backdrop assembly line. That's why my friend Reba and I once ditched school pictures and wore the worst feather masks and matching silk button-ups to a mall photo "studio" and got 798 photos for $9.99. Although the yearbook refused to run them, they were my favorite school pics ever.
But Joe's tradition is at risk. Now in middle school at Longmont's Flagstaff Academy, the medium is getting too tight. He just took sixth-grade school pictures and he's already worried about next year.

The challenge: The small and medium shirts were both passed down from his cousin many years ago. Joe is one of nine brothers and sisters, so he's no stranger to hand-me-downs.
So not only are the shirts a full cousin-rotation old and therefore no longer on the racks, but Joe's also not exactly sure about their brand or where they came from. He thinks it was the Sonoma brand from Kohl's.

That hasn't stopped his family from setting off the Batman signal on social media and beyond, in search for the mystery awesome shirt in size large.

The tradition began as an accident, Joe says.
"I thought it was a really nice shirt, so I wore it to class pictures in second grade," he says.
The next year, he forgot and wore it again.
When he realized he had worn it two years in a row, he says he figured, "Hmm, I guess I'll keep wearing it."
When he outgrew the small, he moved up to the medium.
"Then again and again and again," Joe says.
He doesn't reserve his famous blue polo for only special occasions. He says he wears it often, and the fact that it has held up so long is a testament to its quality.
"It's still in really good condition," he says. "It's just a really nice shirt."
In fact, now that the small and medium no longer fit him, he has passed them down: to his nephew, Harlan. (Joe's two younger siblings are both girls.)
Right now, Harlan's only 1, but Joe is certain the shirts will still look great by the time he's in school. Plus, Harlan's dad has already eagerly agreed to continue the blue polo tradition, Joe says.
Now Joe needs that size large, for both him and Harlan.
Otherwise, as one of the family friends suggested on Facebook, "I think he should just continue to wear the same shirt, regardless of size."
After all, a tradition is where an inside joke becomes law.
And Joe can't stop now.
Think you have the blue polo in size large? Email heckela@dailycamera.com and save the day.
Read more articles from the weirdest city in America, Boulder, Colorado, here: Only In Boulder.