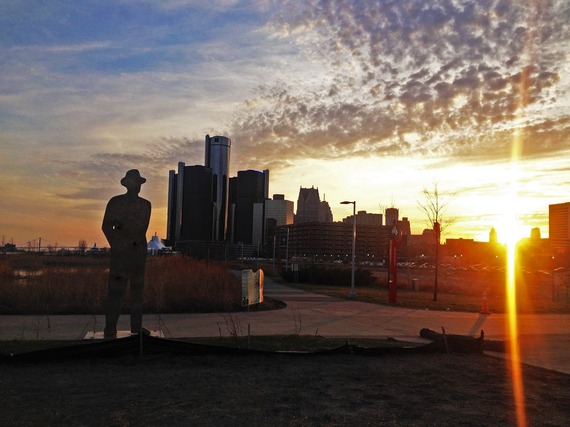 After over a year of heart searching, I decided to turn my kitchen table hopes of relocating to the Bay Area into concrete reality: In less than a month, I will be driving across the country, moving to Oakland, and taking the California bar exam. In doing so, I am leaving Detroit, my legal aid position, my young clients and my personal and professional families.
Sifting through these last weeks in Michigan, I've sought a greater balance between preparing for the move and trusting that my passions will organically lead me to the next phase in my career.
As an artist and advocate, I'm eager to discover new means of helping and empowering others.
As a lifelong Michigander, I am torn to leave the city whose area
code ("313") formed the basis of a commitment to legal aid and volunteerism I made five years ago.
I moved to Detroit in 2009, as a law student aspiring to be a public interest attorney in the city. During law school, I co-founded The 313 Project, a 501(c)(3) nonprofit serving Detroiters through legal aid and education. After graduation, The 313 Project expanded from a student coalition to a multifaceted organization hosting resource clinics throughout Detroit. These clinics demonstrated a tremendous need for accessible services in the city; at a 2012 clinic addressing domestic violence, one attendee walked nine miles -- after the city bus she had been riding broke down -- simply to get a personal protection order from her abusive spouse.
In leaving Detroit, I am parting with an irreplaceable social justice community -- never in spirit, but in the makibaka, the day-to-day struggle for our clients' rights and wellbeing. Since my admission to the Michigan bar in 2011, I have represented indigent Detroit youths in child abuse and delinquency proceedings, alongside 35 tight-knit and tenacious public interest attorneys. Several of my colleagues have experienced the enduring pains of juvenile court firsthand, and in the midst of a legal system wrought with dysfunction, they have fought tirelessly to give voices to clients silenced by abuse and violence.
As a children's attorney, my most memorable case involved advocating for a one-year-old client who suffered a near-fatal liver laceration and broken arm due to abuse; I represented her throughout trial proceedings and argued on her behalf in front of the Michigan Court of Appeals, the court that ultimately affirmed her parent's termination of rights. She is now a bright two-year-old awaiting adoption, and while Detroit's public interest landscape can seem bleak, clients like her continually respond with immeasurable resilience.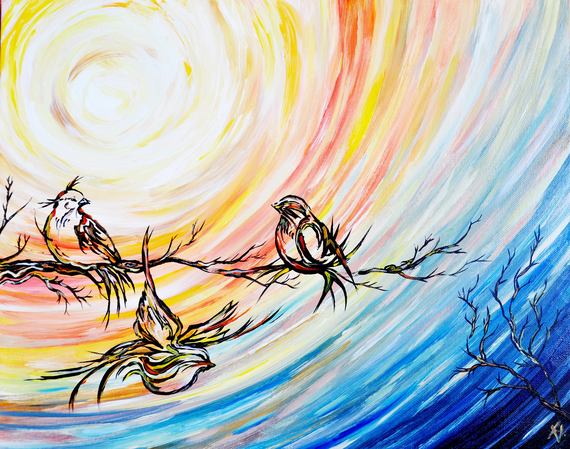 My work in Detroit has also allowed me to grow as an artist. I have created t-shirt and graphic designs; I've produced dozens of paintings and contributed to a Southwest Detroit mural; I've illustrated a children's book and the liner notes of a locally produced music CD. None of these accomplishments would be possible without Detroit's vibrant and unparalleled culture of creativity.
I will look back most fondly at the times where I could merge art with activism, including hosting art workshops for Detroit teens impacted by gang violence and the juvenile system. Some of these high school-aged students could not read or write; yet, when given the opportunity to express themselves through drawing, painting, and spoken word, they soared.
Last year, I taught a youth art class on the East Side where students watched a nearby apartment complex burn to the ground due to arson; we were so close to the flames that ash would drift into the classroom. Later that Spring, these same students rallied their neighborhood to hold a multi-block clean up around the burned complex, demonstrating, once again, the unbreakable spirit of Detroit's next generation of youth leaders.
I just grabbed dinner with a friend who is returning to live and work in Detroit at the same time that I am moving out of the city. We both agreed that experiencing Detroit is like growing up with a sibling: You hang out and get in trouble together; you laugh at their jokes; you snap defensively at "outsiders" who criticize them; you embrace their eccentricities until you inevitably come to miss everything about them -- faulty quirks and all -- when you're apart.
As excited as I am for undiscovered possibilities in Oakland, I feel tremendous guilt and sadness leaving Detroit. For the past six years, I have had a (small) hand in creating positive change within the city, while reaping the benefits of that change as a resident. Now, as I sit in my quickly emptying apartment sorting through moving boxes and nostalgia, I know it will take indefinitely longer to acknowledge that I may be leaving prematurely, before these small but meaningful changes explode into permanent starbursts of reality: Before the up-and-coming Eastern Market pop-up becomes a Michelin-starred brick and mortar establishment; before children can not only bike through - but picnic and play in - the Dequindre Cut, a hauntingly beautiful trail lacking benches and tables; before Dan Gilbert's idyllic and colorful visions reach past Downtown and seep into the East and West sides.
Without a doubt, Detroit is home. But my heart is telling me that I must leave to grow as an advocate and artist. I'm about to make a 3,000 mile geographic change; to a frighteningly great extent, though, my heart will remain here, parked at 42.3314° N, 83.0458° W.
And yet, with such transformative energy sweeping the city -- my city -- I find myself asking, Who is really going on a journey?