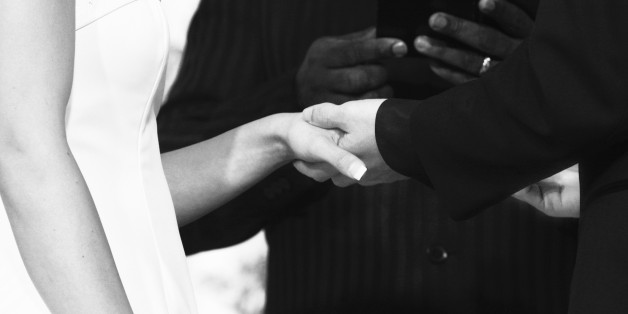 This month my husband, Dan, and I are celebrating two years of marriage. We've had a challenging summer with many hospital visits leading up to his surgery, so we decided to get away for a weekend. I found a lovely B&B on Lake Erie and we had a wonderful time relaxing, hiking, and watching the sunset.
But as the title of this blog post insinuates, the last two years have not been all about relaxation and sunsets. In fact, the second year of our marriage was the hardest year of my life. Dan and I faced many challenges together and really struggled in our relationship. Though I'm much more hopeful about our future today than I was three months ago, I know we still have some work ahead of us.
Simply put, marriage is not what I thought it would be.
It hasn't felt 100 percent safe. My husband knows me better than anyone else in the world, but I still struggle to let him see different sides of me. It scares me how much I love him; how much I rely on him. And sometimes, he hurts my feelings! Not always on purpose, but he does. Of course, I sometimes hurt his too. Yet, in spite of this, we still have to figure out how to keep opening up and trusting each other, even when it feels scary. In that regard, marriage is a risk. But of course I never thought about it that way until after I said "I do."
It hasn't made me happy. Don't get me wrong; there are many times when my marriage contributes to my happiness. But there are other times when it reminds me of my brokenness too. My desire for marriage was rooted in the unspoken hope that "happily ever after" actually exists. These days I believe it does exist, but not solely in the form of marriage and kids. Conversely, I work hard for my happiness because I choose it every day. On the days I forget to choose it, my husband is often the first person affected.
I think I kind of knew this when we got married, but not really. When I walked down that aisle, I felt confident that marriage would make me happy and later felt surprised when it didn't. The truth is, very few things in life have that power. Marriage included.
It hasn't solved our communication problems (or any of our other problems, for that matter). Contrary to clichéd marital advice, sometimes we go to bed angry. If we didn't, one of us might spontaneously combust. Other times, we just feel off. Like last week; we were really off last week.
***
I never thought I'd contemplate divorce. This year, I seriously considered leaving my husband and moving to Bali. Marriage is forever, I always thought. Until one day, I didn't. Certainly "divorce" isn't a word we throw around flippantly over here. But this year has forced us both to think long and hard about what commitment really means.
I never thought we'd be in marital counseling either. Though I'm grateful for our gifted therapist, I would have never predicted needing her help so soon. We can't know if premarital counseling would have helped us navigate through this year's crises more effectively, though I have a hunch it would have. Perhaps instead of being so focused on what I thought marriage would be, I'd listen more and have a clearer idea of what he thought marriage would be too. But as the saying goes, better late than never. Because what matters most is that we're both showing up for each other now.
I never thought I'd have to care for Dan in the hospital within the first two years of our marriage. It's hard to imagine what "in sickness and in health" is actually like until you're sleeping on a wooden chair in the Progressive Care Unit and helping your sick spouse get to the bathroom or eat some JELL-O. As a newlywed, it's probably one of the scariest things I've ever experienced.
I never thought my grandmother would die before Dan got to meet her. Since I was a little girl I imagined she'd be at my wedding, but unfortunately, that didn't happen. I still have regrets about that, even though I know it's not my fault. Taking him to her funeral was a beautiful moment in our marriage that I'm sure we'll remember forever. As he held me close that day, I vowed to always hold our loved ones closer.
I never thought I'd be married, almost 30, and still avoiding pregnancy like the plague. My plan was always to get married and try to have a baby one or two years later. But since Dan and I are still working on our relationship, this is no longer about my plan, but our plan. And we don't see babies in our future for a little while longer. (Sorry, Mom.)
No, marriage is not at all what I thought it would be.
But in a way, I think that's a good thing. I am learning things about myself and God and life and relationships that I would have never learned otherwise. I'm growing up, kind of because I have to in order to make this marriage work, but mostly because I want to. I want to be a better version of myself, for Dan's sake and my own.
This isn't to say that single people aren't grown up or mature either. I carried some immaturity and entitlement into my marriage that I do not see in any of my single girlfriends. And now, I'm dealing with the consequences of that. This is probably a big reason why marriage is not what I thought it would be.
I talk a little about the expectations people place on marriage in my upcoming book; just a few thoughts that I've had over the years. I'm hardly a marriage expert, but I think I've learned some things that could have helped me a few years ago. If my mistakes can help someone else, then perhaps all the adversity was worth it. I guess only time will tell.
At any rate, I really love my husband. I've been blessed with a partner who truly loves and supports me (even when I write vulnerable pieces about our marriage for the world to see). And I'm glad our marriage is different than what I thought it would be. Now, I get to enjoy our blessings and face our challenges with him, instead of forcing my ideas of how life should be on him and our relationship. I can't promise I'll do either of these things perfectly, but I know now that perfection is not the goal.
So instead, I will try. Then, I'll trust that he will try.
And together, we will create a marriage that is stronger than either of us thought it would be.
This post originally appeared on akirahrobinson.com.