Backpack Block Party! is on a quest to find the backpack of your dreams. Let's meet a contender.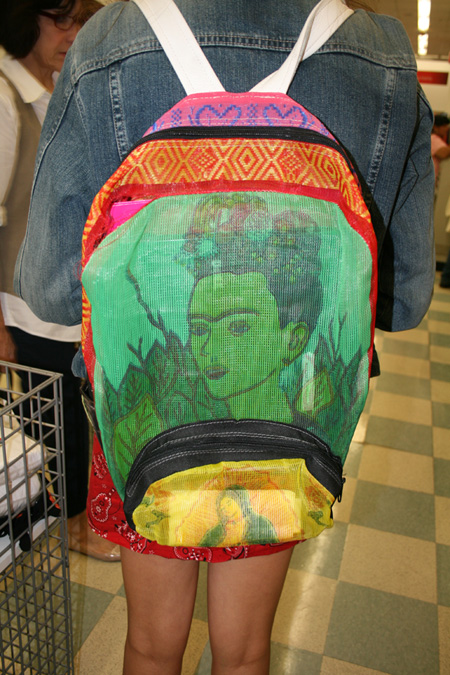 Where did you find your backpack?
The Frida Kahlo backpack I'm wearing is from Things Built , a vendor on Etsy. The artists behind the shop hand-make all of their backpacks with Mexico-inspired silk-screened images of Frida and Dia de Los Muertos. The bag was purchased for me by my best friend. She was very sneaky... I had the backpack on my wish list for a while and it was the best surprise for my 16th birthday.

Is this the backpack of your dreams?
I absolutely love my backpack. I find Frida Kahlo's work very intoxicating. The bag for me is a symbol of girl power/eccentricity. I also hate wearing dark colors, and so these colors on the bag in homage to Mexico are very much in keeping with my personal style and never fail to bring a smile to my face when I wear it. It's especially helpful in school, because when everyone dumps their backpacks down, I can easily spot it amongst the piles. Even so, I don't know if I can make a definitive statement like "this is the backpack of my dreams" because I'd love to own lots more dreamy backpacks!

What's your favorite thing to keep in your backpack?
Today my favorite thing to keep in my backpack is the valuepack of Hanes t-shirts I just bought. I'm using them for this line of "Teen Angst" t-shirts I'm printing for my friends which I'm uber excited about. On a regular basis I don't really keep anything too exciting in my backpack other than my fruity print pencil case. Inside you'll find my beloved Hello Kitty pencil sharpener and erasers, which I only lend out on special occasions.
If you were a backpack, who's back would you live on?
This is the hardest question! If I were reincarnated as a backpack, I would like to live on the back of Bill Cunningham so I could have amazing adventures around New York on the back of his bicycle. I would get to observe his photographic process firsthand and see all the eccentric people he highlights in his column.

But also Kim Hastreiter, Andy Warhol, Carmen Sandiego, Tina Fey and Pee-wee Herman all sound like nice backpack mates, too...
Emma is the spirit behind The Emma Edition and the owner of the backpack of her dreams (with visions of many more dreamy backpacks to come).