Backpack Block Party! is on a quest to find the backpack of your dreams. Let's meet a contender!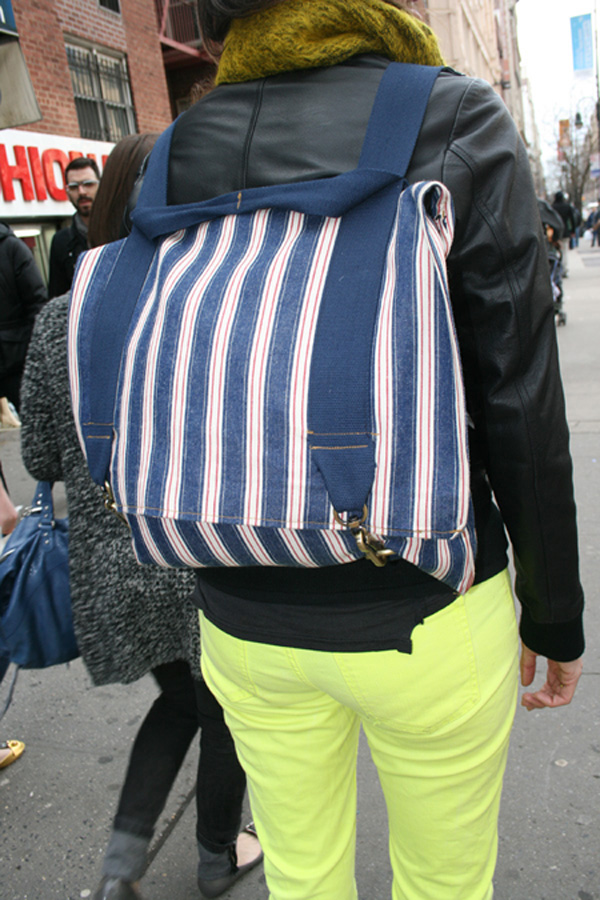 Where did you find your backpack?
My backpack was made by designer Charlie Ward. She custom-made my backpack for me, which later became one of her models: The Ruck Sack. I'm lucky because she embroiders an "A" on the bags, and my name starts with that letter. It felt special!
Is this the backpack of your dreams?
YES! It's soft, but holds a lot. Plus, it's great for the summer when I ride my bike. I am a tall lady, who walks miles in NYC from one place to the next. My backpack lets me carry a bunch of stuff as well as save my spine from the woes of being tall. I'm from Montana and the denim material and brass clips fit my look of Montana Chic.
What's your favorite thing to keep in your backpack?
My coffee thermos, notebook and pens. Oh! And my new gold-mirrored prescription sunglasses.
If you were a backpack, who's back would you live on?
I would live on the back of Louise Bourgeois, one of my favorite artists and someone who I always looked up to.
Amanda is a Designer and the owner of the backpack of her dreams.