Backpack Block Party! is on a quest to find the backpack of your dreams. Let's meet a contender!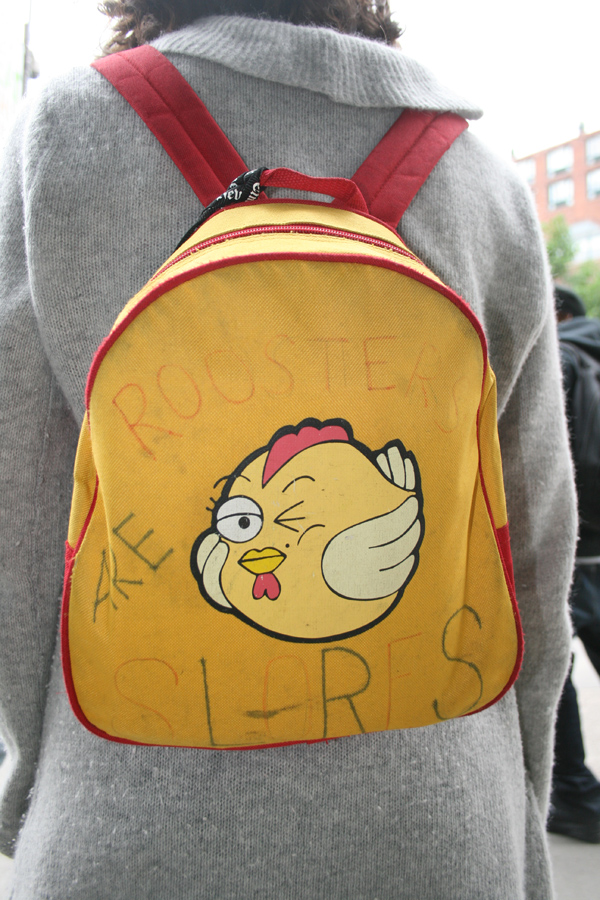 Where did you find your backpack?
My backpack was found about seven years ago in upstate New York. I bought two blue and yellow versions for my best friends as well, but I used mine regularly, and I'm sure they gave theirs away or trashed them many moons ago.
Is this the backpack of your dreams?
The backpack of my dreams would probably not be my rooster backpack. The backpack of my dreams would be the size of a hiking backpack, but designed along the lines of Lord of the Rings meets Skittles meets the Wright Brothers meets Mary Poppins. Yep. Middle earth, a tangible rainbow, flight and Victorian England with unlimited space at a manageable weight.
What's your favorite thing to keep in your backpack?
My favorite backpack-concealed item is a small collection of notes on paper scraps, business cards, ice cream testing spoons, museum pass buttons and whatever else I pick up throughout a typical day in the city. (I then catalog everything in their rightful areas in my apartment.)
If you were a backpack, who's back would you live on?
If I were a backpack I would want to live on the back of someone who would really be able to use me well and often. I wouldn't mind getting sweaty, as it would probably break me in better (I would definitely be made out of some kind of dyed leather.) I'd like to have been Jesus' backpack. I think his lifestyle probably lent itself to him having a backpack, moving around and sleeping on the ground a lot and stuff. Would have been handy.
Arielle is a designer and is not the owner of the backpack of her dreams (yet).