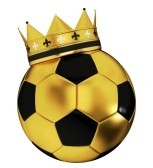 USA! USA! -- yes, of course, but how to choose a second team to root for at the World Cup? Perhaps you spend endless hours researching ancestry.com looking for your original uncle who set sail on the Mayflower with bangers and mash in his luggage, and when you find him, then you cheer for England. George Washington will give you a pass for the day.
Perhaps use a favorite dinner as a guide - pasta, that's easy, and if you like your fettuccine with a shake of Pavarotti, then the grand opera of Italian football deserves your applause. Sushi, tacos, caviar, brussel sprouts, gyros, paella, and croissants -- all foods associated with World Cup countries, so take your pick if your stomach does the talking.
You like pets? Unleash the underdogs. Iran, Costa Rica, and Honduras. They may bark but not bite. Best not to lay bets on them to win. If you like to say "mate', shout for Australia. Sadly, if you like to drink scotch while lying down on the sofa watching soccer, then you can't cheer for Scotland, as they failed to make it to Brazil. Then again, lying down on the sofa watching soccer, drinking scotch, may be the way to go anyway. Check livers at the door.
Dancers, you must love Brazilian samba, futebol is the national dance, and you'll likely be whirling with winners. Fans of Lionel Messi, don't cry for me Argentina, is your song. And those disinclined to the horizontal scotch position for World Cup viewing may list a little to the left and drink Port instead, delivering you to Portugal and the great dramatist of the soccer play, the adorable Cristiano Ronaldo! Cannibals, you can cheer on Luis Suarez of Uruguay, convicted of trying to eat opponents on two previous occasions during games. Pass the ketchup.
None of this will be really necessary as the USA will make it over the first round hurdle and then the frontier beckons. And it's back to where we started -- USA! USA! Make it a cheeseburger, large fries!
Alan Black is the soccer columnist for the San Francisco Chronicle. Catch him on the Twitter.