Happy Thanksgiving!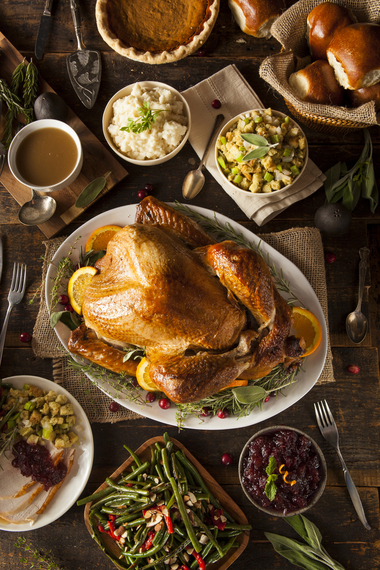 Many are under the false impression that Thanksgiving foods are inherently unhealthy. With a couple of really easy adjustments, this could be one of your best and healthiest meals of the whole year! Here are my favorite little tricks for some of the top Thanksgiving foods. Hope you and yours have a wonderful holiday!
Turkey: Start with a fresh or completely thawed turkey, and soak it in brine for two days before cooking. To do this, use two turkey bags, placing one bag inside the other to create a double bag. Add one pound of sea salt, two bulbs of coarsely cut garlic, a handful of rosemary sprigs, and a handful of peppercorns. When it is time to cook, remove your turkey from the bags, then wrap it with several layers of foil to seal in the moisture.
Cranberry sauce: Use fresh cranberries, a shot of lemon juice and cook slowly, using xylitol for a sweetener. Add some crushed walnuts when your sauce is finished cooking and no one will know the difference from the typical sugar-laden sauce!
Gravy: Instead of cornstarch, use arrowroot powder, which can be purchased from the health food store. After removing the turkey from the roasting pan, mix the arrowroot powder with the glaze left in the pan. Now, you have a gluten-free, corn-free gravy with a better taste, texture and fewer calories!
Roasted root vegetables: Cut carrots, rutabagas, parsnips, and turnips into bite-size wedges. You get bonus points if you find exotic, colorful carrots! Lay the vegetable wedges on a baking sheet, drizzle with macadamia oil and sprinkle with sea salt and a few pinches of cardamom. Roast in the oven at 350 degress, stirring occasionally until the wedges are soft on the inside and just starting to brown on the outside. This usually takes 20 to 35 minutes.
Sauerkraut: Be sure to serve some raw sauerkraut as a traditional side dish to help with digestion. Garnish with caraway seeds for added digestive benefits and an exotic flavor.
Green beans: Start with thawed or fresh green beans with the ends removed. Lay the beans in a 9 x 13 baking dish in the following solution: two tablespoons of the Better Than Bouillon brand vegetable-based bouillon mixed with one cup of water. Sprinkle sliced almonds on top and cover with foil or a tight lid. Bake at 300 degrees for 30 to 40 minutes.