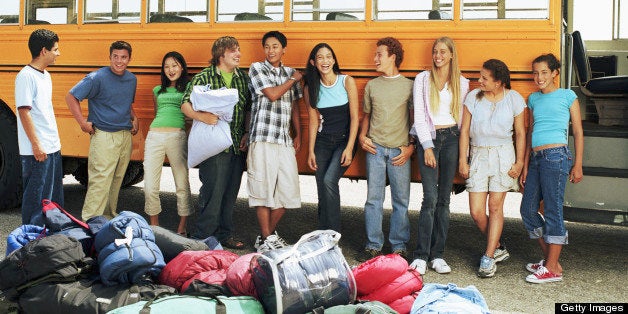 There is a new TV commercial for a car company that features a dad and his little girl waiting for the school bus. She looks terrified, so does he, but they are both doing their best to put on a brave face. When the bus arrives and the moment comes for her to get on, he says "You'll be fine" (or something similar), but you can see he doesn't mean it. He's a wreck!
His and our relief comes when, as he's following the bus (in his car), he spies his little girl -- and she's laughing with the other kids. The transition has been made; he can rest a little easier. For now.
As the director of a "commuter" day camp (in Rockland County, NY) for the past 23 years, I have seen many similar scenes and heard from countless parents who arevery anxious about sending their kids to an out-of-town camp on a bus every morning.
Besides the familiar "they get motion sickness" refrain (I actually can't remember the last time a child vomited on one of our buses), parents usually express trepidation over the fact that they are not dropping their kids off at the final destination; that they are putting their kids on a large vehicle that will take them to that final destination far away. To a place they (parents) have little access to.
But here's the thing, parents: that transition from mom's (or dad's) loving arms to the bus, that challenging moment of truth, is what makes the experience so seminal for your son or daughter. That bus ride is literally a step up in the ladder of independence for your child, one that will boost their future steps. And it's also an important step in your evolution as a person separate from your child.
I've had the pleasure and privilege of watching this separation ritual a thousand times and I'm glad to report that 99% of the time parents are smiling as they wave their kids goodbye. And I've seen that sigh of relief (oh so many times) -- on the faces of parents who suddenly realize that their kids are in good hands and that they're off to discover the world and have incredible experiences that will shape their lives. I never get tired of seeing that sigh of relief; it conveys something so beautiful about parenthood -- that accomplishment takes many forms, but none as powerful as letting go.
Once the kids are on the bus the fun begins with songs ("Take Me Out to the Ballgame" passing Yankee Stadium), camp cheers, games (pass it up!) For some campers, it is one of the highlights of the day, an "activity" like no other. In our camp, we reward outsized energy and spirit on the bus with a weekly award for "bus of the week." On Fridays, our campers wait with tense excitement to hear if the Blue bus or the Lime bus (we have a number of buses) will win the coveted prize for the week!
And as a destination, camp is like Oz for your child (without the evil witch and flying monkeys). There's grass, trees, sunshine (most days), swimming pools, ball fields and opportunities to make great friends.
And another bus trip waits at the end of the day and an exhausted but cheerful reunion with you!