I first met Joan Rivers almost 50 years ago when I was a casting director working on The Swimmer starring Burt Lancaster. Most of the film took place in wealthy suburbia so the actors had to seem like upper class wasps. However there was one scene in a public swimming pool that required working class types. When it came time to cast a girl at the pool, the director Frank Perry said, "I know the perfect one -- she's from Brooklyn and I saw her comedy act in a small club. She's very ordinary, and she'll give us just the right contrast with the rich people." The part was small, but Joan Rivers was perfectly good if unmemorable.
Twelve years later I was in Hollywood as president of television at Warner Brothers where I had put Vincent Price and his wife Coral Browne in a series. We became friends and they asked me to dinner one night. When I arrived with my partner, as we referred to them in those days, Joan and her husband Edgar were the only other guests. By that time Joan was a star and there was no resemblance to the plain girl in The Swimmer. She was beautiful, dressed with impeccable style and spoke (with her now famous raspy voice) intelligently of world affairs, books she was reading, plays and movies she had seen. She in no way tried to dominate the evening and, if anything, encouraged Coral, a famous wit, to tell the stories we all laughed at. Joan did, at one point say she had called her plastic surgeon to make an appointment for December (it was now April). She said he asked her what she wanted him to do. "Oh," she said, "we'll think of something."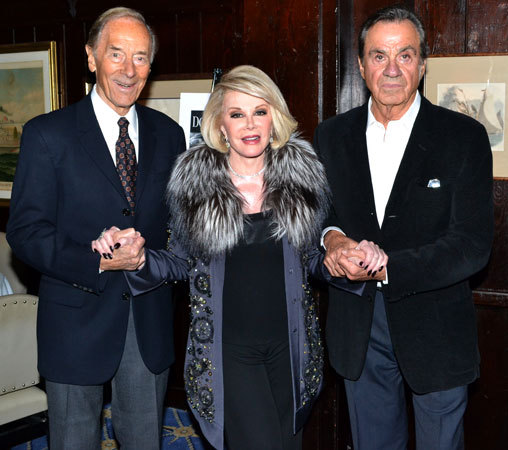 Ten years later I had left my show business life and moved with Norman Sunshine, the same partner, to Washington Connecticut. Joan turned up one day at a party a man who lived there was giving. They were constant companions so we saw more and more of her and one day she invited us to join them on his yacht in Greece. It seemed a great idea so we flew to Athens to meet them at a hotel. Joan was waiting for us alone. "I have good and bad news," she said. "The good news is that you're here. The bad news is that the boat hit a rock and it's in dry dock. But we're going to have a wonderful time." We flew to Mykonos where Joan had managed to find rooms for us, her daughter Melissa and the other guests she had invited, as well as the yacht owner who had appeared. As we were being shown around a new, barely finished hotel at the end of the island, a young man lying in the white hot sun at the swimming pool looked up and recognized Joan. "Joan," he said, "what are you doing in Greece?" Without a second's hesitation she replied, "Buying it."
Joan chartered another boat and since it was small and she had family as well as a few closer friends than we were, we bowed out. But in the few days we were with her it was always a party. I went to her room once and the door opened on what seemed like dozens of open suitcases overflowing with clothes. As a result she was always beautifully dressed, made-up to perfection and even wore the highest heels as we walked on the cobblestones in the village.
A few years later Joan had bought her own house in nearby New Preston. We were invited often for dinner and she came to us as well. The Joan we got to know was loving, generous, funny but never "on" as show people say. She encouraged others to be amusing and tell their anecdotes rather than take over the evening as many entertainers do. In social situations she was never the brash, "take no prisoners" comedienne we watched on the stage or on television. I realized early on that she was a superb actress who had developed a character that was not herself but one she could put around her like a magic cloak and when she had it on, she could say anything, do anything that the real Joan Rivers wouldn't ever say or do. She had freed herself through her art.
One day, not too many Decembers ago, the phone rang and it was Joan. "Here's the deal," she said. "You and Norman are getting on a plane Friday for St Martin. The tickets are arranged. We'll meet there where I have a boat waiting and we'll sail around for Christmas and New Year's. This is going to make up for Greece so don't say anything, just pack." We did and it was a turning point in our lives. Around the shell decorated dinner table, where Joan was gorgeously dressed, made up and coiffed every night (her good friend and make-up artist was on hand to help her look great) she forced Norman and me to tell stories of our life in Hollywood as well as our many years together. "Write it down," she would say after each one, "Write it down," It became our book Double Life: A Love Story and when it was finished, she was the one who got it attention by giving us a press party at "21". This is our memory of the Joan we knew. All of us knew her as a great comedienne but I often wished the world would see the other Joan who had a heart as big as her talent.