Several days ago, the New York Times published a review of the restaurant Eleven Madison Park in New York City. New Yorkers had been waiting patiently for the new menu, at the great dining establishment, to be ready for the public. With appropriate fanfare and an endless tribute in the New Yorker magazine describing some of the fantastic dishes that were being prepared, the day finally arrived for the curtain to go up. We were fortunate enough to have gotten a reservation and it turned out to be on the very day that the review came out in the Times. It was a bummer. The advance publicity had foretold a menu eulogizing the history of New York and its memorable food. We had never thought of New York food like steak tartare, egg creams or smoked fish being particularly memorable but we had loved eating at Eleven Madison in the past and thought it one of the greatest restaurants in the world, so we were prepared for a remarkable evening. The Times reviewer, Pete Wells, warned that the waiters talked so much about the history of New York and the food they were about to serve that he was exhausted by the time he started to eat it. He liked certain things but said that "by the end of four hours I felt as if I'd gone to a Seder hosted by Presbyterians."
However, despite the review, the four of us were filled with anticipation and a certain amount of foreknowledge from everything we had read. We were seated at a prominent table, admired the vast room that looked like a huge European bank, and ordered the least expensive of the very expensive wines. And then the 14 courses began. But surprise: the review must have had an effect although it had only been out for a few hours. Someone must have taken heed to the advice that the narration was ruining the food. The dinner was presented with almost no words and very little was said by the charming waiter about the theme of the meal -- New York. The opening savory cookies of truffle and parmesan came in a box we had to untie but there was no reference to what they had to do with New York. Course after course was served with a description of the ingredients but no mention of the history of New York which had been part of the menu when the reviewer had been there. The early courses seemed all to be infused with smoke and we asked the waiter if the chef used liquid smoke but he insisted they were all prepared with real smoke. This was corroborated by a bell jar that was set on the table. It was actually filled with smoke and inside were slices of sturgeon awaiting us. We slathered them with caviar encrusted in a layer of cream cheese spread on very thin pieces of rye toast that crumbled as we valiantly tried to assemble all the elements. Among other dishes were a terrific tomato gelee with gooseberries, a roasted eel slice and cucumber on top of crushed ice. They left a lot to be desired. And then came the main dinner that we chose from isolated words on a card like "lettuce," "pork," "lobster" etc. I chose "langoustine" that presented me with two tiny wedges of the crustacean which were perfectly all right but no cigar. I also chose the word "potato" that gave me a small portion of, you guessed it, potatoes that were pleasant enough, but still just potatoes. Then my "squab" arrived which I figured was the main course. It was a very small piece of crispy squab that was too tough to cut without effort. My friends had "pork" which they reported was stringy and not much better.
In between all of this a very pretty girl attached a meat grinder to our table and ground up two huge carrots into a mess which we all shared, after putting many tiny dots of condiments in the mix and a shot of mustard. We knew from doing our homework that this had something to do with the steak tartare that used to be served in New York steak houses but no mention was made of this. Without the explanation, you didn't quite know why you were eating ground up carrots but they wouldn't have tasted any better with an explanation. We also got a basket that the waiter did say something in the nature of -- New Yorkers like picnics -- but by this time nothing made much sense. In the basket were slices of brie that we had to divide between us, pretzels and bottles of ale, Another insert in the menu was a tea kettle over hot stones that the waiter mentioned was there because clam bakes were held on Long Island. We upended the kettle and discovered a thin broth which we poured into small bowls. It was delicious but had very little to do with the clam bakes I remember having when I grew up on Cape Cod. At one point a siphon bottle was brought with glasses and other ingredients and we all were given what the waiter announced was an egg cream. It brought me back to my youth when I rushed in and out of the subway past the egg cream stands. I didn't want one then and I certainly didn't want the sweet taste of one now in the middle of what I had thought would be a gourmet meal.
The desert I chose from the menu was "chocolate." It was a mistake. Just a small portion of a ground up mixture of something that was certainly forgettable. But then another desert arrived. A bit of cheesecake. We had read in the Times that there was a magic trick that introduced the desert and although most of the rest of the things the reviewer had mentioned had been eliminated, I was determined to see the magic trick. I asked the waiter if he was going to do it. "Oh yes, I am," he said. He produced a deck of cards with symbols of food or spices printed on them, palmed them in a line on the table and we were each instructed to take one card. Underneath the cheesecake we had already been served, we each found a candy that matched the symbol on the card we had taken. Quel surprise! Later we read in a booklet that we got as we left, with our gift of a jar of granola and a pack of cards, that the trick was a tribute to the "three card monte" that used to be a staple of New York street life. The trick was perfection. The dinner was not. It lasted almost four hours and the bill came to over $1200 for the four of us. We went away thinking we would certainly not go there again unless they returned to the food we had loved before this nonsense began.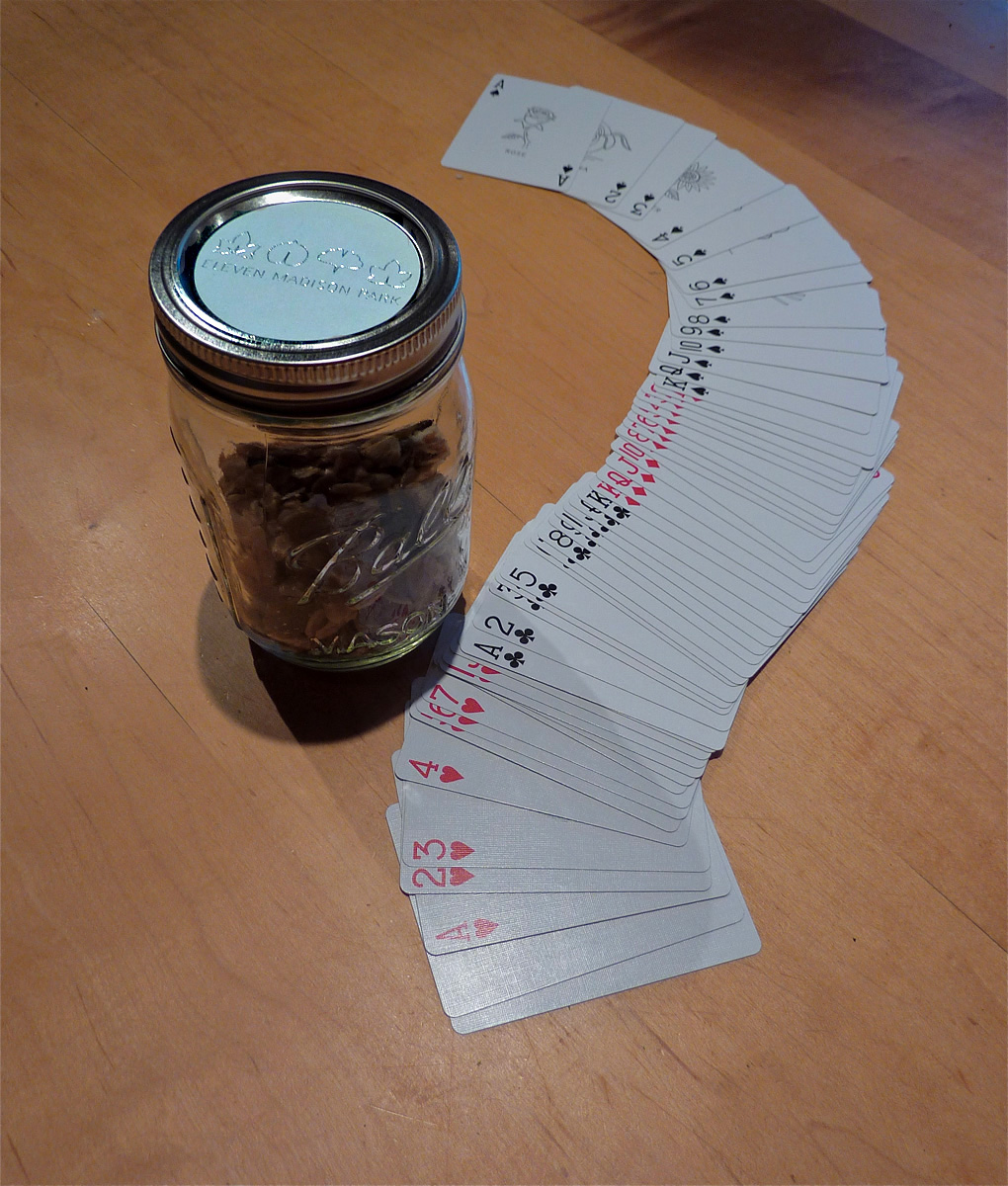 I think back to the New Yorker article last month about Eleven Madison Park and remember the chef and his co-owner talking about wanting to be the number one restaurant in the world and that the only way to do that was to do something really unusual. We had once eaten at Arzak restaurant in San Sebastian, Spain where it seemed that every course was shot with a gun filled with liquid gas. After an endless tasting menu and an enormous check, we never wanted to go back there again either. Where are the foods of yesteryear? In order to be the leading restaurant, do you have to have a gimmick like the burlesque ladies do in "Gypsy"? Please, Eleven Madison Park, forget the card tricks, the egg creams, the picnic baskets and the gifts of granola and just go back to the great food you were serving a short time ago. Actually, we had the granola this morning and it was excellent but inside the cap on the bottle was an explanation of something to do with baseball in New York. It didn't make it taste any better.