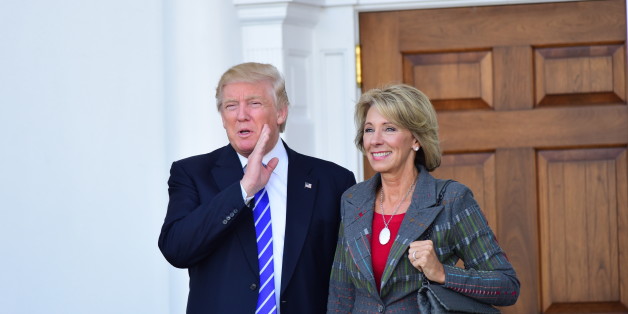 President-elect Donald "Hardly-a-Landslide" Trump and nominee for Secretary of the federal Department of Education, Betsy "Voucher Queen" DeVos, are championing vouchers and charter schools as ways to dismantle public education, subsidize private and religious schools, provide a financial windfall to shady edu-businesses, break teacher unions, and support segregation academies.
To people who say give Trump and his legions a chance, if their plans are realized, the public school system, a hallmark of democracy in the United States, may never be rebuilt. Once broken, all the king's horses and all the king's men will not be able to put Humpty-Dumpty together again.
In November, I participated in a community forum at Medgar Evers College-CUNY in Brooklyn discussing why the NAACP called for a freeze on new charter schools. Defense of the NAACP position on charter schools becomes even more urgent as Trump and DeVos prepare to dismantle public education.
Panelists included long-time education activist Dr. Sam Anderson, Dr. Maria DeLongoria, an Associate Professor of History at Medgar Evers, and Fatima Geidi, a member of a parents' group challenging the way the Success Academy Charter School Network treated her son and other Black and Latino children.
In his introductory remarks, Dr. Anderson declared, "privatization, whether of prisons, healthcare, social security, or education has been shown to be a pro-business gimmick that is against the broader public interest." He argued, "many Black and Latino charter school parents are well meaning but the unwitting pawns of the charter school operators."
Fatima Geidi recounted frustrations battling with the Success Charter School Network as they refused to provide needed educational services for her son and tried to drive him out of the school. "They suspended him the second week of school because he did not walk right, made too much noise." He was suspended repeatedly for the three years he was in the school and she was constantly told to pick him up early or keep him home. She charged he was a "broken child" as a result of his experience in Success Academy.
In my presentation, I argued that if charter schools were the solution to unequal education and poor academic performance in many inner-city minority schools, the United States would be irresponsible not to vastly expand the number of charter schools immediately, which incidentally is Donald Trump's proposal.
But when we look closely, while some individual charter schools perform well, charter schools overall are not a miracle solution to educational inequality and certainly not for inner-city poverty. Far too many Black and Latino children are left behind when better performing students from minority communities are skimmed out of traditional public schools and troubled or more difficult students are warehoused there. Meanwhile many of the children who end up in for-profit charters or questionable non-profit networks are just prepped for tests to make the charter management look good. They too are cheated out of their right to an education that prepares them for college, careers, and citizenship.
I do not criticize individual families for making the best choice for their children when the options are not always good ones. But I support the NAACP's call for a freeze on the expansion of charter schools while the United States figures out what is the best option for educating all of its children. Existing charters, especially the networks with multiple schools, must be highly regulated. For-profits companies should be barred from running schools. Education should never be a business.
Last month, in its Sunday Review opinion pages the New York Times highlighted a Boston charter school it claimed was exemplary and a model for the future of education in the United States. Based on the article, it seemed like a good school, but is it a model or simply an oasis?
I have visited charter schools I like in New York City. I have also visited some very bad ones. There are about 100,000 public schools in the United States and many of them are also very good. Focusing on one school does not prove that an educational system is working or that charter schools will transform minority education in the United States.
The following week, on its sports pages, the Times skirted around a different kind of charter school it apparently preferred to ignore. Terrance Ferguson is an eighteen-year old from Texas playing basketball in Australia while waiting for his chance to play in the NBA. The front page of Sports Sunday highlighted his journey. In Australia, Ferguson receives housing, use of a car and gets paid to play. In the article he bragged how because of an endorsement deal he even gets free underwear.
The opening paragraph of the article described Ferguson as a "recent graduate of a charter school in Dallas." Buried on page 7 in paragraph 17 readers learn that Ferguson started out attending Prime Prep Academy. That charter school, founded by NFL and major league baseball player Deon Sanders, was closed because of academic and financial irregularities. Ferguson and his coach transferred to another charter school in Dallas, Advanced Preparatory International. API is under investigation by the NCAA as a sports factory, but apparently not by Dallas, Texas education officials, or the New York Times.
API opened in September 2015 and despite having only fifty students, it immediately became a high school basketball superpower by recruiting the former PPA coach, Ferguson, and one of the team's other stars, a high school basketball player imported from California.

Ferguson and his teammates may end up in the NBA with multiple-million dollar contracts, but more likely, they are one knee injury, one drug or police episode, or one attitude problem away from economic disaster without any other skills to fall back on. It is estimated that only 3 out of 10,000 high school basketball players make it to the NBA. The number of successful high school basketball players in the United States who made it big in the NBA without going to college can probably be counted on one hand (Kevin Garnett, Kobe Bryant, LeBron James, and Dwayne Howard). According to a 2009 article in Sports Illustrated, 60% of NBA players are broke within five years of retirement.
Meanwhile charter school failures are too numerous to ignore and the number keeps mounting. In February 2016 the New York City Department of Education announced it was closing four charter schools, Beginning with Children Charter School, Fahari Academy Charter School, and Lefferts Gardens Charter School in Brooklyn and Staten Island Community Charter School. Detroit closed three charter schools and forced two to merge this school year. In Los Angeles, Allen Academy, one of the larger charters, was shut down because of poor academic performance. World Communications and Imani Education Charter School in Philadelphia are either closed or closing. Charters were also closed in Pinellas County, Florida, Chicago, Memphis, and Mesa, Arizona.
In Texas, 143 charter schools have closed since the program began in 1998. Michigan closed 122 of its academies during the charter school era. According to a federal report, between 2000 and 2014 2,378 charter schools were closed in the United States displacing tens of thousands of primarily Black and Latino students.
Other studies show that charter schools often have higher dropout rates than traditional public schools. Many have little or no impact on student test scores, a statistically insignificant impact on the earnings of their graduates, and illegally prevent students from enrolling or remaining at their schools. Many others charter schools are considered hyper-segregated with at least a 90 percent minority population.

These are more than enough reasons to support the NAACP call for a freeze on charter school expansion and oppose the Trump/DeVos agenda.
Eva Moskowitz, Success Academy CEO enlisted the rapper Common to entertain pro-charter forces at a recent Brooklyn rally. I ended the evening by dedicating a rap to Fatima and her son, delivered as my hip-hop alter-ego Reeces Pieces.
Black girl and boy
Ain't their toy
Charters annoy
That's their ploy
Kids must bend
Or they suspend
Not our friend
That's the trend.
Schools that fail
On charter rail
An empty pail
For balance scale.
Stop the funds
End their runs
Protect our sons
Demand refunds.
Charter school hoax
Controversy provokes
But community stokes
Til license revokes
When charter fleeces
Inequality increases
Cancel their leases
So says Reeces Pieces
The community forum was sponsored by the Independent Commission on Public Education (ICOPE), Coalition for Public Education (CPE), and Community Development of Medgar Evers College. The Network for Public Education has an online letter writing campaign pressuring United States Senators to block DeVos' appointment. Click here to sign. I will be joining the January 21, 2017 Women's March on Washington. My poster will read "Defend Public Education - Stop Trump and DeVos." I hope to see everybody there.