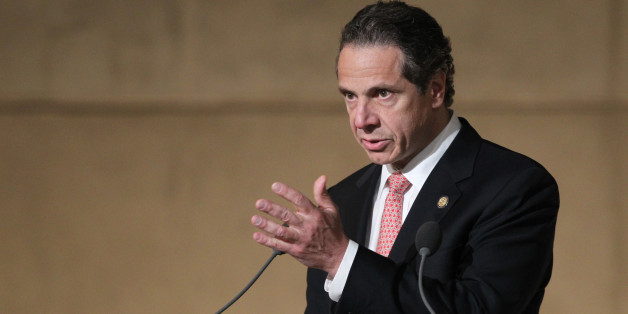 New York State issues school report cards to help parents evaluate education in local schools and school districts. Students are also graded. Based on standardized assessments in Mathematics and English they are either "Below Standard," "Meets Basic Standard," "Meets Proficiency Standard," or "Exceeds Proficiency Standard."

The public should "grade" elected officials as well. During the next month postings will "grade" New York State Governor Andrew Cuomo, who is seeking reelection in November, using the one-to-four scale on educational performance the state uses to evaluate students. Categories for evaluation will be "Education of Minority Students"; "Politics Before People"; "School Funding"; and "Support For Higher Education".
The 10th Amendment to the United States Constitution reserves responsibility for education to the states, although federal money has increasingly shaped education policy since the 1950s. State's can choose to fulfill their education mandate through local governance and financing, but that is a political decision and under provisions of the 14th Amendment, state governments are ultimately responsible to ensure that all students receive "equal protection of the laws," or in this case, a quality education that prepares them to be active citizens in a democratic society.
In New York State that just is not happening.
The "buck" is supposed to stop on the desk of Governor Andrew Cuomo, who is busy seeking reelection and hoping to establish himself as a viable presidential candidate either for 2016 or 2020. In the meantime, he has been abdicating responsibility to ensure a quality education for all students, but especially for minority students. Three districts tell the story of Cuomo's "below standard" performance in this category - East Ramapo in Rockland County, Mount Vernon in Westchester County, and Hempstead in Nassau County.
Takeovers of local school districts in the United States are rare even though more than half of the states, including New York, have laws that make it possible. After years of failed over-sight, budget problems, and poor student performance, New York State finally took over the Roosevelt School District on Long Island in 2002 and replaced the elected school board with state-appointed trustees. One reason that takeovers remain rare is that it is not clear whether the state takeover of Roosevelt actually had significant long-term impact on student performance. However, state officials have other means, including the "carrot" of funding and the "stick" support for legal suits, to pressure district officials to act responsibility.
In East Ramapo/Spring Valley, although the public school population almost 90% Black and Hispanic and only 6% White, National Public Radio reports the school board is controlled by a religious faction of ultra-Orthodox Hasidic Jews that sends its children to private religious schools and is more concerned with cutting budgets and keeping taxes low than in improving public education. The school board and Black and Latino parents continually war over teacher layoffs and racial and ethnic insensitivity, charges that are made by both sides.
The East Ramapo district is one of only three school districts in New York State in the state where more students attend private schools, 19,000, than public schools, 8,000.
Because all eligible community residents can vote in school board elections and because of mobilization in the Orthodox community to protect their own interests, they control the school board even though their children do not attend public schools. The school board has sold or leased public school buildings to private religious schools and in February 2014, the school board went to court suing the State Education Department when State Ed found that the district violated the law by unnecessarily paying for the placement of religious students with special needs in private religious schools.
In 2012, a public-interest law firm, acting on behalf of fourteen parents, filed a petition with the State Education Department, demanding the removal of five of the Orthodox Jewish board members and the appointment of a special state monitor to oversee the district. The parents accused board members of improperly channeling public funds to religious schools. Under New York State law, state education commissioner John King has the authority to remove local school officials for willful misconduct or neglect of duty. In March 2013, an editorial in the local Journal News called on Cuomo and the state legislature to support intervention by State Education in East Ramapo/Spring Valley. So far, no action has been taken. Meanwhile the School Board allocated $2.6 million of its tight budget during the 2013-2014 school year to fight this suit and others in the courts and a Cuomo plan actually gave district officials an additional $3.5 million in state funds in July 2014.
While a past President of the School Board disputed charges that the board majority poorly served Black and Latino children in public schools and charged opponents with Anti-Semitism, according to the state report card, the district is failing its children. Almost 80% of the students in the East Ramapo/Spring valley school district are eligible for free or reduced price lunch and 21% are English language learners. Students struggle on standardized assessment tests. In the 2011-2012 school year, 59% scored below standard on the third grade ELA and 56% on the Math exam. Middle school students scored even worse, 71% did not meet proficiency level on the ELA test 61 % on math. In a district that needs a much greater investment in its children, average class size in elementary schools climbed from 20 students per class to 25, between 2009-2010 school year and the 2011-2012 school year an increase of 25%. One reason is that the district is plagued by a high teacher turnover rate. In 2009-2010, 53% of teachers with less than 5 years experience left the district, most of them because of layoffs.
While race and religion are at the center of the East Ramapo/Spring Valley conflict, the issue in Mount Vernon is more ideological and political. A conservative school board majority with close ties to the local Democratic Party has replaced school and district administrators and hired an outside consulting firm from Australia, McRel, to impose traditional teaching practices on district schools that many parents see as racially and ethnically insensitive and out-dated. McRel rejects differentiating instruction to met the needs of different students and taking into account student culture when designing lessons. Instead it promotes uniform direct teacher instruction or lecturing that actually runs counter to national Common Core Standards and state educational frameworks. Mount Vernon schools are definitely in trouble. In 2014 only 6% of Latino students in Mount Vernon, 10% of the Black students, 9% of students from economically disadvantaged homes, and none of the special education students and English language learners scored proficiency level on grades 3 to 8 English language assessments. In 2013, 72% of 7th graders did not meet math standards, 51% did not meet ELA standards, 71% of the 8th graders did not meet math standards and 47% of the 8th graders did not meet ELA standards. Yet despite the political bickering and poor performance, Governor Cuomo, State Education Commissioner King, and the State Education Department remain publicly silent on disputes in the district and the role played by McRel.
There is a similar, although perhaps even more chaotic and destructive situation in the Hempstead School District where 37% of the students are Black, 59% are Hispanic, 78% receive free or reduced price lunch, and 27% have limited English proficiency. In this district, only 7% of the 4th graders and 5% of the 8th graders meet standards in English, and 9% of the 4th graders and 6% of the 8th graders achieve Math standards. There has also been a large influx of new students, many with academic difficulty or limited English proficiency, and the schools are overcrowded.
In 1990, Hempstead High School was listed as one of the state's failing schools with 17% of its students living below the poverty line. The district had four district superintendents in one year, yet nothing was done by state officials.
In 2005, a state audit blamed officials of the dysfunctional Hempstead school district for "uncontrolled, inappropriate and wasteful spending." According to the State comptroller, "The management has been awful, and the children are paying a terrible price. Nearly $5.1 million of public funds were spent inappropriately at a time when school buildings were falling apart, classrooms were overcrowded, and students were being housed in inadequate, temporary classroom space." Yet in the end, nothing was done by state officials.
During the 2011-2012 academic year, the Hempstead school district had a graduation rate of 38%, the lowest on Long Island. In July 2013, the district rehired a superintendent it had fired in 2005 because of financial problems and budget deficits. During the last two decades district and school administrators have been convicted of larceny and accused of financial scandals and corruption. Yet nothing has been done by state officials
FIOS 1, a local television news channel that covers Nassau County has recently reported on accusations of voter fraud in school board elections, legal challenges to the election, and angry outbursts at school board meetings. Yet nothing has been done by Governor Cuomo or state education officials. Once again, in Hempstead as in Ramapo/Spring Valley, and Mount Vernon, Governor Cuomo, State Education Commissioner King, and the State Education Department remain publicly silent on disputes in the district.
Local involvement in education by parents and community members is an important value in a democratic society. But it is not democracy or education when local groups are able to manipulate the system, seize control over schools, and use control over the education of children to achieve their own agendas.
In the United States, the responsibility to ensure quality education for all children falls on the state government and the governor. Because Governor Cuomo has failed to take responsibility and to act in these cases, Ramapo/Spring Valley, Mount Vernon, and Hempstead, his school report card grade in the education of minority students is far "Below Standard."