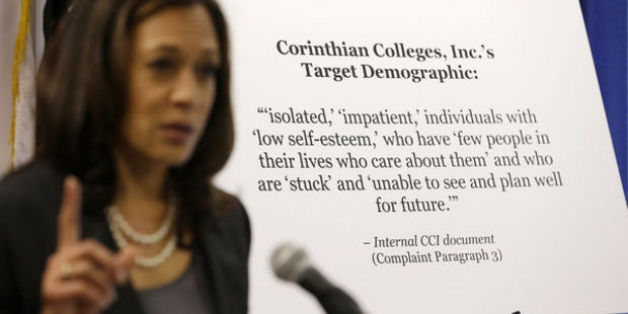 In some quarters in the United States, especially among Republicans, the supposed superiority of unregulated capitalist enterprise over government programs for the delivery of social services is a virtual religious mantra. Recent articles in the business section of The New York Times tell a cautionary tale about what happens when social services and education are "outsourced" to private for-profit companies. One article looked at proprietary colleges being investigated for fraud by state and federal governments. The other looked at private for-profit companies providing services to prison systems in the United States.
What happens when for-profit companies operate schools and fail?
According to its website, Corinthian Colleges is one of the largest for profit post-secondary education companies in North America, with more than 81,300 students at over 107 U.S. and Canadian campuses."
For more than a decade Corinthian Colleges, a company that also operates under the names Heald, Everest, and WyoTech, has been gorging on the public trough while tens of thousands of students were saddled with debts they will never be able to repay. The New York Times called it a "Wall Street darling" valued at $3.4 billion because of its ability to rake in about $1.4 billion a year from the federal government student loan program. Corinthian is now being investigated for fraud including misreporting its financial health to Bank of America in loan applications and falsifying reports on the ability of its students to complete programs and find employment. The company is threatened with having federal dollars cut off, which would be a death blow. According to the attorney general of the State of California, internal Corinthian documents show the company intentionally preyed on "isolated" and "impatient" individuals with "low self-esteem" who are "unable to see and plan well for the future."
Of course, if Corinthian falls other private for-profit edu-businesses will be hurt as well. Among them is Pearson Education, which provides Corinthian with custom packaged course material through its Pearson Learning Solutions division and online instruction to Corinthian students through its MyMathLab. Pearson also delivers technical support for Corinthian's WyoTech division.
So far, there has been little discussion of what happens to all the students who were mislead by Corinthian for the past decade. There has also been no discussion of what happens to the students who attend failing private for-profit K-12 schools if corporate vultures are able to dismantle and feed-off public education in the United States.
What happens when services are outsourced to for-profit companies?
"Orange is the New Green" looked at the way telecommunication financial companies make exorbitant profits by holding people incarcerated in the prison system and their families hostage. One company, JPay controls internet access and banking at state prisons in the state of Washington. It charges inmates and their families, who are usually already struggling, 33 cents to send an email and $4.95 for a bank transfer into prison accounts. JPay operates in thirty-three states to provide money transfers and in seventeen states for email connection. Another for-profit company, Global Tel-Links, charges $3.15 for a telephone call. Global Tel-Links currently has contracts with over 2,000 correctional facilities in the United States that incarcerate over one million inmates in 48 states so the $3.15 phone calls add up to big profits. According to the Times, these companies, and similar ones operating around the country, included in New Jersey, Texas, and Alabama, are funded by private equity firms that have invested millions of dollars in developing and promoting their services. Global Tel-Link is owned by American Securities LLC, a Park Avenue private equity firm with a portfolio valued at over 8 billion dollars. According to one online report, Global Tech-Link was "flipped" by one financial corporation to turn a very big profit. In 2009 it was purchased by Veritas Capital and resold in 2010 for a whopping $490 million profit.
On its website, Global Tel-Link describes itself as "the correction industry's trusted, one-stop source for integrated technology solutions, delivering an innovative vision for the future while providing exceptional value today." Bloomberg News reports that the prison telecommunications market, which is dominated by Global Tel-Link Corp. and Securus Technologies, is valued at 1.2 billion dollars. Global Tel-Link controls an estimated 50% of the industry.
In 2013, the ACLU launched a national petition campaign urging the Federal Communications Commission to curb price gouging by Global Tel-Link and similar companies to make it easier for inmates to remain in contact with their families. They reported that prisoners were "charged up to $17 for a 15-minute phone call -- a call that might cost $2 outside of prison." The campaign led to a cap on the cost of inter-state calls, but not on calls within states. Approximately 2.7 million children in the United States have a parent who is behind bars and must pay these exorbitant fees to keep in touch with them.
There are two key lessons to be learned. First, the purpose of for-profit companies is to make profits. The quality of the education and services they are supposed to provide is at best secondary. Second, although estimates vary, about half of all new business fail within five years. It is one thing when failure means products go unsold. It is another when it means students go untaught.
This is a cautionary tale. If similar companies get hold of K-12 public education in the United States, we can expect similar disastrous results.