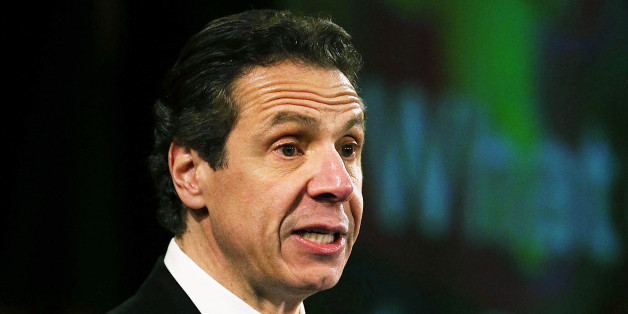 New York State issues school report cards to help parents evaluate education in local schools and school districts. Students are also graded. Based on standardized assessments in Mathematics and English they are either "Below Standard," "Meets Basic Standard," "Meets Proficiency Standard," or "Exceeds Proficiency Standard."
In a comment on my last Huffington Post piece, Michael Pezone wrote that Cuomo exceeds proficiency standards in facilitating corporate takeover of public education, shutting down Moreland Commission anti-corruption investigation, support for charter schools and Common Core standards, and state school budget reductions. I am pretty sure Michael was being sarcastic, but as promised, this blog will examine areas were Cuomo "Exceeds the Proficiency Standard."
I also want to thank commentator Sharon Stone for drawing my attention to what is happening in the Minerva Central School in the town of Olmstedville in the North Country of New York State. It is a micro-district with only one school and about 130 pre-k through 12th grade students all of whom are White and about a quarter from poor families. In June, the district's $5.1 million budget was defeated by voters for the third and final time. Although the vote was 246 in favor of the budget and only 208 opposed, the majority vote fell short of a state tax-cap requirement that budgets that increase the tax burden by more than a set amount must be approved by 60% of the voters. The district is now operating on a contingency budget that may force it to cut five full-time teaching positions in core subjects and part-time music and physical education positions, reduce the school librarian to part time, consolidate classes in grades five and six, and sharply curtail funding for extra-curricular activities. A BIG thank you Andrew Cuomo.
This post addresses four "Cuomo" questions.

1. Is Cuomo's tax cap working for the people of New York State?
2. Why does Andrew Cuomo love charter schools?
3. What happened to Cuomo's anti-corruption Moreland Commission?
4. Should Cuomo be worried?
1. Is Cuomo's tax cap working for the people of New York State?
Long Island's Newsday is a strong supporter of Andrew Cuomo. It endorsed him for reelection in the recent Democratic Party primary calling a challenge from the left "folly" and praising his stance against "big-government and "big spending."
But Newsday is fed up with the Cuomo school tax cap: "Three years after the State Legislature and Gov. Andrew M. Cuomo enacted a tax cap, school districts are running out of ways to soften the blow. Pressure to control spending is rising, and the state hasn't done enough to help." The Cuomo tax cap limits school districts to annual tax hikes of two percent or the rate of inflation - whichever is lower. Overriding the Cuomo cap requires a 60% approval rate, something so difficult to achieve that only five of 124 Long Island school districts did it successfully in 2014. Meanwhile, pension and health care costs have dramatically increased, teachers move up the salary steps, forcing districts to make significant cuts and drain financial reserves.
One district, North Shore in Nassau County, is in a particular bind because the local power company, LIPA, is closing an antiquated plant that was a major source of the school district's tax revenue. The district's school budget is millions of dollars a year in the red, but this affluent community is hard pressed to make up the difference because of Cuomo tax cap restrictions.
According to Newsday, the state keeps mandating requirements without providing resources and blocking the ability of localities to raise the money that they need. Older voters, especially older White voters, may not want to pay to educate the children of minority and immigrant families that are moving into their towns, but New York State has the responsibility to educate its children. So the answer is "NO," the tax cap does not work for the people, especially the children, of New York State.
2. Why does Governor Andrew Cuomo love charter schools?
The simple answer is because charter school operators and their supporters are big campaign contributors.
In March 2014, Cuomo spoke at a charter school rally in Albany that attacked plans by New York City Mayor de Blasio to charge charters for space in New York City public schools. The charter schools were backed by wealthy and powerful Wall Street hedge fund brokers who paid $5 million for television advertisements supporting their positions. Cuomo responded by forcing New York City to provide charter schools with some of the most sweeping benefits in the country. They include free space in public school buildings or else the city must contribute to the cost of renting private buildings, increased per-pupil funding for charter schools, and allowing charters to operate prekindergarten programs.
Coincidently, Cuomo's re-election campaign received hundreds of thousands of dollars from charter school supporters, including William A. Ackman, Carl C. Icahn, Bruce Kovner and Daniel Nir. Kenneth G. Langone, a founder of Home Depot who is on the Board of Directors of a charter school gave Cuomo's campaign $50,000 last year. According to an article in the New York Times, Langone claimed Cuomo asked him to lead a group of Republicans supporting his re-election. Just before the Democratic primary on September , 2014, Cuomo received $41,000 from Daniel Loeb, a hedge-fund manager who is chairman of Success Academy charter schools as well as $10,000 from a political action committee controlled by Tom Gulotta, a former Republican Nassau County Executive.
Cuomo's reelection bid has received hundreds of thousands of dollars from wealthy supporters of Eva Moskowitz's Success Academy Charter School network, although as a not-for-profit organization the network itself is barred from making political donations. At least ten Success board members and two of their two spouses donated to Cuomo's reelection campaign fund. In addition, Cuomo received about $65,000 from Moskowitz's own political action committee.
By one estimate based on 2014 campaign filings, Cuomo received at least $800,000 in donations from "27 bankers, real estate executives, business executives, philanthropists and advocacy groups who have flocked to charter schools and other education causes in recent years." According to Chalkbeat New York, this far exceeds "what the same group gave him for his first run in 2010: $136,000."
The Cuomo reelection campaign has also received major contributions from Charter school advocates with ties to the board of JerseyCan, Say Yes to Education, Democrats for Education Reform, Turnaround for Children chair, Speyer Legacy School, KIPP, RELAY, ConnCan, New Schools Leadership Council, Harlem Children's Zone, Achievement First, NewSchools Venture Fund, Civic Builders, Bronx Preparatory Charter School, Icahn Charter Schools, StudentsFirstNY, National Alliance for Public Charter Schools, Public Prep, and Coalition for Public Charter Schools.
3. What happened to Cuomo's anti-corruption Moreland Commission?
During his 2010 campaign for governor of New York, Andrew Cuomo declared, "We have to clean up Albany." Cuomo laid out an ethical overhaul of the way Albany does business in a policy book he published during the campaign.
In response to his pledge, Cuomo formed the 25-member Moreland Commission to Investigate Public Corruption in 2013. Two months later, its investigators issued a subpoena to a media-buying firm that had placed millions of dollars' worth of advertisements for the New York State Democratic Party. The commission also turned up evidence of potential criminal wrongdoing by a number of state legislators. In an editorial appropriately headlined "New York's 'Legalized Bribery'," the New York Times praised the Commission for its "great service" to the state providing "one of the best guidebooks for reforming Albany's corrosive culture in many decades."
Then in March 2014, it was suddenly closed down by the Governor. Federal prosecutors, including Manhattan U.S. Attorney Preet Bharara, are currently exploring whether Cuomo or members of his staff directed the anti-corruption commission not to refer cases to district attorneys for prosecution. A Times editorial charged that "Gov. Andrew Cuomo ran for office four years ago promising first and foremost to clean up Albany. Not only has he not done that, but now he is looking as bad as the forces he likes to attack." In his campaign ads, Cuomo's Republican opponent, Rob Astorino, if reelected could be forced to resign because of criminal charges.
4. Should Cuomo be worried?
Cuomo's behavior may ultimately prove politically costly, if not this November, then in future electoral adventures. He had a surprisingly vigorous opponent from the left in the recent Democratic primary as a college professor with no political experience or previous public recognition received 34% of the vote , essentially a vote "NO" against Cuomo.
In the September primary, the New York Times refused to endorse Cuomo for reelection even though it found his opponent Zephyr Teachout unqualified for office. In an editorial, it recommended "those who want to register their disappointment with Mr. Cuomo's record on changing the culture of Albany may well decide that the best way to do that is to vote for Ms. Teachout. Despite our reservations about her, that impulse could send a powerful message to the governor and the many other entrenched incumbents in Albany that a shake-up is overdue."
The state teachers' unions, which traditionally endorse Democrats, are sitting out this election campaign. Recently NYSUT announced endorsements and refused to name a candidate for Governor. This will cost Cuomo both money and manpower in the campaign.
Educational advocate Diane Ravitch, who worked in the earlier Bush administration and with Bill Clinton, has endorsed Howie Hawkins, the Green Party candidate challenged Cuomo in the general election. According to Ravitch, "I am casting a protest vote for the first time in my life. I am voting for the candidates of the Green Party, Howie Hawkins and Brian Jones. I voted for Zephyr Teachout in the Democratic primary for three reasons: her position on education, on public integrity, and on the environment. And these are the reasons I will cast my ballot in November for the Green Party."
Andrew Cuomo is a political machine who continually puts politics before principles and people. In February 2014, he announced a new statewide initiative to give incarcerated individuals the opportunity to earn a college degree through state funded college classes at ten state prisons. The Governor's office estimated the college program would cost only $1 million, a tiny part of the corrections agency's operating budget of $2.8 billion. However six weeks later in the face of political opposition Cuomo announced that the initiative was being dropped. Cuomo backed off even though a recent RAND Corporation found that inmates who participated in education programs while incarcerated had much lower odds of returning to prison and a Siena College poll found that 53 percent of voters supported the governor's proposal. The Rand study also documented the benefits of computer-assisted learning and showed that inmates who participated in correctional education programs had a 43 percent lower odds of returning to prison after release than those who did not.
On his report card, when it comes to placing politics before people, Andrew Cuomo clearly "Exceeds Proficiency Standard."