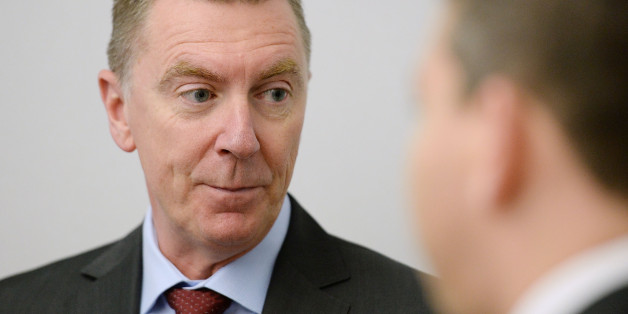 This is a timeline of the Pearson-L.A. Unified School District (LAUSD) iPad project and a follow-up to my previous post, "Pearson: Inside the Belly of a Very Troubled Beast."
Email evidence suggests improper contact between Pearson representatives and L.A. school officials prior to the issuing of the iPad plus software call for proposals or RDF. In response to press accounts of possible collusion between officials from the LAUSD and representatives of Pearson, Los Angles school Superintendent John Deasy charged "even though we have taken advantage of a number of opportunities to constantly improve processes associated with this work, this extremely important initiative for the youth of LAUSD has been sidetracked by insinuations, innuendoes, and misleading statements." The email trail suggests otherwise. Despite Deasy's disclaimers, he halted future purchases of iPads under that contract saying that Los Angeles Unified needed to start anew to include "lessons learned" and to benefit from advances in technology.
These are four questions that I would like to see answered by Pearson, L.A. school officials, Apple, and the L.A. District Attorney:

1. Does the communication between Pearson representatives and L.A. school officials prior to the issuing of RDF and the role of Pearson representatives in helping to design the call for proposals constitute illegal collusion?

2. The Pearson Foundation agreed to pay a "settlement" of $7.7 million after an investigation by New York Attorney General Eric T. Schneiderman determined that the not-for-profit Foundation had created Common Core products to generate "tens of millions of dollars" for the Pearson for-profit corporation. Does an email chain that included for-profit Pearson corporate representatives and non-profit Pearson Foundation officials constitute a violation of California and United States non-profit tax-exempt laws?

3. Apple representatives including CEO Tim Cooke are mentioned in the email exchanges between Pearson representatives and L.A. school district officials but not copied on the emails. How will Apple respond to being drawn into an embarrassing and potentially illegal project?

4. Sherry King wrote Jaime Aquino, the head of curriculum for LAUSD, "On behalf of those involved in Pearson Common Core System of Courses, I want you to know how much we are looking forward to our partnership with LAUSD." Have the national Common Core standards become little more than a ploy by publishers and their foundation arms to sell very expensive old-material-in-new-packaging to American school districts?
The research for the expose on the Los Angeles Unified School District (LASUD) iPad scandal was assembled and originally reported by Annie Gilbertson, Education Reporter for 88.3 KPCC, Southern California Public Radio. The text of the emails was obtained by KPCC through a public records request. All of this material is available online. The email exchanges appear to show complicity between officials in LAUSD, Pearson, the Pearson Foundation, representatives of Apple, and America Choice, a Pearson affiliate, to influence a LAUSD contract decision and circumvent the bidding process.
On March 1, 2013, LAUSD issued a request for proposals for a technology project that required software and hardware companies to team up and provide a complete product. The companies were given less than one month to submit bids. On June 19, 2013, Apple announced that the LAUSD Board of Education had approved the bid submitted by Apple and Pearson after a senior staff member assured board members that its proposal was both the least expensive and highest in quality. Apple would supply staff and students with iPads; Pearson would develop the software for the curriculum.
January 19, 2012: Los Angeles Unified School District (LAUSD) Superintendent John Deasy appeared in a promotional video for Apple iPad featured at an iBooks Textbook Apple Education Event at the Guggenheim Museum in New York City. He tells the audience, "With these interactive textbooks, we are going to go huge leaps in what's possible for students. They are phenomenally going to change the landscape of education. I think it will reignite the whole passion about why we came into teaching to begin with."
April 8, 2012: Judy Codding a Pearson field representative emailed to John Deasy: "CONGRATS John, Just a note to say that I thought the front page article today was a very good one and hit all the right spots for you. Even the criticism, if you want to call it that, was the kind of complaining that the public is just tired of. Hope you had fun in Mammoth. Richard said Th[ursday] was very cold but Fr[iday] was excellent, a bit rough in spots. Let's get together this week, if you have time. Congrats"
Deasy replied: "Thanks, would love to connect. The mountain was great, although lots of ice near the top. I will find a night to connect. Thanks for the note about the article. Thought it was fair and good."
April 10, 2012: Pearson CEO Marjorie Scardino wrote representatives of the L.A. Unified, "The courses are being designed from the bottom up by some of the best minds in education -- including several of the key developers of the [Common Core State Standards] and an international team of experts."
April 16, 2012: Judy Codding wrote to John Deasy: "Loved the time spent with Donna on Sunday. What a special person. She adores you! We decided to meet with Jaime tomorrow after your Board meeting to discuss field testing and other possibilities we (you and l) discussed. Of course you are welcome. I gather Jaime is leaving on Wed early. How did your meeting go? Would like to hear from you before I talk with Vicki."
Deasy replied: "Will talk tomorrow. Nice meeting and very pleasant. No commitment. Where and when do u meet tomorrow."
April 17, 2012: Judy Codding wrote John Deasy: "We are scheduled to meet at 4:30 at the Little Next Door, 8141 3rd Ave ... Not a lot open at 4:30 but Jaime needs to go early. I can stick around or meet you later elsewhere if you would like."
May 18, 2012: Judy Codding wrote John Deasy:
See you soon John,
"$25 per student for ELA and $25 per student for Math per year for 5 years.
What's included:
1. all core content materials and tools for ELA and Math which includes videos, games, simulations, etc.
2. data management system to support teachers and district in knowing how kids are doing.
3. blended model of professional development for teachers and administrators. The on line PD would provide teachers tutorials on their tablet and the on site PD would consist of Pearson training one ELA and one Math teacher as teacher leads for every school . . .
4. We would provide up to an additional 100 days of support to the district for quality control and support.
Building have to be wired and every student and teacher has to have a tablet.
You want me to be the contact for the district.
See you at 11:30.
Should be interesting"
Deasy replied: "Got it see u late."
May 22, 2012, John Deasy emailed Marjorie Scardino: "Hi Marjorie, I want to thank you for the great lunch and conversation. Needless to say we have been in furious and exciting conversations since last Friday. I plan to have you within the week the 2 page concept paper. Looking forward to further work together for our youth in Los Angeles!"
Scardino responded: "It's I who should thank you. My mind was racing all weekend, and I was so impressed by your intelligent and committed and brave hold on the moving parts of the opportunity I can't wait to work with you. I would love to think that we could together do this so well that in your Sunday visits to prison you won't see one person who has been educated in LAUSD; rather, you'll be meeting them as teachers, as contractors, as bankers (well, maybe not bankers), as poets all around the city."
May 23, 2014: Donna Muncey, LAUSD Chief of Intensive Support and Intervention, emailed Judy Codding and copied Jaime Aquino, LAUSD Assistant Superintendent for Instruction. "Creating a plan that merges Jaime's team's work and the proposed plan that emerged from 5/18/2012 meeting ... Unless someone sees a clear way to combine the two plans, I suggest we have a brief conversation to determine the level of detail for the rollout plan that was promised as part of the 5/18/2012 meeting AND the timing of the RFP."
May 24, 2012: Jaime Aquino responded:
"Why would we issue an RFP? The board will probably not support an RFP in a time of draconian budget reductions. I thought all costs would be charged against the digital curriculum, which would allow us to use textbook funds ... I am not sure if legally we can enter into an agreement when we have not reviewed the final product for each grade and if the materials have not been approved by the state. I believe we would have to make sure that your bid is the lowest one ... I understand that John and Marjorie have a plan ... I am not comfortable in trying to merge Judy's plan with our in rush ... Our plan was crafted very thoughtfully and over time and if we are entering into this partnership, I would like to take the same approach to ensure successful implementation ... I am positive we will not have support from the board ... I am not sure if legally we can enter into an agreement when we have not reviewed the final product for each grade and if the materials have not been approved by the state ... I believe we would have to make sure that your bid is the lowest one."
Codding responded copying Donna Muncey and King of the Pearson Foundation: "I think everything you said makes sense to me. Yes everything would come out of the textbook fund. The price would be just as you and I discussed ... I don't know why there would have to be an RFP. I just want to do things right. I cannot imagine any one else able to do this as cheaply with all the PD and all materials for 25 courses for the price we discussed. Do you have time to talk? John said he would get something to Marjorie and I think that is important."
Deasy replied to Aquino copying Codding: "I want to not [lose] an amazing opportunity and fully recognize our current limits. But do not want these limits to be reason for us to turn away from this opportunity. Look forward to this planning."
Aquino responded to Deasy copying Codding: "I am not sure if we can develop a plan that makes sense overnight without still so many unanswered questions."
Deasy replied to Aquino copying Codding: "Do you think I am on track with my thoughts ... Or not?"
Aquino responded to Deasy copying Codding: "The vision is the right one. My major concern is that there are a lot of unanswered questions particularly financial/political/infrastructure implications."
This entire chain of emails is discussed in a post by Annie Gilbertson.
May 27, 2012: John Deasy emailed his plan to Marjorie Scardino (text unavailable). Hi Marjorie, as promised this is our concept paper. As you can see we have sent it along to our other colleagues. Please let me know what you think.
Wednesday, June 13, 2012: Lauren Lopez of Pearson emailed Gerardo Loera, LAUSD Executive Director of Curriculum and Instruction.
"We are delighted that you will be attending the CCSS Summer Institute: Bringing Common Core to the Classroom program. This is email is to confirm that you are DRIVING, rather than flying, to the Institute. If this is not the case, please contact Lauren Lopez at 201-236-5887 or Lauren.lopez@pearson.com for instructions on booking flights ... Your room and tax will be charged to a Master Account. You will be responsible for your incidentals."
July 2, 2012: John Deasy emailed Marjorie Scardoino. "Good Morning Marjorie, I wanted to let you know I had an excellent meeting with Tim [Time Cooke, CEO of Apple] at Apple last Friday [June 29, 2012] ... The meeting went very well and he was fully committed to being a partner ... He was very excited."
July 16, 2012: The Pearson Foundation offered fifty Los Angeles teachers a three-and-half-day training called "Bringing Core to the Classroom." Each teacher and administrator received an iPad.
July 24, 2012: Susan Sclafani of America's Choice, a Pearson affiliate, emailed conference participants: "We can away with lots of notes about ways you would like us to move forward with the system of courses." On September 13, 2012, participants received an email from Sherry King of the Pearson Foundation announcing, "We are on target to begin our virtual professional learning community with those of you who want to join us as we go in depth into the common core standards and specific challenges for teaching both ELA and math."
August 3, 2012: Judy Codding emailed John Deasy. "Any chance of having another lunch with Marjorie on Tuesday, think about her talking with Tim Cooke. If lunch will not work, maybe dinner."
Deasy responded twice: "Okay will try to set it up. Enjoyed also" and "Just realized aug 14 if fist day of school for youth. Really not going to be able to make it."
September 11, 2012, Sherry King of the Pearson Foundation emailed John Deasy about a reservation at "Josie," a restaurant in Santa Monica: "OK for Judy [Codding] to come? If so we'll be 3. Up to you."
Deasy replied: "Of course."