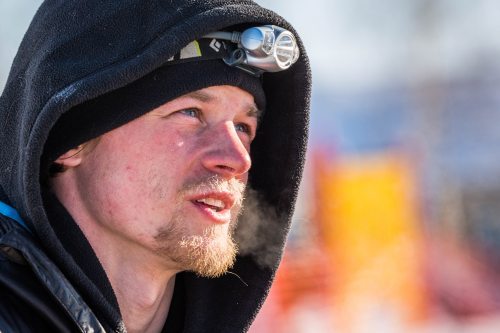 NOME, Alaska -- Behind a strong team of nine champion Alaska huskies, 28-year-old Dallas Seavey from Willow rolled under the burled arch on Front Street in this fabled gold mining town in the wee hours of Wednesday to seal the deal on a victory in the 1,000-mile Iditarod Trail Sled Dog Race and put the Seavey stamp solidly on the current era of Alaska dog mushing.
With the northern lights flickering overhead, a morning crowd still recovering, or yet to recover, from St. Patrick's Day celebrations the day before gave him a warm welcome as he notched Iditarod win number three.
As late-night partiers flooded onto Front Street, Seavey's arrival in Nome was foreshadowed by a helicopter flying overhead. He was led down the historic main drag by a police officer, his wispy blonde goatee coated in frost by the 10-degree temperatures.
Fans reached out to give the three-time champion high-fives as he neared the finish line. After setting his hook, Seavey stopped to hug each dog individually, then shared hugs with members of the Seavey clan gathered under the bright lights.
Upon being congratulated by a bystander, Seavey uttered the words all race-watchers already knew.
"We got 'er done," he said.
Combined with his father's win in 2013, Dallas's win Wednesday gave the Seavey family title to victories in four straight Iditarods.
He gave full credit to the dogs.
"As long as you take care of the dog team and make good decisions, good things will happen,'' he said. "We loved every second of it.''