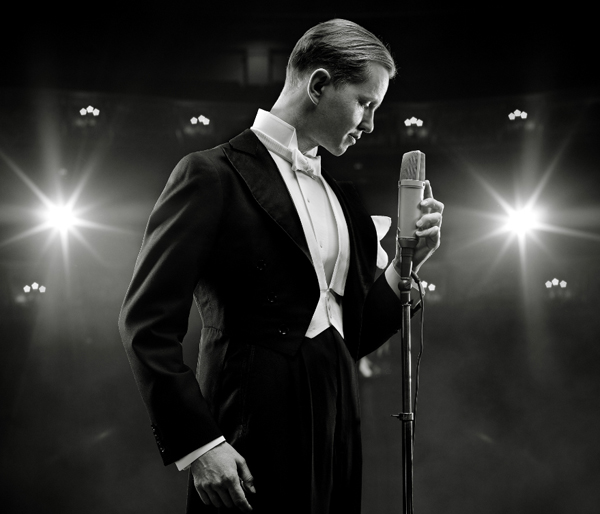 I was lucky enough to be backstage at Carnegie Hall with my dear friend Jeremy Geffen, who is Director of Artistic Planning for this most esteemed concert venue, last night when Max Raabe made his way to his dressing room after his utterly successful show there with his Palast Orchestra. As he stepped off the elevator that takes performers from the main stage to the Green Room area, the German baritone hugged everyone standing in the hallway - some people he knew, and others he didn't. "That was really fun!" he said with a smile. It was an obvious and touching display of emotion that contrasted rather brilliantly with the super-cool, highly stylized persona he inhabits on stage. I told him that no man living in New York City could have confidence wearing formal wear after seeing the him don it with such idiomatic command on the stage. You'd have to go back to Fred Astaire to find someone who looked so at home in white tie and tails.
A packed house (including one older gentleman holding a sign that said something like "We [heart] U Max") had just heard Raabe and his big band (mostly men, with a sole woman on violin) conjure up the popular music of Berlin in the 1930s. I use the word conjure up rather than recreate because Max Raabe doesn't really take the audience back to the 1930s by recreating what others have done: it's more like he's a time traveler who has come from that time to entertain us in the here and now. And it works.
Each and every moment of last night's show was choreographed to perfection: the musician solos, the sight gags, and of course the way that Raabe himself glided in and out of the spotlight to communicate with the audience. The songs often began with Raabe drolly making a few observations about them, or simply announcing the names of the people who wrote them, the words gently chewed and softly delivered in a delicious monotone somewhat from the side of his mouth. His cadence must be heard to be understood, as he hesitated slightly to exaggerate a syllable here or there to maximize the effect his super-dry delivery. Lines that really weren't all that funny became funny with his delivery: "We are now going to do an Oriental foxtrot. There is of course no such thing as an Oriental foxtrot, but when you hear it you will think, 'This is an oriental foxtrot.'"
The orchestra played their introductory segments as he leaned against the piano. When the time would come for the lyrics to be delivered he strode on his long, spidery legs to the microphone and worked his magic, the spotlight highlighting the crisp lines of his slicked-back hair. With his long arms hanging by his side he somehow reminded me of the comic book character Rubber Man from the Fantastic Four.
Max Raabe doesn't ever sell a song, he quietly seduces it, using his impeccable timing and a great deal of falsetto crooning, to extract the wit from each line. Raabe's ease with the material is such that the English speaker could think he was understanding the German lyrics. Indeed, unfamiliar songs by composers I'd never heard of delighted as much as familiar favorites by the likes of Irving Berlin ("Cheek to Cheek"), Cole Porter ("Ms. Otis Regrets") and Kurt Weill ("Alabama Song"). I wondered as I listened if any art song recitalist had ever made his or her audience hang on every word the way Max Raabe did. By the time the members of the orchestra closed the show with a round of choreographed bell ringing, the audience had been whooped up into a polite frenzy.
The songs Raabe sang, written during the depression era, were meant to give listeners a chance to escape the woes of the time, and that's exactly what a Max Raabe show does. It was two hours of unadulterated pleasure, a gift of musical joy. As a denizen of the Great Recession myself, I was more than grateful for the respite he provided.