In our increasingly globalized world, the value of public service is higher than ever, and its impact more widespread. As illustrated by its title alone, the recently released World Bank report, "End Extreme Poverty and Promote Shared Prosperity," underscores the personal stake each of us holds in alleviating the suffering of the world's poorest communities. With more than one billion people across the globe living in destitution, simple economic growth alone is not enough -- when prosperity for some often leads to an exaggerated state of economic and social inequality, this growth must be carried out sustainably across the board in a way that increases the well-being of all.
As the founder of children's and human rights organization FXB International -- an organization whose mission is built on sustainable improvements for vulnerable children and communities -- I believe passionately that the importance of this report, and its call to action, cannot be overstated. It is fitting, then, that June contains an event that urges us all to consider our place in the world: the United Nations Public Service Day, observed each year on June 23. Now in its 10th year, UN Public Service Day was founded as a reminder of the importance of personal investment in one's community, both close to home and on the global scale.
But the message espoused by the World Bank and reinforced each June 23 is one that carries significant weight for me personally as well as professionally, as FXB bears the initials of another person who deeply appreciated the importance of selflessness and generosity. My son, Francois-Xavier Bagnoud, was a rescue helicopter pilot who lost his life at age 24 flying a mission during the Paris-Dakar rally. The passion he displayed for helping those in need -- a passion he exercised fully throughout his life -- served as the catalyst for my own renewed commitment to the same values he had embodied.
FXB acts as an advocate on behalf of some of the world's most marginalized groups, helping to protect the welfare of orphans and other children impacted by extreme poverty and HIV/AIDS by helping those who care for them to become healthy and economically self-sufficient. Our low-cost, sustainable methodology -- exemplified by the FXB Village-Model -- empowers families and communities to build independent futures through a package of services that includes health care, education, vocation training, psychosocial counseling and income-generating activity.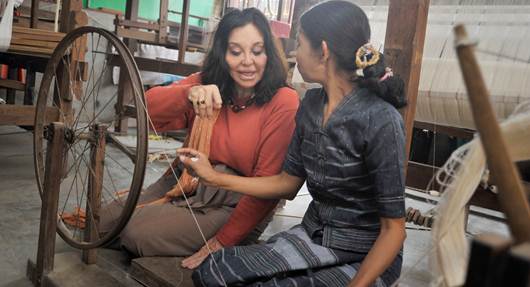 (Albina Du Boisrouvray visits a FXB vocational training class. Courtesy Kaung Htet.)
Since 1991, FXB has pioneered a new understanding of the synergies necessary for successful development programs. Our work is built upon the ideas of the great humanitarian Jonathan Mann, who championed the inextricable link between health and human rights. By adding one more essential component -- the ability to generate income via small business -- we created the uniquely successful FXB framework, the first development paradigm to consider financial sustainability an essential part of any impactful humanitarian intervention. This framework, which we boldly introduced and is already proven effective by an overwhelming portion of participants who have since escaped poverty, has also been widely adopted by other development-focused institutions and was recently validated even further by the World Bank report: "Ending poverty and promoting shared prosperity are unequivocally also about progress in non-monetary dimensions of welfare including education, health, nutrition, and access to essential infrastructure, as well as about enhancing voice and participation of all segments of society in economic, social, and political spheres."
In highlighting the holistic approach that must be taken toward fighting poverty, the report also underscores the all-encompassing nature of public service. Whether one's passion lies in rescue, in health, in economic development or in one of a host of other issues, the opportunities to better one's community -- or the world -- are ample and ever-growing. Now spurred both by the success of our programs and the urgency of the issues we face, FXB is currently developing a toolkit to help others adapt our methodology to their own work. At the same time, we are moving away from our current centralized structure, empowering local boards to become independent, locally owned and operated entities. With this shift, FXB is once again paving the way for other international NGOs to reconsider their own models and grant local branches the autonomy to make the best decisions for their own communities.
Francois was and will forever be my inspiration -- his courage empowered me to found FXB, and I began my work with the knowledge that I owed it to him to see out his life's work and continue helping others in need. I -- we -- owe it to the children across the globe who have felt loss from HIV/AIDS, the children who go to bed hungry and the children who soon will assume responsibility for the world they have inherited. This month marks the tenth anniversary of UN Public Service Day, and while it should be observed with all the reverence its topic deserves, the best time to launch into public service is not June 23. It is now, today, as each passing moment represents another chance to begin building a future of shared prosperity.