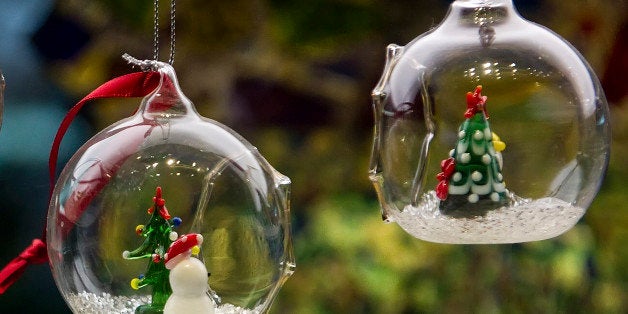 Edu and I are not religious in the conventional sense. We deeply believe in an earthly spirituality, a bottomless well of thought, analysis, creativity, and morality. This mysterious inner treasure, we believe, belongs to humans who have cultivated an understanding of it, and continue to reveal it through their unique lives and experiences. For us, Christmas and the Nativity are a symbol of that gift.
"Life arises and is expressed in many ways..."
It is illuminating to meditate on the story of the revolutionary Jewish couple who defied all the rules by agreeing to carry a surrogate pregnancy to term, and to accept responsibility for protecting a human life not born of their own union. Mary and Joseph understood their task, they understood that the life of that child contained within it all the precious energy of the universe -- the same energy from which we're all created -- and they understood that this knowledge could save and elevate us all. Just like that child, every child is born with a soul that can be guided to develop and express itself in complex and beautiful ways. Creating life is not just a physiological process; as that revolutionary Jewish couple showed, every adult who decides to support new life becomes the greatest expression of the universe.
Life arises and is expressed in many ways, including unplanned pregnancies, surrogate pregnancies, and adoptions. If it someday becomes possible to make babies appear in cabbage patches or laboratories, these too will be lives, because they too will have souls and the need to be loved.
Edu and I like to think that the mysterious human ingenuity will someday allow us to be able to bring life to Mars. In a place currently covered in dry mountains of red soil, perhaps one day we might see rivers, trees, children running, and adults running to catch them. We like to think that in 2000 years, when the descendants of our great grandchildren are building their own Nativity scenes, they will erect a spaceship in place of the hut, surrounded by sculpted figures with faces full of awe, ready to give their love to a fresh human life. And no one will wonder whether that little newborn miracle is male, female, or intersex.
The (atheist) astrophysicist Margherita Hack, who has been one of the biggest supporters of gay rights, once said: "We seek to live in peace, regardless of our nationality, our faith, our skin color, our language, or our traditions. We learn to tolerate and appreciate differences. We forcefully reject every form of violence and oppression, the worst of which is war."
From the bottom of our hearts, Edu and I wish you all a Merry Christmas, which for us is a celebration of family... all families.
This post first appeared on HuffPost Italy. It has been translated into English and edited for clarity.