Sony Animation IT guy Will Townsend never imagined he would end up having an opportunity to do voice acting. Let alone taking over a character who had previously been voiced by superstars Ashton Kutcher and Joel McHale. He feels that being a helpful and positive IT guy helped him make this "dream come true."
I talked to Townsend about his transformation from Sony Animation's computer guy to a voice actor in the movie Open Season: Scared Silly. The story about how it came about is pretty cool.
His willingness to be supportive and interact with his fellow employees really helped. Townsend says he always sought to make people feel comfortable when he came to help with their computer problems, so they would want to call him. "Instead of 'Ugh, I have to call the IT guy,'" he says.
Townsend's goal was to relieve stress, not add to it.
Unfortunately, not all IT guys feel this way. Not to generalize, but sometimes being a computer guru does not mean you also are a master of social interactions. I would even say some of the IT guys I have known or worked with in the past seemed to go out of their way to be especially difficult in order not to be called upon.
I have been in offices where the IT guys get upset when they're called because it interrupts their first-person shooter game. Although, I must admit I also got in on a couple of those games.
However, Towsnsend points out the IT guy is in a unique position. It is a job that allows for interaction with people at all levels of the corporate ladder, and at Sony Animation, some people are doing some really cool stuff.
He says he was allowed to sit in and watch them produce movies and work on things like syncing the movements of the characters' mouths to match the voices.
Eventually, Townsend was asked to help out with scratch vocals for a character in Open Season named Mr. Weenie. A scratch vocal is when they record someone reading the lines to work on the timing of the scene before they have the actual actor do it.
However, Townsend's big break came when, during the course of his IT work, he yelled across the room. Someone realized his voice was similar to one of the other main characters, Elliot, the one-antlered mule deer. This lead to Townsend being asked to voice Elliot in the latest movie, Open Season: Scared Silly.
Townsend enthusiastically accepted.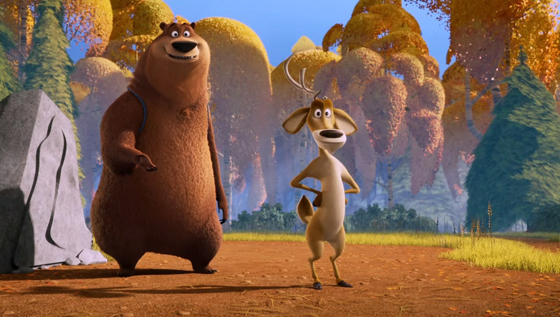 Boog and Elliot (right) in a scene from the Open Season: Scared Silly trailer, seen below. (Credit: Sony Animation/YouTube)
"So few can say they have done this," he says. "It was such a cool experience."
Townsend is also a gaming fan, and now hopes for an opportunity to voice a game.
The moral of the story: If you work in IT, be nice.
"It makes for a more positive work environment, and then people are more apt to call you to fix their issues and not try to do it on their own," explains Townsend.
Not only that, as in Townsend's case, it could lead to some great opportunities.
You can hear Townsend on the DVD of Open Season: Scared Silly which is being released March 8, 2016.