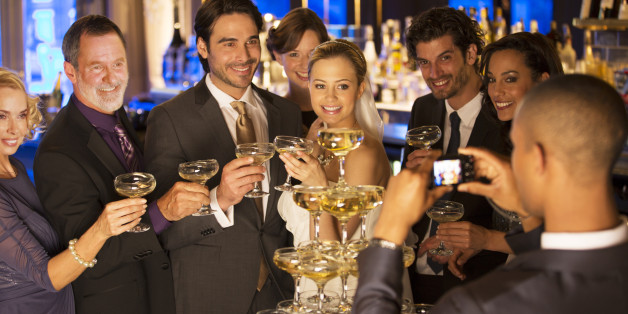 My mother thinks I'm crazy. So much, that she can't stand when I talk to my newly-engaged sister, for fear that I am "negatively influencing her." And all I did was get married.
To be more truthful, all I did was have a wedding. A big fat wedding, with all the fanciness one could imagine. A cocktail hour with a sushi station and vodka slide. A Viennese hour that would rival a carnival. A bridal party the size of a football team. I realize how unnecessary most of it was. But I was unsuspectingly sucked into the "wedding machine" propelled by society.
We attend weddings, but don't truly see "behind-the-scenes" until it's our turn. When that curtain opens and we excitedly peek behind it, we are hit with a giant sandbag swung from the rafters full of financial stress, pressure, and relationship challenges. It became so clear why people elope! The race to measure up can chip away at what this day is truly all about and cause us to veer off-course if we're not careful.
My sister is contemplating (gasp!) sidestepping the elaborate celebration for a more intimate party. When she first got engaged she began planning a "typical" wedding. Soon, the opinions crept in:
"If you have Clarice in your wedding, you must have Jennifer, too."
"You cannot have purple dresses in October!"
"Don't seat me in the nosebleeds!"
She became turned off by the details involved, and she and her fiancé couldn't justify the price tag.
Planning a wedding requires cooperating with the parties who contribute financially. Mom and Dad, the new in-laws, or whomever, there needs to be compromise.
But too often checks are written, expectations are "suggested," and your fantasy wedding becomes a squashed memory, like a wedding cake that's been dropped on the floor by the clumsy deejay. Details and decisions swirl around you like a tornado, and before you know it, you become used to hearing: "Weddings aren't really for the bride and the groom, you know." No wonder my sister had cold feet.
But let's look back at the way things were, and why the weddings of our generation are a far cry from those of our parents' generation.
Over 400 guests attended my parents' wedding. They had two bands: one Italian, one American. A rolling bar for every two tables stocked with top-shelf liquor. These were the days where weddings were glamorous, when people drank and danced until 4:00 a.m. in smoke-filled rooms with babies sleeping in the corner.
No one had to guard the card box, honeymoons lasted for weeks, and at the end you had a down payment for your first house and money to bank.
My parents' wedding cost $7.50 per person. Brides-to-be, I will wait while you regain consciousness.
This price included the cocktail hour, seven-course meal, and a loaded Viennese hour. Sure, times change. But, has the industry (as well as bridezillas who fuel it) gone too far? How much "stuff" do we need to say "I do"?
Apparently, a lot. Have you ever attended a bridal show?
"Put this deluxe hand-mixer-slash-nose-hair-remover on your registry!"
"Drink this to lose 45 pounds before the big day!"
"Open wide for a cake trial!"
And it doesn't stop at the bride, as any bridesmaid knows. If I see one more bachelorette slurping from a blinking penis straw, carrying disposable, made-in-China products, wearing a "Final Fling before the Ring!" t-shirt, I may go insane.
Today's hall costs upwards of $120 per guest. If you are in the market for a prime location on a Saturday night, it helps if you have a first-born to offer. And you haven't even looked at vendors yet!
Modern brides are taken advantage of and over-marketed to, and everyone's got an opinion for her. What do you mean you don't want customized matchbooks? How will you serve drinks without monogrammed napkins? You're telling me you didn't get laser hair removal yet?!
I was grateful for our wedding, and there was much beauty amongst the chaos. But planning a wedding today is a pressure-filled, emotional time, and navigating through while keeping your sanity, finances, and relationships intact is like trying to complete a triathlon with no training. You may cross the finish line, but not before collapsing a few times while gasping for air (and maybe losing your wallet along the way.)
Planning a wedding is also a full-time job for most brides. Many stay engaged for two years or more so they can afford the soiree. Throw in unreliable vendors, outrageous dress prices and bridesmaids who announce they will be eight months pregnant at the time of your wedding (how dare they!), and you've got yourself a burnt-out bride-to-be.
But lately, a strange trend is emerging: brides are opting out. Whether it's due to a strict budget or a different outlook, these girls have a new mantra: less is more. They realize that details and drama mean as little as the bubbles blown outside the ceremony: present for a moment, transparent, and just as quickly, vanish into thin air. A wedding is a celebration of the love of two individuals; not a marketing machine, the product being you and your new spouse.
If you want the big wedding you've been planning forever, go for it. But keep your feet on the ground. Ask yourself whether or not diamond-encrusted champagne flutes are crucial to you and your spouse's future as husband and wife. Don't be afraid to take your time, and truly explore what means the most to you and your fiance.
And don't do anything for anyone else, no matter who foots the bill. Because when it comes to wedding planning, you will be complained about or preached to by at least one guest there. So do what you have always dreamed of, with no regrets in the end. Just please, I beg you, forgo the blinking penis straw.