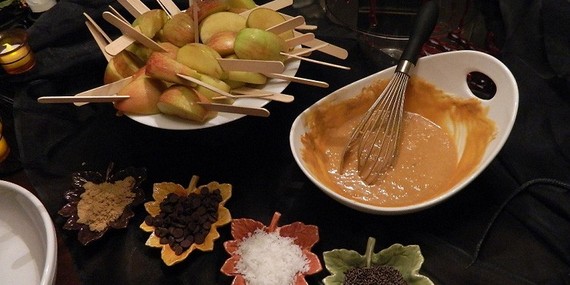 I always love a good caramel apple, but the following two things run through my head while eating one:
"I'm totally NOT going to finish this whole thing, because I'll hate myself!" and
"I finished the whole thing. And now I hate myself."
But they are so good! And they really can be the ideal treat if you are hosting a party, whether for kids or adults.
So I have a solution! A way to enjoy everything you love about candy apples, in more "bite-size" portions. You simply slice up some apples, put out a few toppings, and melt some caramel, and you're in business!
And the best part? No one's counting how many pieces you had! So, while it appears you are nibbling on simply a tiny sliver, you could have secretly eaten the equivalent of three candy apples. But doing it this way allows you to do so with a bit of grace. You're welcome.
Materials:
ingredients for caramel sauce* (see below)
4 apples, preferably organic (because you want to feel good about something, don't you?)
wooden sticks, or lollipop sticks (from any craft store, or on Amazon )
4 assorted toppings (my choices were coconut flakes, chocolate chips, brown sugar, sprinkles)
*Ingredients for the caramel sauce:
1 package (14 ounces) chewable caramels (I am currently obsessed with these.) You'll only need half the bag, which means you have the other half to hoard for yourself when your guests leave.)
20 large marshmallows
1/2 cup unsalted butter, melted
1/3 cup heavy whipping cream
Directions:
Place caramels in a microwave-safe bowl. Microwave on high for 1 minute (uncovered).
Add marshmallows and microwave for 1 minute. Stir, then microwave for another minute, repeating this process until marshmallows are melted. Whisk in butter and cream until combined.
Slice apples into quarters, removing stem, core and seeds. Gently push sticks into the bottom of each slice. Arrange on a plate, and set out near your 4 toppings and caramel sauce.
That's it! Now guests can grab a "mini" apple, dip in the caramel sauce, and sprinkle a topping of their choosing.
Refrigerate leftovers. (Yield: 2-1/2 cups.)
A version of this post originally appeared on Alessandra's blog, www.punkwife.com. And, if you are getting married or know a bride-to-be, check out her book: "The Bitch's Bridal Bible: The Must-Have, Real- Deal Guide for Brides," available on Amazon and Kindle. You can also find Alessandra on Facebook and Twitter.
Alessandra is currently working on a cookbook filled with healthy, fresh and easy recipes for babies that the whole family can enjoy (because really, who wants to cook twice?). If you'd like to get on that mailing list, you can do so here: What a Good Eater.