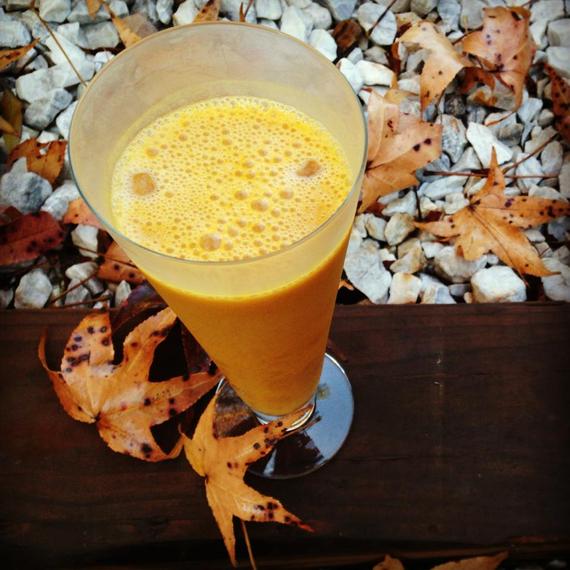 Are you ready to experience fall in a glass? A glass full of real ingredients, not synthetic 'fake' pumpkin flavor?
Try this Pumpkin Pie Smoothie: it's delicious, creamy, and above all, healthy! If you have a little one living with you, they can enjoy it, too, and benefit from all the fiber, Vitamin A, and potassium.
And, if you'll be serving this up to adults only? I can't imagine that tossing a shot of Kahlua in there would hurt anyone!
Cheers, to the holiday kickoff!
Ingredients
1 cup organic pumpkin puree
1 large ripe banana
1 cup almond milk (or other type of milk you prefer)
1/2 tsp. pure vanilla extract*
1 tsp. pumpkin pie spice
5 ice cubes (or add my coffee cubes, if it's strictly for adults and you need an extra kick)
Method
Combine all ingredients in a blender and blend until smooth. Pour into 2 glasses and serve.
*If baby will be enjoying this treat simply leave out the vanilla extract (since it has alcohol in it), or pour baby's serving out first before adding the vanilla/coffee cubes in for your portion. (Or Kahlua. No one's judging you.) It's a nutritious treat for the both of you!
A version of this post originally appeared on Alessandra's blog, www.punkwife.com. You can also find her on Facebook and Twitter.
Alessandra is currently working on a cookbook filled with healthy, fresh and easy recipes for babies that the whole family can enjoy (because really, who wants to cook twice?). If you'd like to get on that mailing list, you can do so here: What a Good Eater.