 Do you ever dream about what it would be like to live in Downton Abbey? The glamorous, aristocratic lifestyle, the formal and luxurious interior design.
I worked with Vi from Tastemaker to create an interior design inspired by Downton Abbey. Our goal was to pull some of the historical decorative elements, but to reimagine them for a contemporary setting. The last thing we wanted was to create a space that felt dated, which was a weighty task when working with such a distinct style.
So here is is, our downtown chic version of Downton Abbey: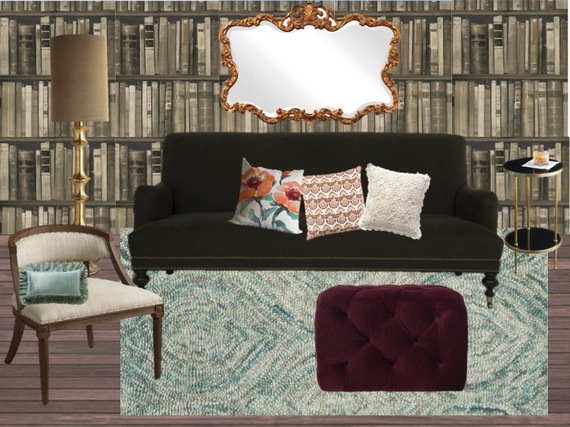 My favorite part of this design is the wallpaper. Inspired by the library in Downton Abbey, we wanted to recreate the studious atmosphere, but honestly who has that many books? In a flash of brilliance, Vi remembered one of our favorite wallpapers: Wall of Books from Kathy Kuo Home. This wallpaper brilliantly captures the elevated and stately feel of the Downton Abbey library and sets the tone for our modern space.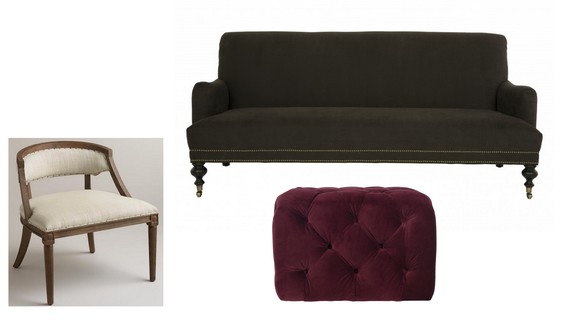 The sofa, from Jayson Home, alludes to Downtown Abbey's red, arched back couch, but is a bit more modern in color and form. For accent seating, we pulled the Natural Herald Chair from World Market. The delicate neoclassical design pays homage to many of the pieces in the Downton Abbey interior without looking like it came straight from the set. Its natural linen upholstery and wider, shorter shape bring this chair into the 21st century. And for a piece that can double as both seating and a coffee table, we chose the Kenan Ottoman from AllModern. The rich wine shade adds warmth and color to the room, while the deep tufting creates a feeling of opulence.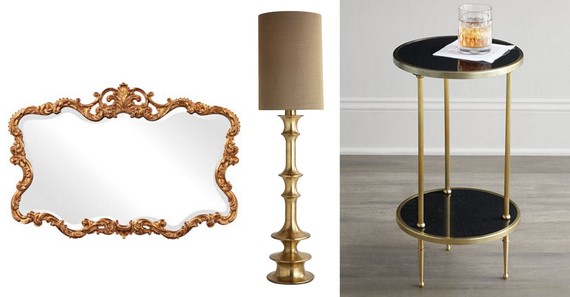 For larger accent pieces, we layered up the luxurious feel in the space, by choosing gold toned pieces. After all, what's more luxurious than gold? To create a focal point and break up the wallpaper, we added a large, carved mirror. The delicate shape and curvy form mimics the French feel of the Downton Abbey drawing room without going overboard. We paired this golden wonder with the Arteriors Waldo lamp, which stands tall and anchors the sofa. On the opposite end, we placed a black and gold side table -- the perfect place to rest a cocktail. The Global Views table from Horchow is reminiscent of a tiered, Victorian side table, but much more glamorous and modern.
One of the most difficult pieces to pick out in this design was the rug. We struggled to find a carpet that didn't overpower the space or scream grandma's house. In the end, we chose the Sea Blue Safavieh rug from Overstock.com. The cool tones of the rug help balance the room. It's completely modern, but the nubby texture and subtle Ikat pattern conjure up visions of antique carpets without dating the space.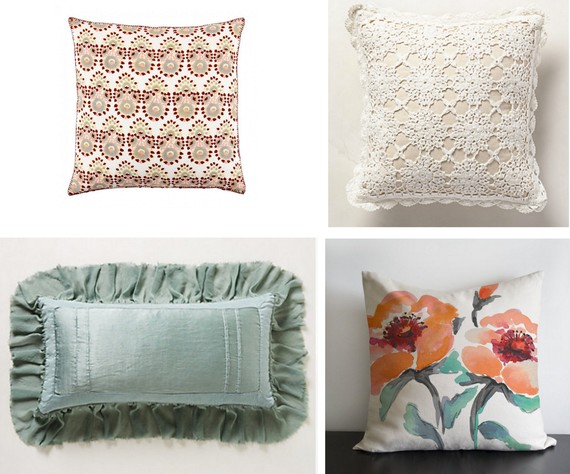 And of course, one of our favorite accessories: throw pillows! We used these four pillows to tie together our accent colors and introduce a few more patterns and textures. Each one has an antique element -- ruffles, floral print, lace -- that is reimagined for a contemporary setting. Clockwise from top left: HD Buttercup, Anthropologie, SenayStudio on Etsy, Anthroplogie.
Overall, we've created a modern interior design that alludes to a luxurious past without feeling old or dated. How'd we do it? It's all about looking at the nuances of a space and pulling out a few key decorative elements in order to create similar ambiance.
Is there an interior design you'd like to see us recreate for modern living? Let us know.