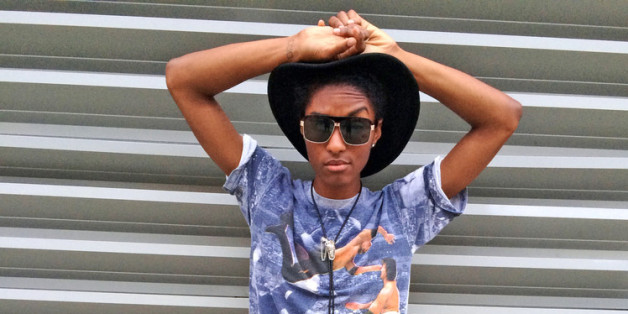 When The Real World returned to MTV for it's 29th season in 2014, the show had evolved from a vehicle to explore race, sexuality and culture, to a bacchanalia of sex, fighting and bodily functions. Where Pedro Zamora elevated the national conversation on HIV/AIDS in the show's third season, more recent cast members elevated the national conversation on contracting scabies, peeing on each others' toothbrushes and having hot tub threesomes in Las Vegas.
But, then the show cast Ari Fitz.
Formerly Arielle Patrice Scott, Fitz is an openly queer filmmaker and model from Oakland, CA who appeared with her ex-girlfriend on The Real World: Ex-Plosion. The show deviated from its typical format by bringing cast members' ex-paramours into the San Francisco house mid-season. While MTV has featured an array of LGBT young people in previous Real World seasons, Fitz's androgynous style amplified the conversation around gender policing and expression for cast members and millions of viewers alike.
That conversation didn't end when Fitz said goodbye to The Real World. Now she directs and produces the fashion series Tomboyish, spotlighting androgynous fashion for anyone who identifies as a tomboy -- LGBT or straight. And, today the series goes global with the launch of a Kickstarter for a European tour in London, Paris, Berlin and Milan. I spoke with Fitz about the style series, the pressure LGBT women face to conform with conventional femininity, and if she's fully recovered from her time on reality TV. Check out Tomboyish and excerpts from our conversation below.
LGBT cast members have come and gone from the Real World, but what has been the response from fans since you're subverting the gender binary with your style?
When I was on the show, one of the hardest moments of my life, to this day actually, was defending my wardrobe and defending the fact that I do prefer menswear and that I am kind of androgynous... and people sometimes confuse me for a guy... Growing up in Berkeley, and just always surrounded by people whose gender expression differs and it's just kind of like that's cool... And so when I was on that huge platform -- 2 million people watching and a lot of people not really understanding -- that was definitely really uncomfortable to me at first. And, then when I got home and had access to my email... I realized that the thing that made it good was that there were a lot of young women out there in different parts of the world who saw me and started to feel more comfortable about who they were. Reading those emails made all of that discomfort, all of the nasty Tweets-- it made all of it worth it.
Masculine style for all genders is getting more mainstream. Why is it having a moment?
A lot more people are getting more comfortable just being out and expressive with their sexuality and their gender expression in general. So, I'd say right now it's just that finally people can be themselves... That lends itself to this androgynous thing that's happening on both sides. You see a lot of men wearing skirts, like rappers wearing skirts that never could have existed in the early '90s or the early 2000s... The world is slowly, very slowly, becoming comfortable with the range of gender expression in general and that leads to some cool innovations when it comes to androgynous style... We're slowly getting there but we're definitely not there yet.... Even in hearing myself say that, you think of something like Barneys and their collection with trans models and so I'm sure they didn't have a predominantly trans consumer in mind... I do think that there's a lot of bigger movements happening in just showing us.
Did you ever feel any pressure to conform to a more feminine style?
I've always had a crazy sense of style. When I was in high school, I once designed an outfit from head to toe that was royal blue felt. I wore it to class. I was like "say something and I don't care." ... I started to really dress in a very androgynous way when I started dating women when I actually came out. Originally it was because I felt the person that I fell for--the woman I fell in love with -- I thought she would only find me attractive if that dressed that way, if I was very androgynous and created that binary... Over time I pushed back and forth, pushed all the way on the feminine side, pushed all the way on the masculine side to finally find that nice little balance that works for me. But it's always been in relationships that I felt I need to push one way or the other...When I go out and have a meeting with a straight white guy, I'm like "what would it mean to dress this way?" When I have those feelings, doing this series and getting those emails forces me to look at that and kind of ask myself, "What about me? Why do I care so much?" It's still something I struggle with to this day. I think it's important for me to feel sexy. Damn it, I just like the way that I dress. It was really hard for me to get where I am right now and I'm going to keep on working on it.
PHOTO GALLERY
'Real World' Star Ari Fitz