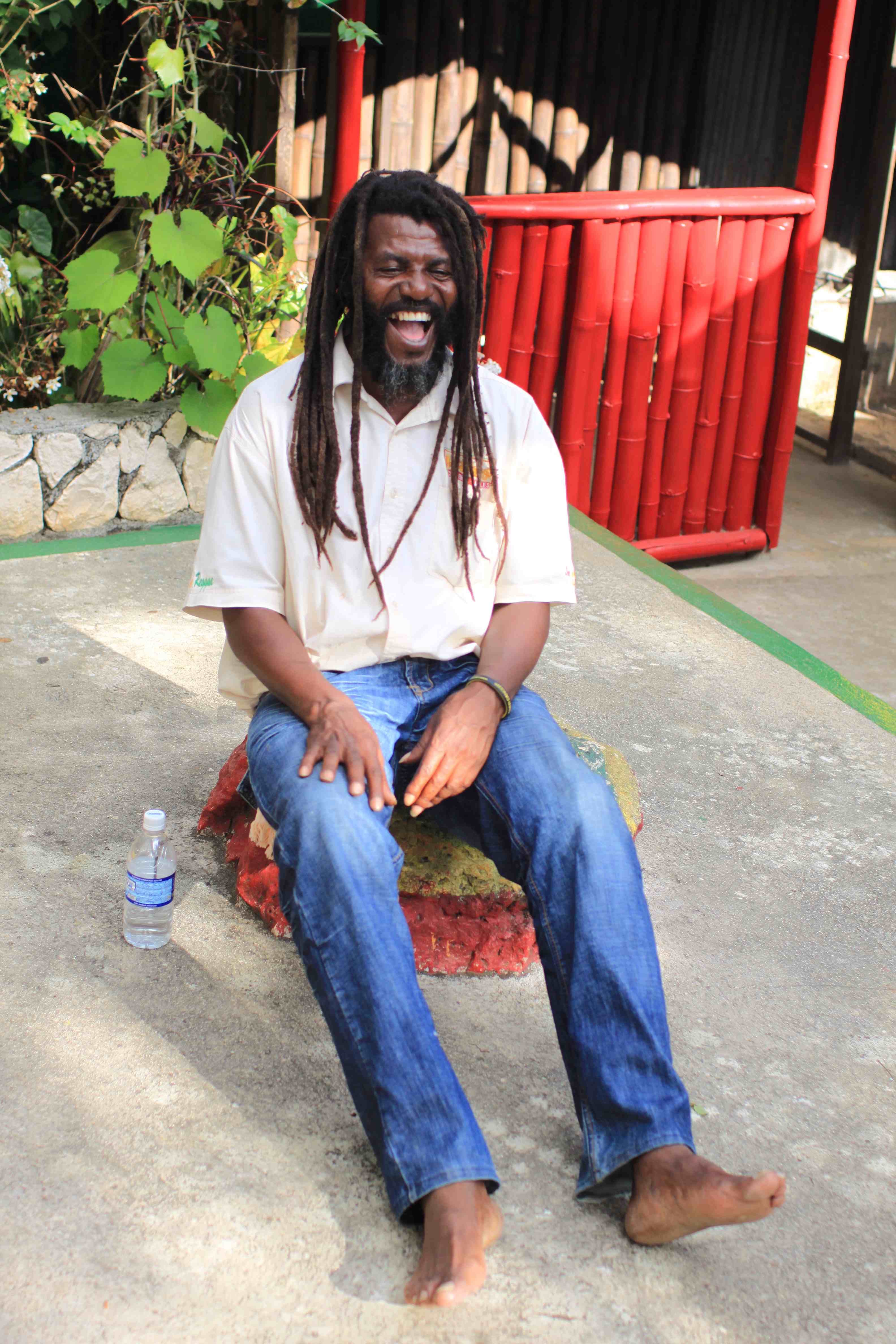 On July 4th, 2006, Tom Briody from Ireland posted a video on YouTube entitled "Jamaican Tour Guide" which has received over 5,487,528 hits. The video shows 'Captain Crazy,' a tour guide at 9 Mile, Jamaica, demonstrating how Bob Marley would relax on the famous rock referred to as his 'pillow' in many songs. This reenactment allowed Captain Crazy to smoke on the job, and demonstrate his famous laugh. Having been to 9 Mile when I was eleven, my memory of the trip was blurry. I wanted to go back and re-see it with fresh eyes, as well I wanted to see the impact that worldwide attention and five million views could have on someone's life.
9 Mile is the birth and final resting place of Robert Nesta Marley. Located in the Hills of St. Ann Parish, it is approximately 2 hours from Ocho Rios. To get there we drove through Fern Gully, a passageway encapsulated by 300 varieties of lush ferns. As we went deeper into the drive the landscapes became more picturesque and the roads became narrower. The potholes and unpaved roads added a few bumps; yet made the journey all the more of a reward once we arrived.
After two hours in the car, we made it to the bright purple gate of 9 Mile. I was praying that we would run into Captain Crazy, yet he was nowhere to be found. I asked one of the other tour guides if he had seen him that day, and before he could answer, the "Haaaa haaaa haaaa" filled the entrance space. Captain Crazy was most definitely in the vicinity.
Captain Crazy became famous for his unforgettable laugh that was shown on the YouTube video: "haaaaa haaaaa haaaaa," the three-tiered laugh starts high and works its way lower. It is an earful, half annoying and half hilarious.
Meeting Captain Crazy, I was instantly struck by his charm. He was very loud when he was joking around; yet he spoke eloquently and thoughtfully during the tour. It was clear that he is very dedicated to the work he does, and feels responsible for preserving Bob Marley's legacy by educating the visitors who come to 9 Mile.
When I asked Captain about receiving over 5 million hits on YouTube, he laughed. "They call me Mr. YouTube... Haaaa haaa haaa!" I was instantly enthralled. I was standing with someone who has had five million sets of eyes watch him (virtually), in the remote mountains of St. Ann Perish, Jamaica.
He does not have an email.
Or a Facebook. Or a YouTube account.
It became obvious that the YouTube appearance was a funny side note that he could laugh about. The Internet success that he has experienced does not define him.
Just as it showed in the original YouTube video, the Captain took us on a truly informative tour, showing us the bed that Bob Marley slept in, the rock that he used as his pillow, and the mausoleum where his body rests. The only difference is that Captain no longer smokes on the job, and filming was not permitted. One YouTube sensation was enough for the small and remote 9 Mile.
From my trip back to 9 Mile, I learned that Captain Crazy is a man full of integrity who has pride and respect in the work that he does. I find it ironic that a man who has no access or use for the Internet, has become famous because of it.
It was a valuable lesson to learn; you can stumble upon success or worldwide attention yet you do not have to let it define you. Instead you can laugh about it, as Captain Crazy always seems to do.
"Haaaa haaaa haaaa"