Summary: In which I ponder China.
The first day of fashion week, the Daily Front Row ran a profile of Gawker's Nick Denton, talking about how fashion doesn't have much of an audience. I personally started fashion week with a profile of Daphne Guinness -- her words seemed to ring in my ears during the week: "It feels cold."
Let's first start out with the shows I adored. And the winners are -- Altuzarra, Libertine and Bibhu Mohapatra. Altuzarra's red trimmed coat was almost magical. Libertine's plush architectural and colorful feel was striking. Bibhu is amazing with construction for the powerful woman who can make a statement. I also loved Naeem Khan's gowns over the puffiness of Marchesa. Loved, loved, loved.
Unfortunately, fashion is quickly going underground. The brands that innovate and push fashion forward are shrinking faster then a cheap polyester blend in the dryer. I spent a lot of time downtown at the Milk & Mac collaboration. As word on fashion's rumor grapevine has solidified -- this is the place to be. The New York Times went so far as to call Lincoln Center fashion's B-List. The tents simply feel cold. Each sponsor has their own reason for being tied to fashion, but the difference between uptown and downtown is striking. It's also a matter of America vs. China.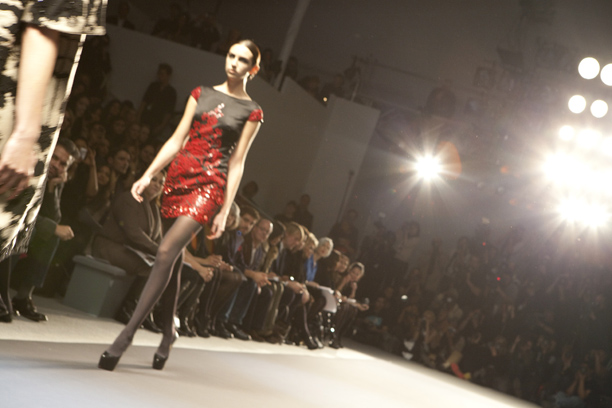 (Naeem Khan, Fall Fashion Week)
In an interview given to Hilary Moss, Harper's Bazaar's Glenda Bailey says, "Everybody's thinking of China." It's fast becoming the world's consumer of luxury goods. Vivienne Tam shows each season, and the press did not love her collection -- she's not aiming for the American market, but for her stores in Asia. So are the Max Azria brands. Looking even deeper into production, most of the brands that show at Lincoln Center, are manufactured in China, save for a few exceptions and the baby brands in the Box. The PR people will say something different, but when I walk into their stores, there's that "Made in China" label.
Fashion is political. Fashion is a reflection of our times. In these pages, readers are concerned about our future as a nation. One of the tests of prosperity is fashion. Because when there are funds, people can innovate and express themselves. Fashion is a consumer-driven art -- when individuals can feel comfortable and not be worried about a purchase, they can take fashionable risks.
As our politicians squabble about whether to spend money on high-speed rail or health care, or the importance of providing good education to everyone, China has understood that in order to build their economy and overtake us, they must invest in energy infrastructure. Allowing everyone to have more opportunity, by getting to jobs easier, will translate into a more viable market. Right now, we are their aspiration as a society. But they will create their future, on their terms.
Models that can't make it in the states tend to ship over to Asia because they know just being Caucasian will get them jobs. Asia creates their own luxury market where design concepts are churned, in Asia, for Asians. That makes America unnecessary. Sadly, the Great Depression ended with World War II, because we needed to manufacture great quantities of arms. Now with the arms surplus and our seemingly perpetual war, our Great Recession needs to end with the creation of new markets.
In the Garment District, there are buildings left empty. There are empty apartments, stores and landlords who find it unnecessary to compromise on rate. I lived in Harlem where corporations and investment groups summarily evict rent-stabilized tenants to increase their property values. They flip and leave the apartments empty, waiting for "better days." The investment group that caused me to lose my home of seven years received TARP funds.
There are cities in this country where the unemployment rate is liable to stay the same for many years to come. Why not rebuild our manufacturing base with people that want to work in those sectors? I'm not saying sweatshops. But factories that, with care, create luxury products for the American market. Maybe this is a better use of our subsidy money then corn, which leads to high-fructose syrup and increases obesity.
So we are unwinding our own prosperity, and the American Dream is now the American Dream for the Chinese consumer.
At one point HuffPost Senior Editor Anya Strzemien asked me if fashion week is still relevant. New York Fashion Week, not as much, because the brands that make up fashion week are so diluted, and New York has allowed itself to cede the seat of fashion to Paris. The runway show is vital to the success of a house -- and something that needs to be livestreamed.
Now it's the audience. Fashion's lens has fractured, because fashion week's original purpose has been forgotten. Before long the designers in Paris will have to send acolytes to Beijing. Fashion to the average consumer is just a handful of brands. Marc Jacobs has become synonymous with fashion. Yet fashion is a wide breath of individuals.
"Asia is creating their
own luxury market

where design concepts
are churned, in Asia,
for Asians.
That makes America
unnecessary."
Working in the industry to make fashion the stuff of dreams takes a small army of dedicated people. The amount of man hours is mind-boggling.
The young brands and the new brands and the young designers just feel more real. Milk Studios feels like fashion. I recently had a chance to shoot Julia Alarcon's LookBook. She's fervently reaching out to buyers and is focusing on the power of the picture to drive interest. Brandon Sun, who works on Oscar de la Renta furs, is starting his own line and might just get his fur accessories into Saks. The students of the Academy of Art University -- whose work I see every season -- all feel like fashion. These baby brands are fashion's future, from a fashion kid to the CFDA Incubator folk. How they grow will determine how we shape our future market.
These new brands need to form communities and use the online sphere and market directly to reach the consumer. I was at a show and someone said they bought their blazer from Odin because Barneys was overpriced. They found this through a quick Google search. Pictures drive interest online, yet it's shocking how few new brands invest in photos. We need to stop giving money to investment groups and banks that put their money into slush -- we need to start giving money to small business.
The main difference between Milk and IMG is that Milk is curated and the sponsors support the show's production. With IMG, almost anyone can rent space. So IMG makes money both on the front end and back end. The most relevant shows happened in the Box, their smallest space.
At Milk Studios, they go out of their way to personally identify people that work in the industry. I met more people there that are relevant in fashion. They have real coffee instead of the the bottled and shaken kind. They also have a steadier supply of nibbly things, copious amounts of DeLeon Tequila and PBR flowing on tap. This is also the first time AMEX sponsored the venue, and by all accounts, when cardmembers met Jeremy Scott they were elated. The venue's done a good job lining up sponsors who are equally passionate about fashion. The AMEX customer somehow understands fashion.
In the tents. Save for a few shows, I was trying to get around, while mingling with bloggers from Idaho with a thousand twitter followers. At one point I was scolded by a security guard for not staying within the ropes. There was really nowhere to sit, save for the AOL pit, with camped-out news organizations. I ran away from the tents gleefully every chance I could and back to Milk, where AOL is also a sponsor.
So fashion is at a tipping point. This industry is a canary in our economic coalmine. As brands make compromises and try to entice customers, how they open people's wallets is vital to observe. Will we continue to cede our authority to China, or will we return to an innovative America? Only the next few seasons will tell.

Alex takes some great photos.