Nothing kills a good mood, or a good outfit, faster than a bloated stomach. With spring here, and bikini season coming fast, it's time to focus on healing and showing off your gut.
Choose a healthy, easy lunch that supports your digestion, slims your belly, and tastes delicious. Oh, and it only takes five minutes to make, which is as long as a burrito-belly-bomb or gluten-filled hoagie.
Instead of the same old quick-fix sandwich, opt for this fast collard wrap. You heard me, collards. Green, wide, and easy to fold, collard greens make a perfect bread, pita or tortilla replacement when it comes to simple, healthy, slimming meals.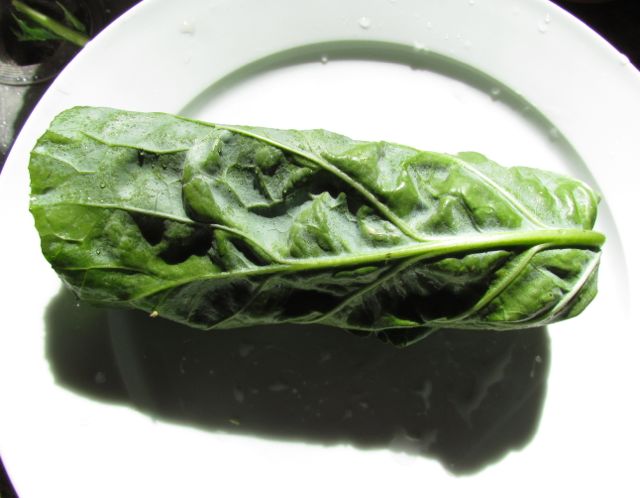 To trim your tummy fast and lower your cholesterol in the meantime, aim for 30 grams of fiber a day. This recipe provides 16 grams of fiber, so you're halfway there!
While bread contains an average 70 calories per slice, collards contain only 11, while offering healing benefits from chlorophyll, vitamin C and calcium. Collards also keep your digestive tract healthy and clean, making the friendly-bacteria happy and working hard to create nutrients from your meals.
Protein from the chickpeas in hummus offers fiber and complex carbohydrates, which stabilize your mood and cravings. Healthy fats from the avocado and hemp seed oil improve insulin function and lower cortisol, that stress hormone that triggers your body to hold on to belly fat.
Beneficial bacteria and enzymes in the raw sauerkraut enhance digestion and protect the body from candida yeast overgrowth, which causes bloat, gas, and a host of other nasty symptoms.
Ingredients:
2 big collard leaves
1/2 cup hummus
1/2 avocado, sliced
2 tablespoons olive paste (or chopped kalamata olives)
2 tablespoons raw sauerkraut
2 teaspoons hemp seed oil
Directions:
1. Wash and dry the collard leaves. Remove the thick stem sticking out below the leaf.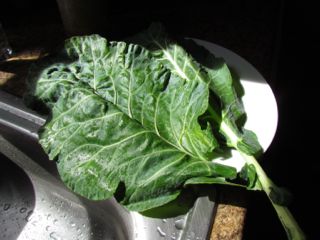 2. With the shiny, "front side" of the leaf facing up, spread half the hummus on the center of each leaf.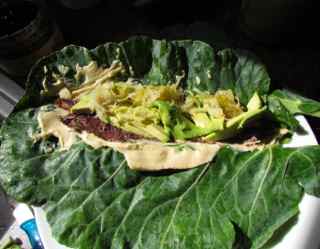 3. Top with the remaining ingredients and wrap, burrito style. Eat and enjoy!
To learn more about the best foods for your body (and the body of your dreams) join me on 4/5 for my tele-course, Reboot & Refresh: details here
For more by Alex Jamieson, click here.
For more on diet and nutrition, click here.