Her eyes closed in total bliss, as she tasted the hot slice. Then she groaned in total ecstasy.
No, this isn't an excerpt from 50 Shades of Grey.
This is a small look behind the scenes at a private cooking class I gave last Monday night.
It all started when I donated a private cooking class to my son's preschool fundraiser in Brooklyn.
Jennifer, another mom, bought my private class, and last week we got together to cook. She had one major request she had of our time together: "Can you please teach me some filling gluten-free recipes?"
See, Jennifer was diagnosed as celiac last year, and has been avoiding all foods that contain gluten. While her body was recovering from the digestive hell she had suffered while eating gluten, Jenn felt unsatisfied and hungry most of the time from her new diet.
I brought over several recipes to teach her, and the hands-down favorite was this gluten-free, polenta crust pizza. We made the original recipe with egg and cow's cheese, since her family eats dairy and keeps chickens, but the dairy-free recipe below is really delicious:
Polenta Pizza
Serves 4
1 tablespoon olive oil
4 Tbs. water
2 Tbs. flax seed meal (ground flax seeds)
18-oz. pkg. precooked polenta
2 Tbs. gluten-free oats
1/4 cup firm tofu
1 tsp powdered garlic
1/2 cup nutritional yeast flakes
1/3 cup dairy-free cheese, like Daiya Mozzarella shreds
2 cups tomato sauce
1 recipe shitake bacon*
1/2 medium red bell pepper, sliced into 1-inch strips
1-2 scallions, greens thinly sliced
Preheat oven to 450F. Lightly oil a baking sheet lined with foil.
Bring the water to a simmer in a small saucepan and stir in flax meal. Stir for 1 minute and turn off heat. Flax mixture should become gooey.
Slice polenta, and place in food processor. Process polenta, and add water, oats, tofu, garlic and nutritional yeast flakes. Blend until smooth.
Spread polenta evenly in a circle about 1/3-inch thick on pizza pan. Bake for 15 minutes.
Remove polenta from oven, and spread 2 cups sauce evenly over polenta crust. Top with sliced shiitake bacon, bell peppers, scallions and cheese.
Bake 12 minutes more. Remove from oven, and let stand for 5 minutes before serving.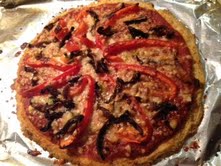 Shiitake Bacon
2 cups shiitake mushrooms, stemmed and sliced into 1/4 inch slices
2 tablespoons olive oil
1 teaspoon salt
Wash and stem mushrooms. Slice caps evenly into 1/4 inch slices.
Toss with olive oil and salt. Roast at 450 for 12-15 minutes, until crispy.